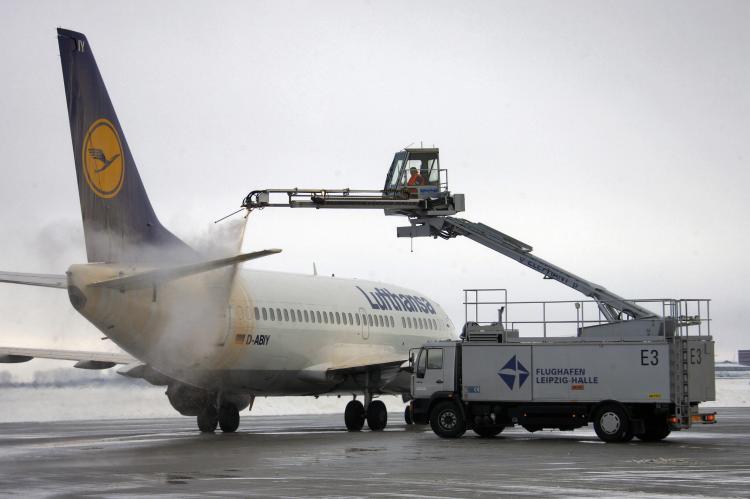 For the U.S. airline industry, 2008 was, in a word, forgettable.
Skyrocketing oil prices brought big losses at most major airlines—forcing the industry to cut perks and service—and as 2008 drew to a close, depressed travel demand further complicated problems at carriers. Despite a big drop in oil prices, many airplane seats were unfilled.
Discount carrier JetBlue Airways Corp. and regional carrier Alaska Air Group, Inc. were the only two airlines whose stocks ended higher for 2008—JetBlue gained 20 percent while Alaska Air's shares gained 17 percent.
UAL Corp., the parent of United Airlines, lost 69 percent of its value last year, followed by US Airways Group, whose stock lost 47 percent. Other major players were all in the red.
Oil's Meteoric Rise, and Fall
Much of the airline industry's recent plight could be pinned to the wild fluctuation of oil prices. In July of last year, oil soared to almost $150 per barrel, forcing many airlines to quickly cut costs.
The result wasn't pretty. Cash-strapped carriers slashed route service, laid off employees, sold aircrafts, and increase fares. Many airlines even stopped serving complimentary snacks, and began to charge a fee to check luggage.
Hawaiian regional carrier Aloha Airlines, which went bankrupt and ceased operations on Mar 31, 2008, became the largest airline to fold last year. Others sought to consolidate, but only Delta Air Lines Inc. and Northwest Airlines were successful in doing so—becoming the world's largest carrier after the purchase was approved on Oct. 29.
Oil prices then turn a 180 degree turn as the 2008 recession became a reality, but the economic downturn took a hit on travel demand for both consumers and businesses. The new problem facing many airlines wasn't high oil, but excess capacity as people cut back on discretionary spending and vacations.
But the sudden fall in oil prices is actually a double-edged sword for airlines. Many airlines—Southwest Airlines especially—purchase fuel futures and options contracts to lock in fuel prices for the future. The practice, which is called "hedging," is a brilliant strategy when prices go up, but many carriers are now stuck paying higher than market prices for fuel due to contracts that were considered to be reasonable earlier last year.
Nevertheless, analysts expect some airlines to report a profit in 2009, especially if oil prices remain low and the economic outlook improves. Oil prices have fallen over 70 percent since last summer, and even if there are empty seats, carriers will see dramatically lower expenses.
"We think investor sentiment on airline stocks could improve if oil continues to fall, though to date we think investors have been more focused on avoiding risks and on recent reductions in passenger levels reported monthly by the carriers," Standard & Poor's analyst Jim Corridore said in a December research note.
Painful Cuts Today, Brighter Future Tomorrow
If U.S. airlines want a role model, they can look no further than the recent turnaround of Malaysia Airlines. In 2005, Malaysia Airlines reported a $500 million net loss and narrowly avoided bankruptcy when Idris Jala became the group's CEO.
Merely two years later, in 2007, Malaysia Airlines wowed the global airline community by reporting record profits. The fact that the airline is a state-controlled company with a slew of stakeholders and priorities made the feat even more impressive.
In an interview with McKinsey Quarterly, the white paper publisher of management consulting firm McKinsey & Co., Jala gave some insight on how he turned around a company that just "had enough cash to last three-and-a-half months" when he took the helm.
The airline's problems were similar to those at other carriers—inefficient network coverage and high costs.
"If you have to control costs, you just go and cut the costs. If your network's inefficient, get rid of the routes that are bleeding cash," Jala told McKinsey. "And if you have a problem with low yield, fix the yield."
Jala scrutinized the airline's income statement and saw which businesses, routes, and departments were losing money. The next issue is having the freedom to act, which the Malaysian government granted him given the airline's dire financial straits.
Besides increasing fares and cutting routine expenses, Jala made substantial changes—some of which were controversial—such as selling the company's headquarters in downturn Kuala Lumpur to squeeze out 20 more days worth of cash. Many employees and even politicians viewed the building as a company icon.