A few merry wiggles of the control column of an Airbus A380 and voila!—a Christmas tree visible on radar, replete with decorations.

The airplane, with call number AIB232E, was manned by a test flight crew out of Hamburg, Germany, CNN reported. The pilots took this festive flight on Wednesday, Dec. 13, with a number of flight path radar sites publishing the resulting image.
Flightradar24 posted this animated version on its Twitter feed.
An early Christmas gif from the @Airbus A380.

See how Airbus drew their tree at https://t.co/YQPtQ179tG pic.twitter.com/ah1eBzFGGY

— Flightradar24 (@flightradar24) December 13, 2017
The airplane was on a test flight ahead of delivery to the Emirates airline, the national carrier of United Arab Emirates, according to the Independent.
It is reported the plane sketched the masterpiece in thin air, cruising at an average altitude of 41,000 feet.
One commenter on Twitter suggested the Airbus flight crew meant to sketch out a different message—with a nudge and a wink, of course.
what the airbus pilot was actually trying to communicate… pic.twitter.com/yiloLKUUO4

— Stressed Desserts (@DessertsRadio) December 16, 2017
Another Twitter user posted this image, calling it a confused attempt to copy the Airbus Christmas tree.
This guy on the ground @GPAPassenger Prestwick airport has got a bit confused if he's trying to copy @Airbus A380 ! pic.twitter.com/sKJ6zUmYeM

— GORDON FISHER (@gordonforchange) December 14, 2017
While certainly attention-grabbing, the Hamburg team's creative effort is not the first flightpath Christmas tree.
On Dec. 11, a pilot behind the controls of an Amateur Vans RV-9 airplane, call number G-RVDG, produced a similarly delightful work in the skies near Northampton, England, published on the blog Flightradar24.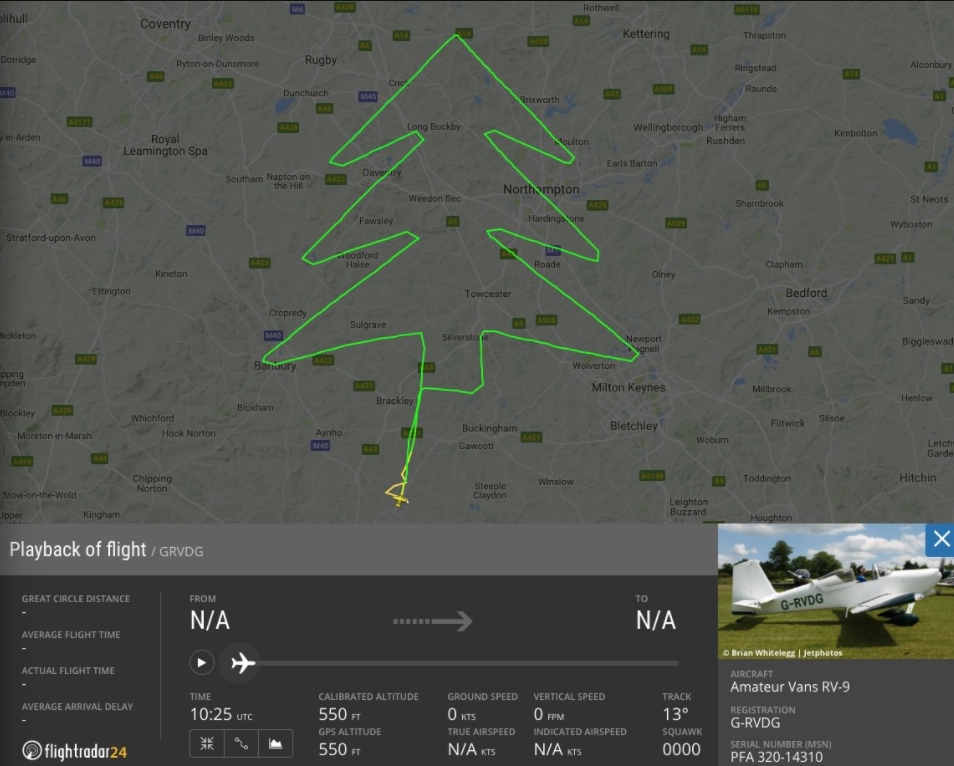 On Dec. 18, a Robinson R44II helicopter attempted a copy.
?? Helicopter Christmas tree. Sure, why not?https://t.co/tBSorNasab pic.twitter.com/hX21ow8QbN

— Flightradar24 (@flightradar24) December 18, 2017
And finally, there's A Brief History of Drawing Christmas Trees with Airplanes, published on the Flightradar24 blog.