A pilot for an American Airlines subsidiary has been arrested in connection with the shooting deaths of three people.
Kentucky Attorney General Andy Beshear announced in a statement on Saturday, May 11, that Christian R. Martin has been indicted on multiple charges including murder.
A Christian County grand jury indicted Martin on Friday for the 2015 slayings of Calvin and Pamela Phillips, and Edward Dansereau.
Martin has been charged with three counts of murder, one count of arson, one count of attempted arson, burglary in the first degree, and three counts of tampering with physical evidence.
He was arrested early Saturday morning at the Louisville International Airport with the help of the United States Marshals Service, Christian County Sheriff's Office, and Louisville Metro Police.
Martin was living in North Carolina at the time of the indictment for crimes committed in Kentucky.
Witness Ashley Martin of Elizabethtown, Kentucky—not related to the suspect in any way—was at the airport when the pilot was arrested.
She described the situation to WDRB-TV as "very tense."
"It was like something you would totally see in a movie," she said.
Triple Homicide
According to the attorney general, the indictment relates to events that occurred either on or around November 18, 2015, when Calvin Phillips was found shot to death in his Pembroke home.
Phillips's wife, Pamela, and their neighbor, Edward Dansereau, were found several miles away in a cornfield, dead inside a burned car.
Relatives of Calvin and Pamela Phillips had offered a $100,000 reward to help solve the case. Family members said Saturday they had an "overflowing of emotion, sincere relief, and absolute gratitude to all those who have worked diligently on this case."
"Every day, we are haunted by what was done to them and haunted further that someone was still free to do as they wish, beyond the civility of mankind or laws of our nation," the family members of the victims said in a statement. "We look forward to justice in court, and we look forward to a verdict to bring an end to this terror and a fresh start at healing."
Beshear said he hoped justice would be served.
"I hope this is a day that brings some justice to these families," Beshear said. "There are many steps from here, but we hope this is one example of when you never stop seeking justice, when you never give up, that we can truly get important results for these families."
The pilot has been suspended from his job by his employer, PSA Airlines, Fox News reported.
American Airlines told Fox News in a statement it is cooperating in the investigation, and that Martin had been a pilot for PSA Airlines since January 2018.
"All of us at American Airlines and PSA Airlines are deeply saddened to have learned about these allegations from 2015," an American Airlines representative told Fox News. "Our team was made aware of the indictment this morning after his arrest at Louisville International Airport. We have an unwavering commitment to the safety and security of our customers and team members, and we will provide any investigative assistance possible to law enforcement throughout their investigation."
A Christian County circuit court judge has ordered Martin held without bond.
Crime in the United States
Violent crime in the United States has fallen sharply over the past 25 years, according to both the FBI's Uniform Crime Reports (UCR) and the Bureau of Justice Statistics (BJS) National Crime Victimization Survey (NCVS).
The rate of violent crimes fell by 49 percent between 1993 and 2017, according to the FBI's UCR, which only reflects crimes reported to the police.
The violent crime rate dropped by 74 percent between 1993 and 2017, according to BJS's CVS, which takes into account both crimes that have been reported to the police and those that have not.
"From 1993 to 2017, the rate of violent victimization declined 74 percent, from 79.8 to 20.6 victimizations per 1,000 persons age 12 or older," the U.S. Department of Justice stated (pdf).
Both studies are based on data up to and including 2017, the most recent year for which complete figures are available.
The FBI recently released preliminary data for 2018. According to the Preliminary Semiannual Uniform Crime Report, from January to June 2018, violent crime rates in the United States dropped by 4.3 percent compared to the same six-month period in 2017.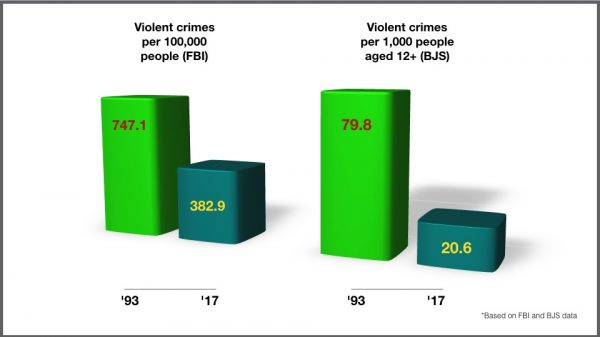 While the overall rate of violent crime has seen a steady downward drop since its peak in the 1990s, there have been several upticks that bucked the trend.
Between 2014 and 2016, the murder rate increased by more than 20 percent, to 5.4 per 100,000 residents, from 4.4, according to an analysis of FBI data. The last two-year period that the rate soared so quickly was between 1966 and 1968.
Property Crime
The property crime rate fell by 50 percent between 1993 and 2017, according to the FBI, and by 69 percent according to BJS.
According to the FBI's preliminary figures for the first half of 2018, property crime rates in the United States dropped by 7.2 percent compared to the same six-month period in 2017.
As with violent crime, the FBI survey only takes into account crime reported to the police, while the BJS figures include reported and nonreported crime.
Public Perception About Crime
Despite falling long-term trends in both violent crime and property crime, opinion surveys repeatedly show Americans believe that crime is up.
The vast majority of Gallup polls taken since 1993 show (pdf) that over 60 percent of Americans believe there is more crime in the United States on a national scale compared to the previous year.
Pew Research surveys show similar findings. A survey in late 2016 revealed that 57 percent of registered voters said crime in the nation as a whole increased since 2008, despite both FBI and BJS data showing double-digit drops in violent and property crimes.
Perceptions differed on a national versus local level.
Surveys of perceptions of crime levels on a local scale showed that fewer than 50 percent of respondents in every single Gallup survey (pdf) done since 1996 believed that crime in their area had risen compared to the previous year.
The Associated Press contributed to this report.