Air Quality in NYC Reaches Highest Level in 50 Years
September 26, 2013 8:36 pm Last Updated: September 26, 2013 8:36 pm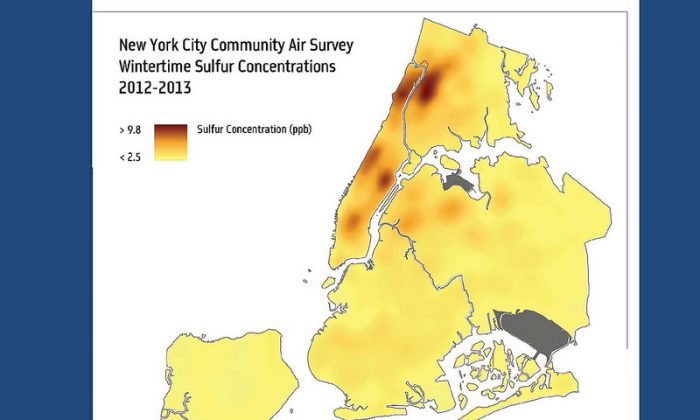 NEW YORK—New York City, once notorious for its smog-filled air, has seen a drastic reduction in air pollution under Mayor Michael Bloomberg. Today it is the cleanest big city in America.
"No one has the ability [to choose] what air to breathe and what air not to breathe. That means it is government's responsibility to keep the air as clean as possible," said NYC Health Commissioner Tom Farley at a press conference Sept. 26.
"The quality of air we breathe over the course of a lifespan can have a big impact on our health," Farley said, noting we take an average of 15 breaths per minute.
By focusing on buildings burning heavy polluting heating oil (numbers four and six), the city has reduced the levels of sulfur dioxide in the air by 69 percent since 2007.
Through efforts of the NYC Clean Heat Program, 2,700 buildings have converted to either natural gas or cleaner heating oil since 2011. There are 7,300 buildings, which have not converted, 2,500 of which are actively pursuing conversion strategies.
In the Bronx, where childhood asthma rates have been exceptionally high, air quality has gone down.
The mayor said unconverted buildings in the Bronx, as well as emissions from cars, both of which are not under the city's control, are contributing factors.
Deputy Mayor Cas Holloway said the city's initial focus was on the largest buildings with the highest pollution.
"It was an order of priority," Holloway said.
Car pollution, normally a huge determining factor in air quality in other cities, represents roughly 20 percent in New York City (with the rest coming from buildings).
To combat air pollution from vehicles, the city has begun using hybrid or natural gas burning vehicles, such as the city-sanctioned hybrid Nissan NV200 Taxi of Tomorrow.