Air Canada announced Thursday that it's offering complimentary COVID-19 emergency medical and quarantine insurance to eligible customers who book seats on round-trip international flights.
The coverage is available for new bookings made in Canada from Sept. 17 to Oct. 31 as long as the travel is completed by April 12, 2021.
According to Air Canada, the coverage is the most extensive offered by a Canadian airline because it covers every destination that the company serves.
In addition, the airline hopes that the insurance, underwritten by Manulife, can give people "greater confidence" as they travel.
On July 31, Air Canada reported seeing "drastic" declines in total revenue and passengers in a quarter over quarter comparison in its second quarter's financial results.
"As with many other major airlines worldwide, Air Canada's second quarter results confirm the devastating and unprecedented effects of the COVID-19 pandemic and government-imposed travel and border restrictions and quarantine requirements," the airline said in a press release.
Revenue fell from nearly $5 billion in the second quarter of 2019 to about $500 million in the second quarter this year, a drop of 89 percent. Total number of passengers nosedived by over 96 percent.
Operating loss amounted to about $1.5 billion compared to income of approximately $420 million in 2019.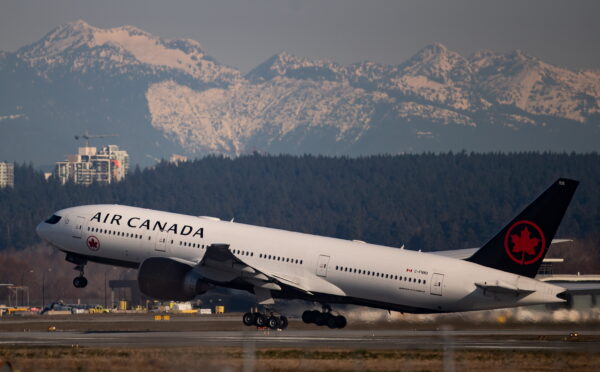 In response to the situation, Air Canada has launched several initiatives since last month to encourage air travel.
For instance, the airline enhanced its loyalty program with more benefits, started a new flight pass program that offers unlimited domestic travel, and included the new insurance plan for its customers.
With the insurance, a passenger can receive up to $200,000 for medical expenses related to COVID-19 treatment.
Up to $150 per passenger per day for quarantine costs such as meals and accommodations will be provided. For families it's up to $300 per day, capped at a maximum of 14 days.
The coverage also includes up to $500 travel expenses if the passenger has to return to Canada should the government raise the travel advisory to Level 4—"avoid all travel"—while he or she is in another country.
As well as the travel dates, eligibility requirements include being a Canadian resident with a valid provincial or territory government health insurance plan during the trip, and trip duration of not more than 21 days, the airline said.
Air Canada's competitor, WestJet, is offering its own version of a COVID-19 insurance package.
It includes but is not limited to emergency medical and hospital costs of up to $100,000 per passenger if infected with the virus outside Canada (excluding the United States), and quarantine accommodation costs of up to $150 per person per day to a maximum of 14 days for passengers who test positive for the virus while on a trip.
The National Airline Council of Canada (NACC), the trade association that represents Air Canada, WestJet, Air Transat, and Jazz Aviation LP, wrote to finance minister Chrystia Freeland on Aug. 20 to urging her to "urgently look at sectoral support for airlines."
"If aviation is to remain at Stage Zero for an indeterminate time period due to government policy, we need to begin work now on measures to sustain the industry," NACC president and CEO Mike McNaney said in the letter.
In a statement on Monday, the NACC said more than 312,000 Canadians have responded to its request to write to their local MPs urging the federal government to come up with a safety plan to quickly restart the travel and tourism sectors.
"We can safely restart our industry and take steps to ensure its financial viability through sectoral support, but the federal government must act now," McNaney said.