Hundreds of guests attended the 2006 Reebok Human Rights Award held at the headquarters of Reebok International Ltd., in Canton, Massachusetts on May 15.
There were four recipients this year, including Li Dan, a 27-year-old man from Beijing, a vanguard in preventing the spread of AIDS in China. Rachel Lloyd, a 30-year-old American, a bodyguard protecting children from sexual harassment in New York. Kurram Parvez, a 28-year-old Indian, resolutely encouraged local youth to strive to pursue human rights and peace amidst the continuing war in Kashmir. Also, Otto Saki, 24-years old, a remarkable hero of justice and human rights in Zimbabwe.
From 1988, the Reebok Company set up human rights awards to encourage young heroes for their efforts in upholding human rights. Amongst them, four youths from China were awarded the special honor twice. Three student leaders of the democracy movement on June 4, 1989 including Wang Dan received the award previously and the other Chinese recipient was Li Dan from Beijing this year. Following is an interview with Li Dan by The Epoch Times reporter.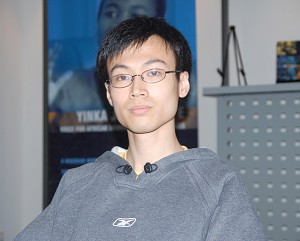 Li Dan Gave up Pursuing a Medical Profession
Li Dan was born in Beijing. He was a graduate student majoring in Space Physics and was considering a medical profession. In 1998, he encountered the first AIDS patient in China and since then he has come into contact with families of AIDS patients, including the elderly and children with no parent or guardian. They were scorned by others and neglected by the government. These AIDS patients lived from one day to the next. Li Dan was concerned for them and could not turn a blind eye to their sufferings. Consequently, he gave up his studies to help them avoid discrimination.
Difficulties Encountered in Setting Up an AIDS Orphanage
In 2003, Li Dan helped 100,000 AIDS orphans by building the Orchid School and AIDS Orphanage in Henan province. However, not long after, the Communist regime forced him to close the school and the orphanage. The police also detained and beat him.
The Communist regime discovered the first case of AIDS patients in 1985. Because the government did not take precautions in preventing AIDS from spreading, there were more than one million people infected with HIV in 1990. He analyzed as follows:
1. The authorities made a profit selling blood transfusion and were unwilling to lose their vested interests.
2. The government officials would not be promoted and become rich if they looked after AIDS patients.
3. Due to the large population in China, productivity would not be affected by the deaths of a few people. Many people suggested letting AIDS patients die peacefully so that it wouldn't affect society
Li Dan Strived for the Basic Rights of AIDS Patients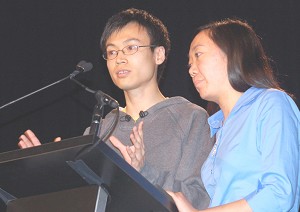 Li Dan and some friends with a common goal established Orchid Cultural Communication Center . They intended to employ professional people to educate the public and hold lectures on traditional culture to teach people to distinguish right from wrong and human values beyond money and materials. In the hope of creating public awareness on real life and bringing about the government and the world's concerns about AIDS in China, he also recorded documentary films about AIDS patients everywhere and sent them to medical personnel and reporters.
He plans to assign US $50,000 to the Orchid Cultural Communication Center in an effort to create a living environment for AIDS patients in China. He will constantly and peacefully strive for basic human rights for AIDS patients in China.