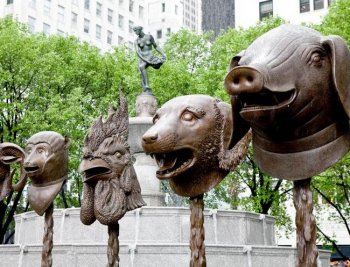 NEW YORK—The art was not the star of this public art exhibit. Rather, it was the chic of its creator, Chinese artist-cum-dissident Ai Weiwei, and the fact that he was abducted by the Chinese security forces on April 3 and has not been heard from since.
At the unveiling of "Circle of Animals/Zodiac Heads" in Grand Army Plaza on a soggy Wednesday morning, Mayor Michael Bloomberg was clear about that.
"Good morning. It's a bittersweet honor," were his first words. "Ai Weiwei could not be here with us for the unveiling of his latest work. … He has been detained by the Chinese government, and the fact that we do not know where he is, or when he will be released, is very disturbing."
Ai was originally scheduled to attend the event. His inauspicious absence meant that human rights abuses in China were brought to the mainstream of New York City's civic discourse.
Most of Bloomberg's speech, many of his answers to questions from the crowd, and most of the other speakers at the event addressed freedom of speech, and how this freedom is crushed by the Communist Party of China.

"Artists risk everything to create," Bloomberg said in prepared remarks. "But artists like Ai Weiwei, who come from places that do not value and protect free speech, risk even more than that. His willingness to take those risks, and face the consequences, speaks not only to his courage, but also to the indomitable desire for freedom that is inside every human being."
It was the first time Bloomberg has addressed human rights in China in a public setting. He was aware that the forthright manner in which he did so would be noticed by Beijing. "They have a big embassy and consulate here, and this certainly has gotten some press. … They certainly know what's going on," he said in response to a question.
A prominent professor of Chinese law at New York University, Jerome Cohen, had predicted that Ai's case would call widespread public attention to the regime's human rights abuses. At a forum in late March he said that Ai's abduction was a "defining moment" for human rights in China.
A coterie of local artists took to the stage to read sound bites from Ai's voluminous writings and tapes. "Cherish your mind, stay away from ignorance," visual artist Brice Marden said. "Without freedom of speech, there is no modern world, just a barbaric one," Alexandra Munroe of the Guggenheim Museum noted.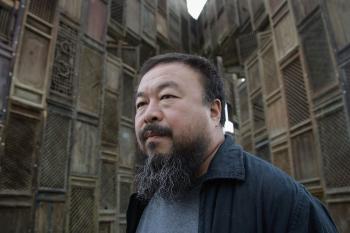 Cliff Sloan, 53, founder of marketing agency The Sloan Group, joined the crowd to support the cause. "The way Ai Weiwei is being treated goes against every fiber of my being and every fiber of what New York stands for," he told The Epoch Times. "The more public this is, the more pressure on the Chinese government [there is]," he added.
Behind the lamentations on human rights in China stood the art itself. "Circle of Animals/Zodiac Heads" draws from the design of a fountain-clock in an 18th-century imperial retreat near Beijing. That retreat was ransacked by French and British troops in 1860; the heads were stolen. Ai produced another 12 bronze Zodiac Heads inspired by the historical version. Each of them weighs 800 pounds and sits atop a 6-foot-high column on the first ledge of the Pulitzer Fountain.
Because they sit at a gateway to Central Park, millions will see the sculptures before they are removed in July.
Ai is one of the most famous contemporary Chinese artists. He has held exhibits around the world, several of them blatantly critical of Chinese human rights practices. Ai is most famous for his design of the 2008 Olympic Stadium, known as the "Bird's Nest."
When asked what his message to the Chinese leaders was, Bloomberg said: "This is a message from America to the whole world that we are the place where people can come and express themselves. China would be well served to listen to our message and to copy us."
"We're not going to walk away from our defense of Ai Weiwei," said the mayor.