Attorney General William Barr said he was "appalled" to learn about the death of Jeffrey Epstein, who was found dead in his jail cell early Saturday, Aug. 10.
"I was appalled to learn that Jeffrey Epstein was found dead early this morning from an apparent suicide while in federal custody. Mr. Epstein's death raises serious questions that must be answered," Barr said in a statement following the news of the death.
NEW: AG Barr statement on #Epstein pic.twitter.com/hWeOiJpb0w

— Alex Mallin (@alex_mallin) August 10, 2019
The attorney general said he has consulted with the inspector general who will be launching an investigation into the circumstances surrounding Epstein's death.
Earlier Saturday, the Department of Justice's Federal Bureau of Prisons said in a statement that Epstein was found unresponsive in his cell in the Special Housing Unit at the Metropolitan Correctional Center in New York City at 6:30 a.m.
New statement from the Metropolitan Correctional Center on Jeffrey Epstein: pic.twitter.com/poH326dngL

— Andrew Peng (@TheAPJournalist) August 10, 2019
"Life-saving measures were initiated immediately by responding staff. Staff requested emergency medical services (EMS) and life-saving efforts continued. Mr. Epstein was transported by EMS to a local hospital for treatment of life-threatening injuries, and subsequently pronounced dead by hospital staff," the bureau said, adding that the FBI is investigating the matter.
A gurney with a body that appeared to be Epstein was pictured being wheeled into a hospital in two photographs published by the New York Post.
Epstein, 66, was recently denied bail while awaiting trial on sex trafficking charges. Authorities said he sexually abused and exploited dozens of girls, some of them as young as 14.
Thousands of documents relating to his alleged wrongdoing were unsealed on Friday, Aug. 9.
Epstein was previously found injured in his cell on July 24. Authorities reportedly placed him on suicide watch following a medical examination. But Bureau of Prisons protocol (pdf) says that inmates should be removed from the Special Housing Unit if they exhibit "significant potential for suicide" and "placed on suicide watch."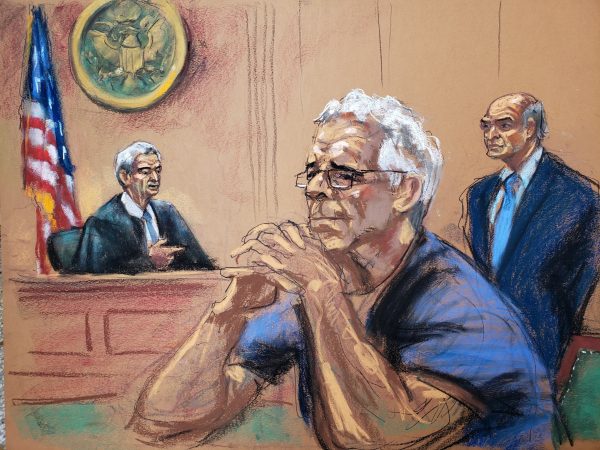 A lawyer for three of Epstein's alleged victims said that the financier might be murdered before the trial took place.
Spencer Kuvin, who represented three Epstein accusers in a 2008 case, speculated to the UK tabloid The Sun that the 66-year-old may be targeted by his rich and powerful connections who may not want him to reveal details about them to the authorities.
In particular, Kuvin said that Epstein's life is "definitely in jeopardy" if he intends to "implicate anyone in power that has the ability to reach in and somehow get to him."
"It'll be interesting to see whether or not Mr. Epstein attempts again to get out on bail and if he does, whether he survives between now and the date of his trial," Kuvin added.
Following Epstein's arrest on July 6, Christine Pelosi—daughter of House Speaker Nancy Pelosi—warned on Twitter that it was "quite likely" that high-profile figures in U.S. politics could be implicated in the Epstein case.
"This Epstein case is horrific and the young women deserve justice. It is quite likely that some of our faves are implicated but we must follow the facts and let the chips fall where they may—whether on Republicans or Democrats."
While it remains unclear who exactly Pelosi was referring to, Epstein is known to have ties to many high profile figures, including the United Kingdom's Prince Andrew and former U.S. President Bill Clinton.
Epstein was charged on July 8 with having sexually abused and exploited dozens of girls—some as young as 14—in New York and Florida from around 2002 to 2005. Epstein has pleaded not guilty. He was being held in jail without bail awaiting trial.
Epoch Times reporter Zachary Stieber contributed to this report.