Gao Zhisheng, a renowned Chinese human rights lawyer, is still under house arrest and forbidden by the Chinese communist regime to seek medical treatment— three years after being released home. Despite spending many years in jail for defending prisoners of conscience in China, Gao has no regrets over his choices.
In an interview with New Tang Dynasty Television on Aug. 7, Gao said everybody in China has lost their freedom and they are living like they are in prison.
Gao said, "In China 1.3 billion people are under house arrest, not just me. To human nature, human rights, humanity, and heaven's mandate, this is a prison. My greatest wish is to change this evil system so Chinese people can live a normal life and China can go back to being a normal civilization."
Gao was once lauded by the Chinese Ministry of Justice as one of China's top 10 lawyers. Gao, a strong Christian, ran afoul of the communist regime when he started providing legal aid to practitioners of Falun Gong—one of the largest spiritual communities being persecuted in China.
Chinese security forces stepped up their surveillance of Gao after he penned open letters to the top Chinese leadership condemning the persecution, and he was formally arrested in 2006. Gao spent the next eight years in and out of prison, where he was tortured in the same manner as Falun Gong practitioners—including sleep deprivation, brutal beatings, and shocks with electric batons.  
In 2014, Gao was placed under a form of house arrest in his native Shaanxi Province.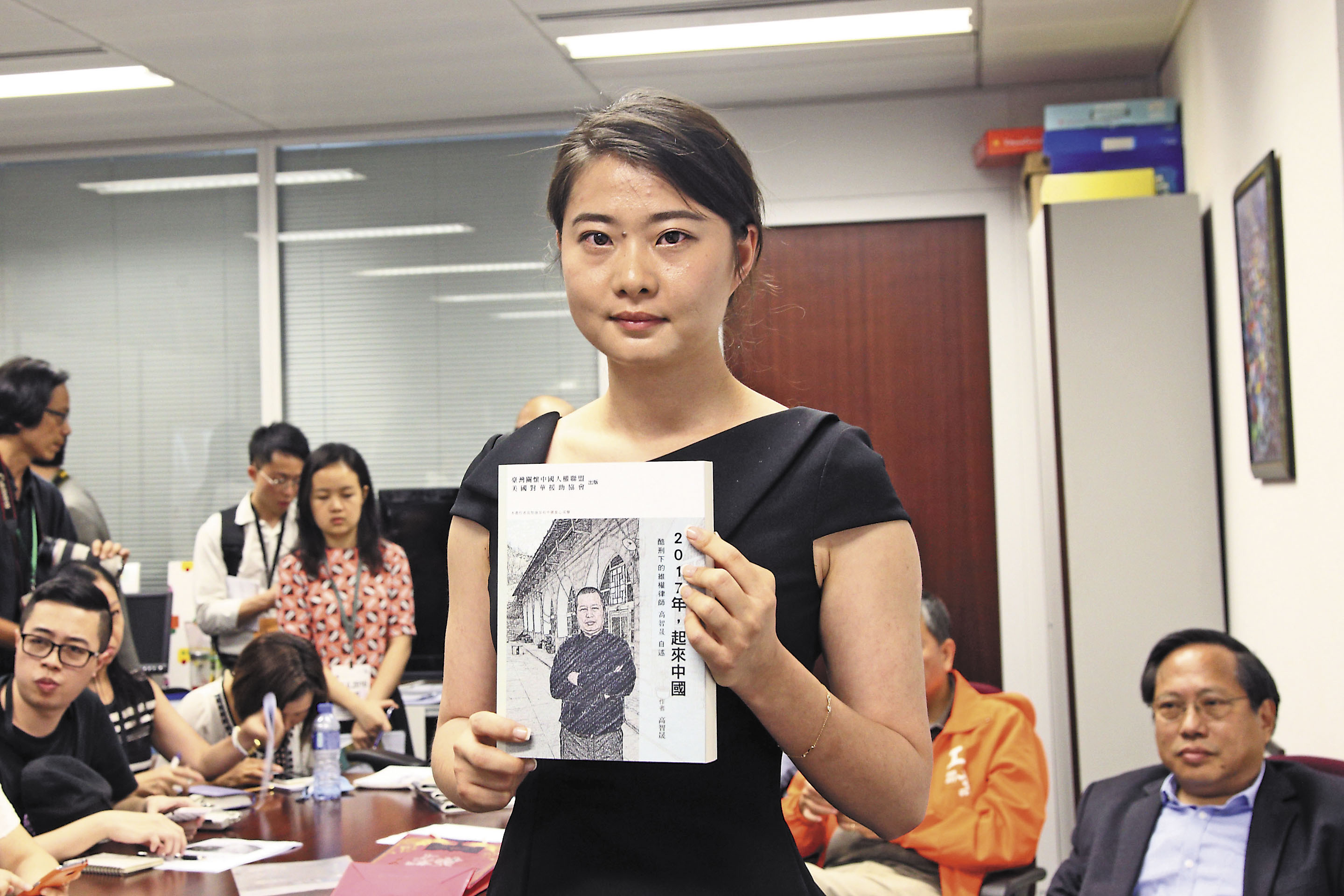 Gao said he does not regret defending persecuted prisoners of conscience like Falun Gong practitioners. If he were given another chance, he would be even more resolute in his choices.
"I'm glad I have made this choice. If what I have experienced in prison happens to our children in our lifetime or their lifetime, that would be the most distressing situation for us to face. If Chinese society doesn't change, my children may go to jail in China in the future. The chance of that happening is almost impossible to ignore. So I will never regret the choices I have made," said Gao.
Gao's wife, Geng He, who currently lives in California with their two children, told New Tang Dynasty Television that Gao's teeth became very loose after many years of torture. Even though he is home now, the Chinese Communist Party (CCP) still does not allow him to visit a dentist to have his teeth fixed.
Geng said, " How loose (are his teeth)? If he shakes his head, his teeth make noises in his mouth. If he lies down to sleep, his teeth fall on his tongue. In the past three years, we tried to see a dentist no fewer than three times, but they stopped us like the villains that they are. Isn't that a form of torture? (Gao) has already been released home, but they still don't let him see a dentist. Now he doesn't have teeth. He is not eating meals now. He is drinking his meals. He can only drink rice porridge. They want to mentally destroy Gao Zhisheng."
After learning of Gao's situation, Chinese human rights activists and netizens launched a campaign, calling on the CCP to allow Gao to get medical treatment and free him.
Geng expressed her gratitude to fans and netizens. She said her greatest wish is that Gao visit a dentist as soon as possible.
"I would like to thank the passionate netizens and media groups like you. Do you know what he looks like when he is eating now? I cry whenever I talk about this. He can't even drink rice porridge. He is using his index figure to support five teeth in order to eat soup," said Geng.
Geng also said that Gao has been suffering from mosquito bites, but the anti-mosquito supplies sent to him by netizens were confiscated by the CCP.
Geng He said, "His whole body has been bitten by tiny mosquitoes. If he scratches the wounds, you can see yellow fluid oozing. Some passionate netizens knew about this and bought a tent and mosquito coils. They mailed these items to Gao. But the evil Chinese Communist Party received the items on behalf of Gao's elder brother. But his elder brother didn't receive these items. That's what happened."
­While under house arrest, Gao Zhisheng secretly composed and smuggled out a 500,000-word manuscript titled, "Year 2017, Stand Up China." The book details Gao's experiences as a prisoner from 2009 to 2014, and his prediction that the CCP will meet its demise in 2017. The book was published in Chinese in June, and an English version is forthcoming.
"I have continued to work—from 2015 up to and including early this year. I still continued to do something under this circumstance," Gao said, "I'm most pleased with the publication of my book 'Year 2017, Stand Up China' and the completion of the 2016 China human rights report and the Constitution of Federal Republic of China. I would like to call on more people to pay attention to this."
Geng said, she is very moved by Gao's willingness to speak out through his writings despite the harsh conditions he has faced.
Chang Chun from NTD China News contributed to this article