After Morsi Ouster, Egypt Left as a Divided Society
September 26, 2013 6:32 am Last Updated: September 27, 2013 11:18 am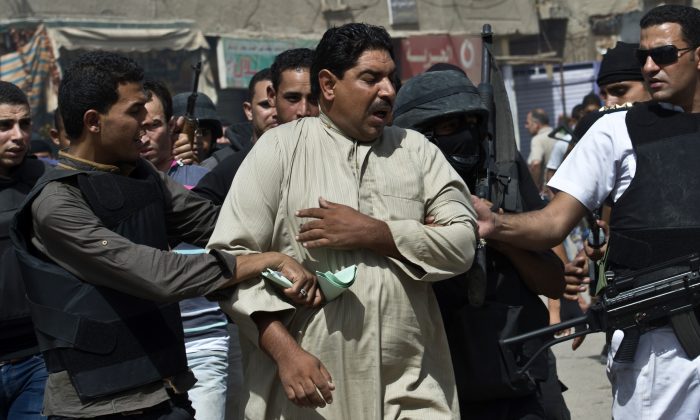 Nearly three months after the military ousted president Mohammed Morsi, a relative calm has returned to Egypt, but the population has been left divided and deeply polarized.
The violent fallout between protesters and security personnel claimed over 1,000 lives throughout the country. The deepening divisions between those supporting Morsi and those supporting the military are making life increasingly difficult for Egyptians.     
"You can see it when people make fun of men who have beards or of women who wear hijabs or burkas," said Yasmine Farouk, assistant professor of political science at Cairo University.
"I have seen some Islamists shaving their beard because they fear being arrested or harassed. I have seen Copts [Egyptian Christians] hiding their Coptic identity because they were attacked after Morsi was ousted."
Farouk, who works at the Faculty of Economics and Political Science, said that at their staff meetings there have been calls to exclude professors who are members of the Muslim Brotherhood.
Divisions in the Media
According to Farouk, the media is very biased because all Islamists channels were closed after Morsi's ousting for being an extremist.
However, the pro-military channels are also extremists. They call on the army and the Ministry of Interior to intervene with violence against Islamist protesters and the Muslim Brotherhood, regardless if their opponents act violently or not.
On Sept. 23 an Egyptian court ordered a ban on the Muslim Brotherhood and all of its activities.
Divisions are also seen in social media. "One Egyptian immigrant woman who lives in Canada and who comes from a family in the [Muslim] Brotherhood warned her friends that if they do not support Morsi she would … block them for good," Said Sadek, professor of political sociology at the American University in Cairo, said.
Politicians and intellectuals silently boycott anti-second wave revolution media like Al-Jazeera Mubasher (aka Al-Jazeera Live) television, which takes the side of the Islamists, according to Sadek.
A Divided Society
There are heated debates among families while others avoid political issues altogether. In everyday life, business goes on as usual and if partners fear that politics cold ruin their income, they avoid sensitive political discussions altogether.
But despite the complicated situation and divisions in Egypt, Sadek argues that it's still relatively under control.
"This is not a civil war or deep permanent division but a short, temporary political crisis," wrote Sadek. "This is the maximum. Egyptians have never been in a civil war. Some analysts wrongly compare Egypt with the Algerian case and try to impose it on Egypt by historical analogy. That is totally wrong."
According to Sherifa Zuhur, professor of Islamic studies at Cleveland State University in Ohio, the military intervened following the requests of civilians. The support for the Muslim Brotherhood is probably no more than 15 percent, and the majority of people actually support the interim civilian government, Zuhur added.
"Egyptians have a very strong sense of commonality and common purpose and the Muslim Brotherhood are not that popular for the very reason that they do not identify as much with Egyptian goals as with those of a Muslim nation," Zuhur said.
But temporary or not, a method has to be used if divisions are to be reconciled.
"To me, the only development that could get us out of this polarized situation is again dialogue, and again reconciliation," Farouk emphasized. "There must be an effort on behalf of the politicians in charge today to bring back the Muslim Brotherhood to the negotiation table and to make them agree to a set of rules that are going to govern the whole transitional process. Without doing this, you will continue in a polarized situation, that is a very fertile ground for the use of violence."