Hugs and tears came on Tuesday as South Australia opened its domestic border to all states and territories for the first time in more than 150 days.
Fully vaccinated travellers from Victoria, New South Wales (NSW), and the Australian Capital Territory (ACT) can now enter South Australia along with those from Western Australia, Queensland, Tasmania, and the Northern Territory.
South Australia Premier Steven Marshall said it is time to allow reunions with loved ones as well as business and travel opportunities.
"There will be some pretty happy faces down at the airport and at our borders as people start to come back into South Australia," he said.
"They've got to be fully vaccinated but we certainly will be welcoming them with open arms."
The premier said the long wait for less restricted travel was finally over.
"This is a real pivot point for South Australia," he said. "These border restrictions have been harsh on so many businesses, so many individuals and families."
"So it's a big relief today."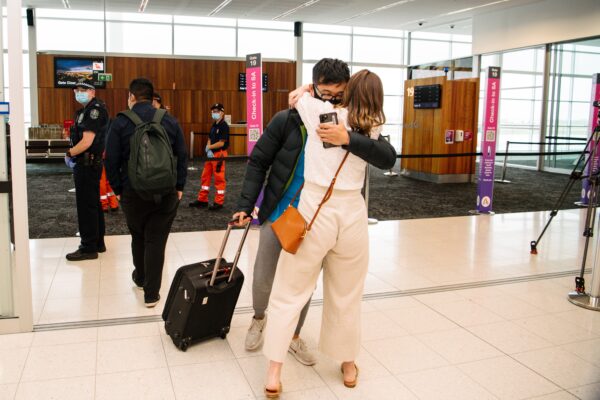 Around 43,000 people have applied to enter South Australia under the new policy. Travellers are required to use EntryCheck SA, a new online border entry system to find out the relevant restrictions and to file the application.
They also need to use a new HealthCheck SA app for monitoring daily symptoms as well as testing and quarantine requirements.
Requirements after arrival vary with the COVID-19 risk level of departure places, ranging from no entry conditions at all to multiple COVID-19 tests before departure and after arrival, plus a seven-day quarantine with daily symptom check.
Only fully vaccinated travellers are allowed to enter South Australia at present. Unvaccinated people will need to apply for a special exemption, which will be assessed on a case-by-case basis.
The lift of the border restriction comes before the state reaches its goal of 80 percent vaccination rate.
As of Monday, South Australia's double-dosed vaccination rate of residents aged 16 and above is 77.4 percent.
Some restrictions remain in place, including mask mandate in most venues such as on public transport and shopping centres.
The state recorded zero new cases, two active cases, and four deaths on Monday.
AAP contributed to this report.