Jeff Corwin, an animal and nature conservationist, who is the host and executive producer of TV programs "The Jeff Corwin Experience" and "Corwin's Quest," has spoken out after a gorilla was shot and killed at the Cincinnati Zoo.
A 4-year-old boy fell into the gorilla's enclosure. Zoo officials said the gorilla, a 17-year-old named Harambe, was dragging the boy around. They opted to shoot and kill the great ape.
Corwin spoke with FOX25 in Boston, mainly focusing his questions on how the boy got into the enclosure in the first place.
"That's the million dollar question," he said. "How did this little boy slip in this enclosure?"
He said the main lesson following the incident is that parents need to treat zoos and animals with respect.
"Zoos aren't your babysitter," he told FOX25.
"Take a break from the cell phone, the selfie stick and the texting. Connect with your children. Be responsible for your children. I don't think this happened in seconds or minutes. I think this took time for this kid, this little boy to find himself in that situation. Ultimately it's the gorilla that's paid this price."

Corwin addressed criticism against the zoo not using a tranquilizer dart, saying it wasn't really an option.
"It can take some significant time before an animal is sedated—as big as a 400 pound gorilla," added Corwin. "It can take anywhere from ten to fifteen minutes. It may take multiple shots. I think that's a risk they weren't willing to take."
Meanwhile, animal expert Jack Hanna, the host of TV show Jack Hanna's Into the Wild and director emeritus of Columbus Zoo and Aquarium in Ohio, said that he agreed with the Cincinnati Zoo's decision to shoot Harambe.
"No one loves gorillas more than the Columbus Zoo, the Cincinnati Zoo, and the zoo world. We have given millions of dollars to preserve these animals," he said, adding that the commotion from bystanders probably agitated the animal, reported ABC News (via EW.com)
Many are questioning whether killing Harambe the gorilla was really the only option: https://t.co/QlfUcCbBgx https://t.co/KNn9JhOYc6

— New Day (@NewDay) May 30, 2016
He said, "That gorilla was upset. Having worked with these animals for 35 years, I've seen them take a green coconut, which you can't even bust open with a sledgehammer, and squish it… You're dealing with human life or animal life here, so what is the decision? I think it's very simple to figure that out."
Hanna also ruled out tranquilizing the gorilla.
"Once that dart would go into that beautiful, big Silverback male… what's he going to do with a child right there? He's going to jump," he added. "The power this animal has is beyond comprehension. They're a magnificent creature. There's no doubt in my mind that that child would not be here today if they hadn't made that decision at the Cincinnati Zoo… a dart takes too long. The child would not have a chance."
Species critically endangered
Corwin also highlighted how endangered Western lowland gorillas are. "No amount of money, or biology or science can ever bring back what was lost" with the death of Harambe, he told FOX25.
According to the World Wildlife Fund (WWF) conservation group, Western lowland gorillas (scientific name: Gorilla gorilla gorilla) are "critically endangered."
The group says:
Large numbers have not protected the western lowland gorilla from decline. Because of poaching and disease, the gorilla's numbers have declined by more than 60% over the last 20 to 25 years.

Even if all of the threats to western lowland gorillas were removed, scientists calculate that the population would require some 75 years to recover.
Meanwhile, the child's mother addressed the controversy over her child falling into the pit.
Michelle Gregg, who has been blamed for failing to control her boy, apparently posted a message on Facebook, saying "accidents happen."
"For those of you that have seen the news or been on social media, that was my son that fell into the gorilla exhibit at the zoo. God protected my child until the authorities were able to get to him," she wrote.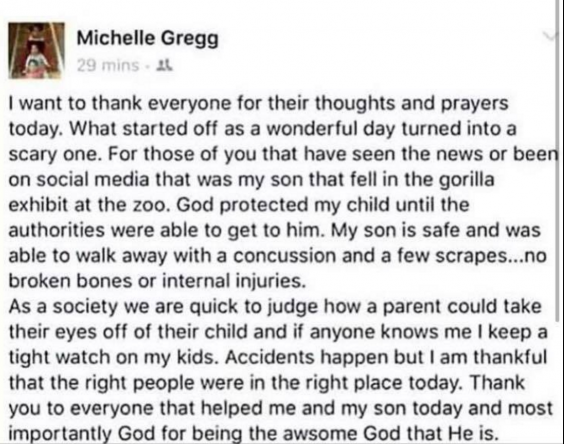 "My son is safe and was able to walk away with a concussion and a few scrapes…no broken bones or internal injuries," Gregg added.
"As a society we are quick to judge how a parent could take their eyes off of their child and if anyone knows me I keep a tight watch on my kids," she noted. "Accidents happen but I am thankful that the right people were in the right place today."
—