WASHINGTON—The United States has turned a corner in its relations with the Chinese communist regime, and trade relations are destined after the election to follow the course laid down by the Trump administration—no matter who wins—experts say.
As a U.S. senator and then as vice president, Joe Biden had been a strong supporter of free trade with China. The Democratic candidate played a crucial role in China's accession to the World Trade Organization in 2001.
Last year, Biden dismissed the notion that China was a competitor, drawing criticism from both Democrats and Republicans. With the pandemic, public opinion in the United States has shifted significantly against the Chinese regime, which has created a vulnerability for Biden, according to experts.
His rhetoric has changed dramatically in recent months in an effort to out-tough President Donald Trump. Rising pressure prompted him to call China a "serious competitor" at a CNN town hall in September. The Trump administration considers China an "adversary."
Biden hasn't set out policies specific to China trade. However, experts believe whoever wins the election, a harder line on China will likely remain. While the candidates pose a stark contrast on many policy issues, they agree on confronting China with a different approach.
"I think there's going to be an awful lot of continuity," Edward Alden, senior fellow at the Council on Fore­­­ign Relations, told The Epoch Times.
"At the beginning, I don't think you're going to see a quick removal of the U.S. tariffs," he said.
While Biden would be cautious on removing tariffs, Alden believes, he would walk away from the "phase one deal" as that's very much associated with the Trump administration.
"They would find their own approach and come up with a separate name."
The phase one trade deal signed in mid-January requires Beijing to buy $200 billion worth of additional U.S. goods and services over the next two years, including $40 billion–$50 billion of agricultural goods each year.
The Department of Agriculture earlier expressed disappointment over Beijing's slow progress on meeting its pledges in the trade deal.
China's farm purchases from the United States stood at only $5.1 billion in the first quarter of this year. Beijing, however, accelerated its purchases significantly in recent weeks, ordering record volumes of soybeans, corn, pork, and beef from American farmers.
"To some extent, I think Biden is locked into some of the positions that the current administration has already taken," Alden said. "To remove the tariffs without getting anything in exchange from China would be seen as a sign of weakness."
Trump claimed his tariff campaign on Chinese products has been effective, forcing Beijing to make concessions.
"They want to keep me happy," Trump told Fox Business on Oct. 8. "Because they know that I'm a hair-trigger when it comes to them, and I'm sick of them."
He also said he would keep tariffs on Chinese goods after he won reelection, as it helped bring "billions of dollars" to U.S. farmers and to the U.S. Treasury.
In a recent op-ed, Peter Morici, an economist and business professor at the University of Maryland, made the case for Trump's foreign policy.
"President Donald Trump's record and former Vice President Joe Biden's facile vision make the incumbent the better choice," he wrote.
The "old-fashioned multilateralism" didn't work, Morici told the Epoch Times. "We need a Trumpian personality to move the world off of old assumptions."
When it comes to China trade policy, however, Morici argues that current "hard-nosed policies are going to continue" after the election no matter who wins.
"Biden is going to try to go about it a different way, but the result is going to be the same. It's going to be a standoff," he said.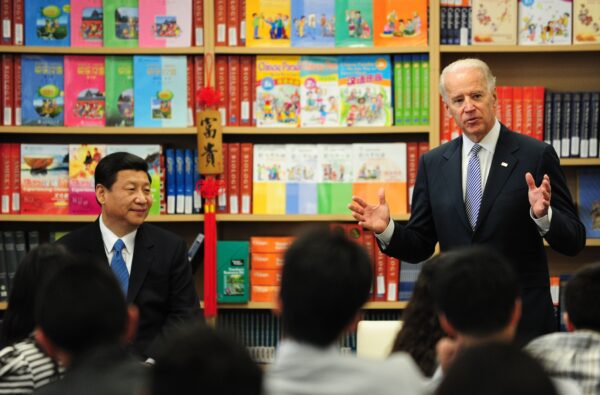 Biden's New China Policy
Trump broke a longstanding U.S. policy toward China and announced sweeping tariffs on Chinese goods in 2018 to address unfair trade practices. His move marked America's hardening approach to China for the first time in more than three decades.
Trump has repeatedly used the Democratic challenger's soft approach toward China against him. He called China's entry into the WTO "one of the greatest geopolitical and economic disasters in world history."
During the vice presidential debate on Oct. 7, Democratic nominee Sen. Kamala Harris didn't respond to a question about whether China is a competitor, adversary, or enemy. Instead, she said the Trump administration lost the trade war.
"Lost the trade war with China? Joe Biden never fought it," Vice President Mike Pence responded.
"Joe Biden has been a cheerleader for communist China over the last several decades."
According to a New York Times article, Biden was actively involved in building America's commercial ties with China. Biden met with Xi Jinping, then the incoming leader of China at least eight times in 2011 and 2012, and even played basketball with him during one of his visits at a high school in Sichuan Province, the newspaper reported.
This year, Biden has come under political pressure to look tough on the Chinese regime. Approval of China across developed countries plummeted in recent months due to Beijing's handling of the coronavirus pandemic and its crackdown on democracy in Hong Kong and Xinjiang.
A new survey from the Pew Research Center showed that negative views of China in 14 countries have reached their highest points in more than a decade. In the United States, 73 percent of respondents said they saw the country unfavorably. Negative opinions about China have soared nearly 20 percentage points since Trump took office in 2017.
"The Democrat position on China has moved substantially," Alden said. "If Beijing is hoping that a Biden administration will be soft on China, I think they're going to be deeply disappointed."
According to his policy statement, Biden pledged to "take aggressive trade enforcement actions against China" to curb its anti-competitive practices, including currency manipulation, dumping, and massive subsidies.
However, instead of transforming China, trade experts believe Biden will focus more on strengthening the United States by providing incentives to bring supply chains back and rolling out "Buy American" plans to support domestic manufacturers.
Biden also promised to work with allies to modernize international trade rules and pressure the Chinese government.
Biden has faced accusations of plagiarism as some of his policy proposals have echoed Trump's trade and manufacturing policies, including his "Buy American, Hire American" blueprint.
"It looks a little bit like plagiarism, which is something Joe Biden knows a little bit about," Pence said during the debate.
While trade experts agree that Biden would take a tough stance toward China, Republicans and many conservatives question whether he is capable of carrying out these policies.
In an interview with The Epoch Times' American Thought Leaders program, Rep. Jim Banks (R-Ind.) raised concerns about Biden's ability to counter the China threat.
"On one side on the ballot, you have President Trump with this extraordinary team of leaders who understand the China threat better than ever before, versus a politician, Joe Biden, who for 50 years has been a part of leadership in America that has turned a blind eye to China's actions. So that is what's on the ballot," he said.

Phase Two Deal?
While the phase one trade deal has been an important breakthrough in the trade war with China, it doesn't address longstanding issues such as China's state subsidies. Subsidies along with other structural issues in U.S.–China relations have been put off for future negotiations.
Derek Scissors, a resident scholar at the American Enterprise Institute, urges both candidates to focus on tackling the issue of mass subsidies, calling it the "most harmful Chinese behavior."
"While intellectual property coercion deserves attention, subsidies are the worst economic action," he wrote in a recent report.
"In particular, state-owned enterprises are often granted monopoly power and always protected from competition, denying everyone else opportunities in China and around the world."
He urges the next administration to first document China's subsidy problems and then to use it to justify a "harsh retaliation" against Beijing. According to Scissors, retaliation could include applying anti-dumping duties and closing some markets to China.
During the signing of the phase one deal, Trump said that he would maintain some U.S. tariffs on Chinese goods as a bargaining chip for the second phase of the deal. After the pandemic, however, Trump expressed hesitation about negotiating a phase two agreement with China.
It's unclear whether the United States can make any progress on trade talks with Beijing after the November election, as there is still a sense of skepticism when it comes to China's concession on structural reforms.
"I think a phase two agreement is very unlikely," Alden said. "China under Xi Jinping has made it very clear that it does not wish to embrace the broad structural reforms being pushed by the United States."
So after failed efforts to restrain China's subsidies, he said, "we are now moving into the stage of an all-out subsidy war in which the United States and other countries are going to try to outbid China to persuade companies to locate in their countries."
This article was revised on October 14, 2020 to clarify Edward Alden's comments about the phase one trade deal.