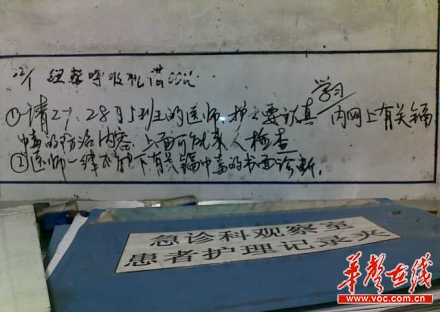 A river in China is poisoned with the toxic chemical cadmium, but a local hospital put up a notice forbidding doctors from diagnosing patients with cadmium poisoning.
The news that the Longjiang river in the city of Hechi, Guangxi Province was contaminated with cadmium run-off from local factories was reported by state media three days after the pollution was detected; currently, chemicals to neutralize the adverse effects of the pollution are in short supply. 
On Jan. 29 a netizen posted online an "internal notice" from Liuzhou City People's Hospital, which is nearby the spill. It demands that physicians and nurses do some Internet learning about the treatment and control of cadmium poisoning because "the superiors might send people to make inspections." At the same time it states that: "Physicians are not allowed to make writing diagnosis of cadmium poisoning," according to Xinhua, a state news agency.
Two days later the hospital responded that the image posted online was false, but that, all the same, the hospital is not qualified to diagnose cadmium poisoning. According to relevant regulations, they said, a written diagnosis of cadmium poisoning is the responsibility of the Liuzhou Center for Disease Control & Prevention. 
Zhong Xi, a doctor from a large and reputable hospital, published a commentary in The Beijing News criticizing the response from the local Liuzhou hospital."Coming from a high-level pedagogical hospital, being able to diagnose cadmium poisoning and different types of cadmium poisoning—how could a doctor not know that?" he wrote. "To put it bluntly, even intern doctors know this. But why is hospital management emphasizing that they don't know? Is this administrative interference? Do they just want to make it all go away for the government?" 
Poisoning with cadmium, a substance used in the production of paint, solder, solar cells, and batteries, can cause kidney and liver damage and weaken bones. The current contamination can be traced to discharges from a mining company in Guangxi.
According to a program aired on China Central Television, the state broadcaster, on Jan. 30, a nearby city found dead fish on Jan. 15, though Liuzhou, the main site of pollution, was not notified for several days. 
Experts say the solution is to pour into the river chemicals meant to neutralize cadmium pollutants. On the evening of Jan. 29, Vice Mayor of Hechi City, Lee Wen Kang said that within several days the supply of such chemicals will run short.