After Calamitous Mudslide, Zhouqu Survivors Take Time to Reflect
August 23, 2010 4:30 am Last Updated: August 23, 2010 4:34 am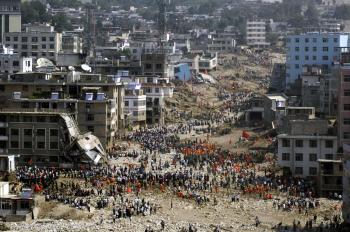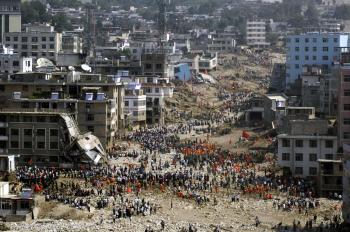 From late night Aug. 7, to the wee hours of Aug. 8, an enormous mudslide devastated parts of Zhouqu County, a place that used to enjoy the reputation of being the "Shangri-la of Gansu Province."
Located less than one hundred kilometers (62 miles) from the world famous Jiuzhaigou Valley, a UNESCO World Heritage Site in Sichuan province, Zhouqu was described in the County Annals as having a balanced ecosystem, clean air, rich and dense forests, and abundant natural resources. It was also said to be the home of several rare animal species, such as the giant panda, golden snub-nosed monkey and an antelope. The area was also famous for producing Sichuan pepper, walnuts, persimmons, apples and the black wood ear—an edible fungus.
However, the nighttime mudslide turned the former Shangri-la into a mass grave and a jumbled mess of debris and mud.
The real death toll is unknown; official media reported 1,254 deaths and 490 disappearances as of Aug. 16, though local residents have told reporters that the figure is much higher. Zhouqu County is in the Gannan Tibetan Autonomous Prefecture of Gansu Province.
In the wake of the disaster survivors are taking the time to reflect on what they witnessed and experienced.
Large Death Toll Estimated
Mr. Li, a Zhouqu resident who personally witnessed the mudslide, told New Tang Dynasty Television (NTDTV) that the death toll is far greater than the officially reported number.
"Out of 200 families in Yueyuan Village, only 11 people survived. In the nearby Sanyanyu Village, 20 out of 300 families survived. The 923 Tree Farm used to be a booming area with lots of people living there. Now it is filled with mud. People could not escape at all," Mr. Li said.
Hong Kong's Mingpao reported an eyewitness account from Liu Jiqin, a survivor from Yueyuan Village.
Liu said, "Fifty-three members of my family died. My father's body was found without head and left arm. Yet he was still holding on to his eleven-year-old grandson, Huangxin, whose body was undamaged. It looked like the child was asleep." Liu burst into tears.

Ms. Li, also a local resident, told NTDTV that the bodies that had been dug out were decayed, and that there were many bodies that could not be recovered.
Another Zhouqu resident, also called Mr. Li, said, "When the excavator dug for bodies, some bodies were cut in half, some were without head, arms or legs. Everywhere there is mud mixed with blood. I tremble just looking at it. Our tears are all dried up. We no longer have any more tears."
Recalling the night of Aug. 7, Mr. Li said, "It rained heavily for five to six hours. Huge thunderclaps, like pounding hammers, sounded just above our heads. No one in our village could sleep. Everybody was scared."
Mr. Li continued that the sound of the mudslide was scarier than the sound of an earthquake, and that the colliding rocks created sparks as bright as lightning.