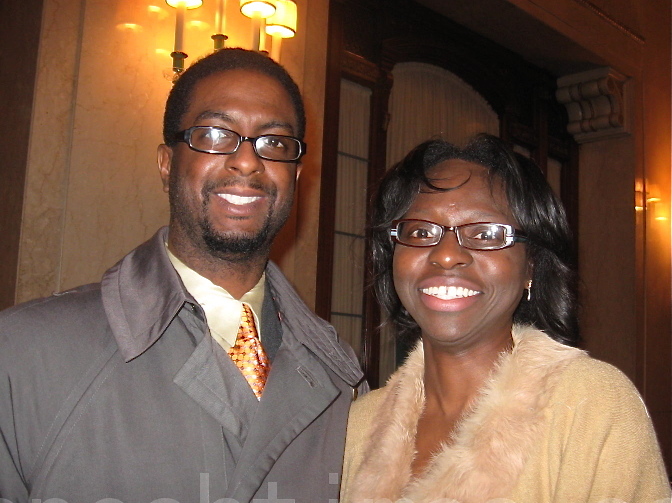 PITTSBURGH—Oronde S. Sharif, lecturer and major advisor in the Department of Africana Studies at the University of Pittsburgh, "thoroughly enjoyed" Shen Yun Performing Arts at the Benedum Center on Feb. 15.
Mr. Sharif, a recipient of ACTA Awards for Best Music, Best Choreography, among others, said: "It was an excellent show. I enjoyed the historical aspect of it … the Chinese cultural aesthetics that was presented in the dancing, and the live music, and the storytelling.
"I loved the digital backdrops and how they infused that with the dancing and with the live action in the show."
Being a teacher of African dance, Mr. Sharif commented on how "cultures have specific dance styles and techniques that really enforce who they are as a people, so I enjoyed that coming out from the show."
Oronde S. Sharif, who was recognized as Best Lead Actor, could appreciate the dancers' performance from a professional perspective. "They were amazing. I was thinking I would probably have pulled something, pulled a muscle, if I did something like that."
He also spoke highly about the performers' stamina and endurance. "They put so much energy out there. … I would have been on the floor if I was doing that."
Mr. Sharif was impressed with the cosmological aspect of the performance. Since ancient times, China has been known as the "Celestial Empire." It captures a profound meaning, describing a land where the divine and mortals once coexisted. It refers to the belief that the divine, through various dynasties, transmitted a rich and abundant culture to the Chinese people, says the company's website.
Mr. Sharif said: "I wish I could have brought my students. I really wish they would have been able to come and experience the whole cultural aspect of it, and understanding … through dance."
Sophisticated dance techniques, an orchestra combining instruments from East and West, beautiful costumes, and a stunning back drop—this is Shen Yun at first glance. But looking deeper, one discovers a vast plain of traditional Chinese culture.
"You get a true understanding of the people and the culture. I enjoyed the whole thing. I thoroughly enjoyed it," concluded the dance teacher.
Mr. Sharif was accompanied by his wife, Latonya Salley-Sharif, a grade level dean in the upper school of Ellis School, an independent girl's school. She enthusiastically remarked: "It was beautiful. It was really beautiful, I was captivated the whole time."
Mrs. Sharif spent a part of her childhood in Japan, so at a first glance, it looked familiar to her, "but it was completely different because [at the Shen Yun performance] you get a complete understanding from the presentation of the dancers and the singers." She further stated that even if you didn't know anything about the culture, one would be able to make a connection "between what was presented on stage and culture and life."
Shen Yun's many pieces draw upon stories and legends that span China's history from the Yellow Emperor all the way to modern-day.
Mrs. Sharif said: "I've got a new connection with the historical aspects and gained a deeper appreciation of another culture." She was impressed by "the way people honor their traditions and culture, [the way it] is preserved through the dance and through the arts."
She said that she "didn't realize until the end that it's presented outside of China because there are restrictions [to Shen Yun performing in China]."
Shen Yun's mission is to revive the 5,000-year-old, divinely inspired culture of China. Unfortunately, over the past 60 years, this cultural treasure has been persecuted and co-opted by the Chinese Communist Party. It is outside of China that Shen Yun's artistic creators have the ability to freely express themselves and their ancient culture. Their courage to speak up is an integral part of Shen Yun's spirit, according to the company's website.
"That just took it to a different level of appreciation," said Mrs. Sharif. "It makes you appreciate the opportunities that different cultures have and that we have to be able to freely form and commit to preserving our tradition and culture, and make sure that the historical aspects of [it be] passed along to other generations."
Reporting by Sherry Dong and Nataly Teplitsky.
New York-based Shen Yun Performing Arts has three touring companies that perform simultaneously around the world. Shen Yun Performing Arts Touring Company will next perform in St. Louis at the Peabody Opera House, Feb. 18 to 19.
For more information, visit ShenYunPerformingArts.org.