NAIROBI, Kenya—Some African countries are canceling Chinese development projects and licenses as governments wake up to the potential risks of such deals.
Over the past few years, the regime in Beijing has played a huge part in African development projects. At the same time, there have been concerns about how it carries out those projects, often luring African countries into so-called debt traps with the potential to put national assets at risk in the event of a default on repaying their loans.
On Aug. 2, the Financial Times reported that "the government of Sierra Leone has canceled and suspended the licenses of several mining projects, including the Tonkolili and Marampa iron ore mines." Major companies operating in Sierra Leone include China's Shandong Iron and Steel, which owns the Tonkolili iron ore project, and Gerald Group, which owns the Marampa mines.
Since he ascended to power last year, Sierra Leone President Julius Maada Bio has made considerable changes to the law and reviewed mining contracts to ensure the country benefits from its natural resources.
In October 2018, Bio canceled another Chinese-funded project, construction of the Mamamah airport, at a cost of $400 million.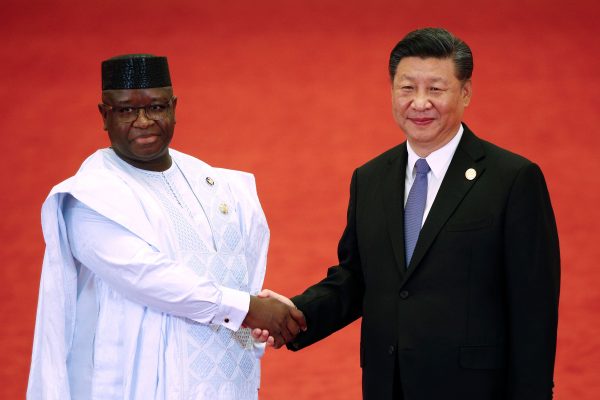 The project loan agreement with China had been signed by the country's former president, Ernest Bai Koroma, before his reelection bid failed in March 2018.
During that time, the World Bank and the International Monetary Fund (IMF) issued a warning to the effect that the project would impose a heavy debt burden on Sierra Leone.

The then-Chinese ambassador to Sierra Leone, Wu Peng, told the BBC at the time the project was canceled that relations wouldn't sour between the two countries. "I don't think the airport project should affect our future bilateral relations," he said.
Tanzania
In June, Tanzanian President John Magufuli suspended a project by the Chinese to build the Bagamoyo port at a cost of $10 billion, after failing to agree on the terms of the project. The project agreement had been signed by then-President Jakaya Kikwete and his Chinese counterpart, Xi Jinping, during Xi's visit to the East African country in 2013.
It included a 4,200 acres economic zone, and was to be built by the Chinese state-owned China Merchants Port in partnership with Oman's State General Reserve Fund. 
"Those investors are coming with tough conditions that can only be accepted by mad people," Magufuli said, according to Kenyan news website Tuko.
"The investor told us once they build the port, there should be no any other port to be constructed from Tanga to Mtwara south. You are not even allowed to go and collect revenue, and the TRA [Tanzania Revenue Authority] is not allowed to step onto the port to collect revenue.
"Apart from that, they want us to give them a guarantee of 33 years and a lease of 99 years, and we should not question whoever comes to invest once the port is operational. They want to take the land as their own, but we have to compensate them for drilling construction of that port.
"I am saying this so that we understand that as a country we have been played with, and we need to change."
Echoing that sentiment, Anzetse Were, a Kenyan development economist, recently warned in a Twitter thread that African governments need to be careful about how they borrow from China to spend on development projects.
"It is important that African governments manage & define the quality of investment they seek to encourage into their countries," she wrote.
"Are there FDI [Foreign Direct Investment] strategies being deliberately employed by African governments to ensure the private sector interests in the continent are leveraged strategically?"

International Concern
In August 2018, 16 U.S. senators wrote a letter to U.S. Treasury Secretary Steven Mnuchin and Secretary of State Mike Pompeo expressing concern about how China, through its One Belt, One Road initiative (OBOR, also known as Belt and Road initiative), was lending money to countries in Africa and other parts of the world, sometimes more than they could repay, and therefore luring them into a debt trap.
In the letter, the senators pointed out that some countries were already requesting that the IMF bail them out from loans that they owe Beijing, citing the case of Sri Lanka losing its port to China.
"The Centre for Global Development has estimated that of the 68 countries currently hosting the BRI-funded projects, 23 countries are at risk of debt distress, and in eight of those countries future BRI-related financing raises serious concerns about sovereign debt sustainability," the letter states.
"It also found that Chinese behavior as a creditor has not been subject to the disciplines and standards that other major sovereign and multilateral creditors have adopted collectively, and in the process, debt levels and dependence on China are rising. As financially strapped countries negotiate with China to free themselves of mounting debt, Beijing has extracted onerous concessions, including equity in strategically important assets. Further, Beijing has repeatedly used economic pressure to affect foreign policy decisions."

Outside of Africa, Malaysian Prime Minister Mahathir Mohamad, during his first visit to China in August 2018, after winning the election, announced the cancellation of three OBOR projects: the East Coast Rail Link and two gas pipelines, the Multi-Product Pipeline and Trans-Sabah Gas Pipeline.
The projects had been signed by his predecessor, Najib Razak, whom Mahathir has always criticized for embarking on these ventures, saying that they were detrimental to the country and its fiscal health. During his election campaign, Mahathir pledged to reduce Malaysia's rising debt levels, and the OBOR projects would only increase such debt.