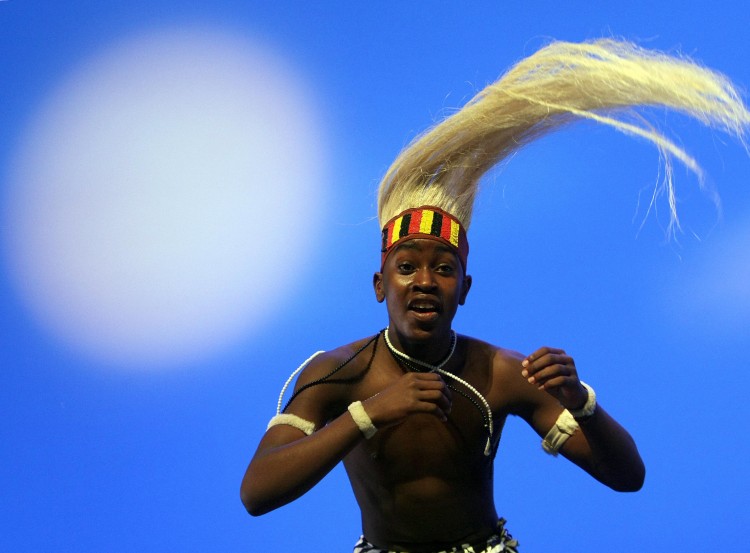 On May 16th, the Minister of State for Trade and Development, Mr Joe Costello TD, announced a nationwide programme of events to mark Africa Day 2012, which will be celebrated with a number of activities from May 20th to 27th.
Africa Day is celebrated around the world every year on May 25th, which is the official day of the African Union. Its aim is to celebrate African diversity and success, and to highlight the cultural and economic potential of the continent.
Events will include conferences, film screenings, concerts, schools programmes and other outreach initiatives at various locations throughout Ireland. All events are being supported by Irish Aid, which is the government's programme for overseas development, in partnership with City Councils and other organisations in each of the locations.
At the launch of Africa Day 2012, Minister Costello was joined by the Lord Mayor of Dublin, Andrew Montague; the Kenyan Ambassador to Ireland, Her Excellency Ms Catherine Muigai Mwangi; and Salome Mbugua, Director of AkiDwA, the African and migrant women's network. 
Launching the programme, Minister Costello said: "Africa Day presents a great opportunity for communities to join with people from Africa to celebrate their cultures and traditions. Ireland has developed strong connections with Africa, not least those forged by missionaries and non-governmental organisations. More recently, we have seen an increase in trade and business links, while many African communities here are making an invaluable contribution to Irish society."
Speaking at the launch, the Lord Mayor of Dublin, Andrew Montague, said: "Few events celebrate multicultural Ireland better than Africa Day. As the Lord Mayor, I am honoured to be involved, and I am looking forward to experiencing the wonderful sights and sounds of Africa at events during Africa week." Mr Montague also commended Irish Aid for supporting the initiative, as well as the local authorities in Dublin, Cork, Limerick and Galway, which are hosting flagship family-day events.
Kenyan Ambassador, Her Excellency Ms Catherine Muigai Mwangi, also spoke at the launch. "On behalf of the African Embassies in Ireland, I am delighted to be at today's launch for Africa Day 2012," she said. "Outside of the African continent, Ireland is one of the countries that plays a leading role in marking Africa Day each year – it sets a best-practice example, in Europe and internationally, by organising a nationwide, week-long programme of events, which promote the involvement and contribution of the African Diaspora and encourage integration."
Africa Day – Dublin
The Africa Day Dublin Flagship Event takes place on Saturday May 26th and Sunday May 27th at George's Dock on Custom House Quay, and will be launched by Tánaiste Eamon Gilmore, Minister Costello, and the Lord Mayor of Dublin, Andrew Montague. 
The African Bazaar will feature a vast selection of food, crafts, clothing and music from countries all over Africa.
There will be a range of workshops on trade and travel.
Children will be entertained at the Kids' Zone, with activities including face-painting, art activities, storytelling sessions with traditional African fables, and the African board game, Oware.
Music highlights will include Congolese singer-songwriter Niwel Tsumbu; the raucous energy of The Amazing Few; smoky jazz and soul from Katie and the Carnival; bluegrass group, Gypsy Rebel Rabble; funk and soul from Fox.E and the Good Hands; up-and-coming Cavan-based act, The Radioactive Grandma, and much more.
Other events in Dublin over the course of the week will include a seminar in Trinity College on May 23rd, entitled: 'Scaling Up Agriculture: Sharing challenges and experiences of modernising agriculture in Ireland and Africa', and the Royal Irish Academy will host a series of talks under the theme 'Environment, Society and Space' on Thursday, May 24th.
Africa Day – Cork
Events in Cork commence on Saturday, May 26th with a parade at 1.30 p.m. from Winthrop Street to Oliver Plunkett Street, and on into Bishop Lucey Park. A huge mix of African cultures will be highlighted throughout the day, with ethnic food, entertainment and workshops on offer.
Africa Day – Galway
Galway city will celebrate Africa Day with an intercultural family evening of music, songs and cultural performances at the Commercial Boat Club in Woodquay. Refreshments and finger food from a variety of African countries will be available for tasting. The event will run from 4 to 8 p.m. on Friday, May 25th. The Galway African Film Festival takes place at the Nuns Island Arts Centre, from May 25th-27th, and the full programme of films can be found at www.galwayafricanfilmfestival.org
Africa Day – Limerick
Limerick city will host a weekend of festivities from May 25th to 27th. Activities will begin on the morning of Friday, May 25th, with drumming sessions, children's storytelling and an art workshop in Limerick City Library. Other activities will include the Limerick Sportsfest at Crescent College at 12 p.m. on Saturday, 'May Music in the Park' at the People's Park from 2 p.m. to 5 p.m., also on Saturday, and a Family Fun Day in the Daghda Space on Sunday, May 27th, from 2 p.m. to 6 p.m.
Further details on Africa Day events are available at www.africaday.ie
The Epoch Times publishes in 35 countries and in 19 languages. Subscribe to our e-newsletter.