Afghan President Conveys Condolences Over Death of Canadians
January 1, 2010 2:30 pm Last Updated: January 4, 2010 3:01 pm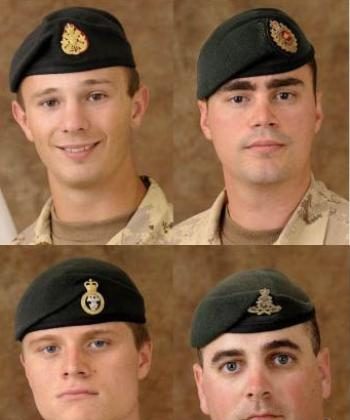 OTTAWA—Afghan President Hamid Karzai called Prime Minister Stephen Harper on New Year's morning to convey his condolences over the recent death of six Canadians in Afghanistan, according to the Prime Minister's Office.
"President Karzai asked the Prime Minister to share his deepest condolences with the families of those who lost their lives and all Canadian people," said Dimitri Soudas, Mr. Harper's press secretary, in an email to media representatives.
De Soudas also said that President Karzai's call highlighted "that Canada has been a good friend to the Afghan people."
Four Canadian soldiers and a Canadian reporter were killed in a roadside bomb attack on their armoured vehicle during a patrol in Kandahar province, 4 kilometres (2.5 miles) south of Kandahar City, on Dec. 30.
The soldiers were Sergeant George Miok of 41 Combat Engineer Regiment, based in Edmonton, Alberta; Sergeant Kirk Taylor of 84 Independent Field Battery, Royal Canadian Artillery, based in Yarmouth, Nova Scotia; Corporal Zachery McCormack of the Loyal Edmonton Regiment, 4th Battalion Princess Patricia's Canadian Light Infantry, based in Edmonton, Alberta; and Private Garrett William Chidley of the 2nd Battalion Princess Patricia's Canadian Light Infantry, based in Shilo, Manitoba.
All were serving with the Kandahar Provincial Reconstruction Team working with Afghan citizens to help rebuild the country which has been ravaged by decades of war.
Michelle Lang, 34, an award-winning journalist working for the Calgary Herald, was also killed in the incident in which four other soldiers and a Canadian civilian were injured.
Ms. Lang, a Vancouver native, is the first Canadian reporter killed in Canada's mission to Afghanistan. She arrived in the war-torn country on Dec. 11.
Shortly before her death, Ms. Lang had filed a report from Kandahar City on the death of Lieutenant Andrew Nuttall, 30, who was killed on Dec. 23 by an improvised explosive device while on foot patrol in the Panjwayi District of Afghanistan near Kandahar City. An Afghan National Army member and an Afghan interpreter were also killed in the incident.
Lt. Nutall was serving with the 1st Battalion, Princess Patricia's Canadian Light Infantry, based in Edmonton.