Rep. Elise Stefanik (R-N.Y.) has criticized the Biden administration and Democrats in Congress for what she said was a lack of action in dealing with the nationwide baby formula shortage.
"What's really struck me is the sheer incompetence of Joe Biden and House Democrats," Stefanik, who chairs the House Republican Conference, told NTD's "Capitol Report."
After the pharmaceutical company and top infant formula maker Abbott recalled baby formula being produced in its Sturgis, Michigan, plant in February, she said she asked the Biden administration for answers but didn't receive any details about how it would prevent a continued shortage.
"I wrote a letter in February, reaching out to the FDA [Food and Drug Administration] demanding, what is your plan?" Stefanik said. "We got no substantive response."
On May 11, a group of more than 100 GOP lawmakers sent a letter to the FDA asking them to do more about the shortage.
"House Republicans call on the administration to do more to help parents across this country. This issue is a matter of life and death, and it is time this administration treats it with the appropriate urgency it deserves," they wrote.
Rep. Kat Cammack (R-Fla.) also alleged that a whistleblower working at a southern border processing facility for illegal immigrants sent her photos of pallets of baby formula being stocked there for illegal immigrant families.
"This is an example of America last position of this administration. They're doing everything they can to put American families absolutely last. They are prioritizing illegal immigrants, illegal families over American babies," Stefanik said of the allegations.
Republicans aren't the only ones upset about the lack of baby formula; Some Democrats are also calling on the Biden administration to do more to alleviate the shortage.
Sen. Kirsten Gillibrand (D-N.Y.) told NPR that she would ask the president to consider invoking the Defense Production Act to get more companies to manufacture baby formula, describing it as a "life-or-death issue."
Some mothers are "having to choose between taking their children to the nearest emergency room just in desperation for formula, or putting their kids on feeding tubes," she said.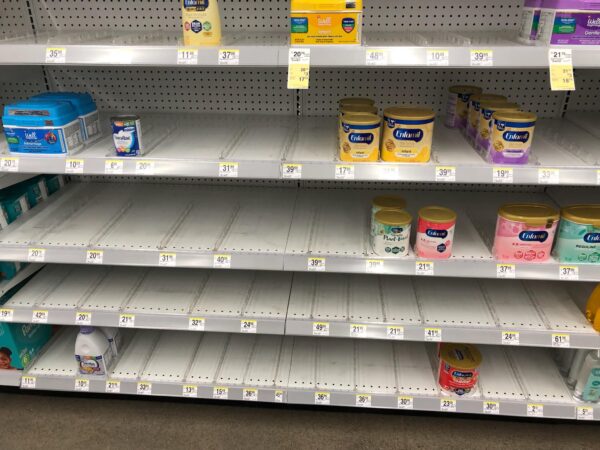 "They had a whistleblower who told the FDA about these violations in October of 2021. They didn't take it seriously. They didn't do an immediate investigation," Gillibrand said. "And it wasn't until February of 2022 that the FDA got their act together and started an investigation.
"So this has created exacerbated situations because now this whole supply chain has been shut down from Abbott."
In order to alleviate the crisis, the Biden administration said relevant departments will take steps to "cut red tape" so the formula can arrive on store shelves more quickly, investigate and halt any price gouging, and ramp up imports of baby formula.
White House officials didn't respond by press time to a request by The Epoch Times for comment.
Jack Phillips contributed to this report.