Adidas Releases Energy Boost
February 21, 2013 1:44 pm Last Updated: May 31, 2013 9:47 am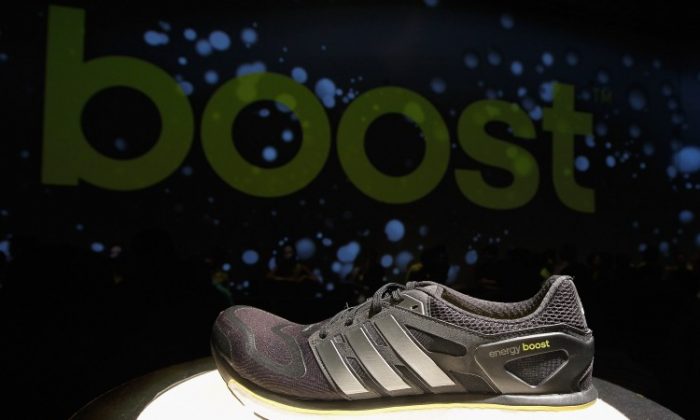 Adidas plans to release a running shoe that is capable of giving an extra boost to the runner. The shoe has a midsole cushioning that is made up of thousands of special energy capsules melted together. The technology is proven to increase the bounce of the runner. This, says an Adidas news release, is "designed to help you run longer and more comfortably."
One of the most famous brands in sports retail, Adidas, is betting heavily on the Energy Boost to boost its rankings. "With running, we're so under-penetrated here (in US)," Mikal Peveto, the director of running at Adidas America told USA TODAY Sports. "We're No. 2 in the world in running — we're not No. 2 in the United States. The U.S. makes up a big part of the global business. If we win here, we make a big push towards No. 1 globally."
Peveto who used to be with the leaders, Nike, now wants to take Adidas from the No. 6 position currently in the US to the top. "I'd like to take some business from them (Nike)," Peveto said. "That's who we should be compared to."
As shown in a video on the website, metal balls are dropped on a sheet of standard EVA material and on a sheet made from these energy capsules. The metals balls dropped on the latter bounces higher proving the rebounding effect of the material. Adidas developed this exclusive material in partnership with BASF, the chemical company, after research of three years. "It's very unique, one of its kind," Peveto said. And, as with all of Adidas' latest products, the Energy Boost also sports a miCoach module on the left shoe.
Adidas' website claim that the technology will herald a new range of shoes that will revolutionize the industry. "This is our future. This is the beginning of the first chapter in a new book," concludes Peveto.
The lightweight shoe is planned to be launched on 27th February.  The initial colors will be black and yellow. And then there is the professional athletes' version, to be worn for the 2013 London Marathon by Kenyan runner Wilson Kipsang, winner of the 2012 event. The pair does not come cheap however, with the price set at $150.