House Intelligence Chairman Adam Schiff (D-Calif.) will be called as a witness in a Senate impeachment trial if the House votes to impeach President Donald Trump.
During an appearance on Fox News' "Hannity" on Nov. 13, Sen. Lindsey Graham (R-S.C.), chairman of the Senate Judiciary Committee, said he'd call Schiff to testify.
Graham also said he wouldn't let the impeachment trial be based on hearsay alone. A trial also wouldn't be held if the whistleblower doesn't testify, he said.
"Let's say they get 218 votes. Here's what I promise the country. We're not going to try the president of the United States based on hearsay. So any resolution setting up a trial in the Senate, I'm going to make sure that hearsay cannot be the basis of an impeachment allegation," Graham told host Sean Hannity.
"If you invoke the hearsay rule, what would be left?
"A trial in the Senate, to me, should not legitimize what's going on in the House. No American is denied the right to call witnesses on their behalf, except for Donald Trump. No American is accused of wrongdoing anonymously, except Donald Trump. What they're doing in the House is a danger to the presidency itself.
"So any trial in the Senate needs to make sure that you can't impeach a president based on hearsay, because that's a danger to the presidency itself. And secondly, any trial in the Senate must expose the whistleblower so the president can confront his accuser. I will not accept a trial in the Senate until I know who the whistleblower is."
If Trump is impeached by the House, a trial in the Senate will be held, presided over by the chief justice of the Supreme Court. If the Senate convicts Trump, he will be removed from office; if it doesn't, he remains in office. Conviction requires a two-thirds concurrence of those present. No president has ever been removed from office via impeachment.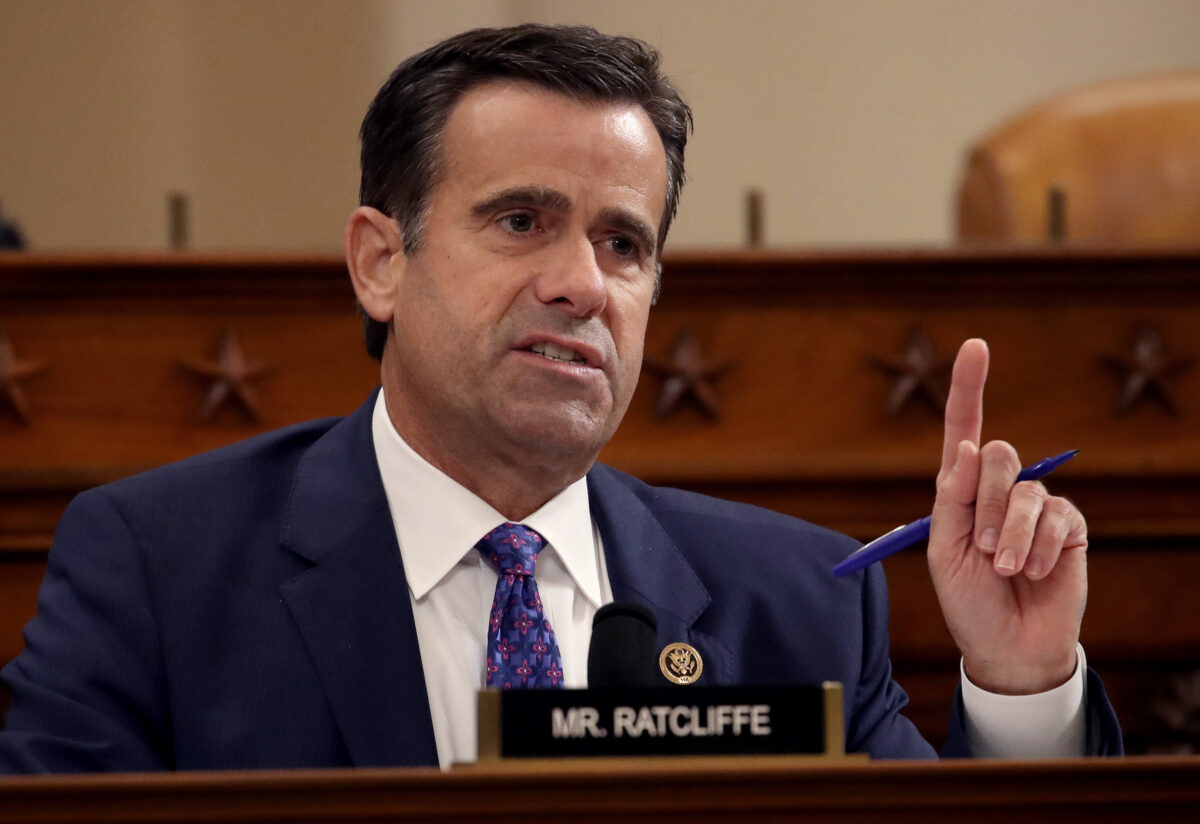 Republicans Question Schiff During Hearing
Republican House members questioned Schiff during the first open impeachment hearing on Nov. 13, asking about his team's contact with the person who filed a complaint against Trump.
Schiff said in mid-September on national television that his team hadn't spoken with the whistleblower. About two weeks later, reports emerged indicating that Schiff's team had contact with the person before the complaint was filed. A spokesman for Schiff confirmed the reports but said it was normal. Schiff has said he regretted what he said on television.
House Intelligence ranking member Devin Nunes (R-Calif.) brought up the issue in his opening statement, then Rep. Jim Jordan (R-Ohio) noted that Schiff is the only member of Congress who knows definitively who the whistleblower is. Rep. John Ratcliffe (R-Texas) tried to question Schiff during the hearing about the contact.
"Do you have an explanation for why, within days of that phone call, when no quid pro quo was even possible, a person who later became a whistleblower walked in to Chairman Schiff's staff to discuss what Chairman Schiff's spokesman Patrick Boland said were the, quote, outlines of the whistleblower's accusations?" Ratcliffe asked diplomat William Taylor.
Ratcliffe then turned to Schiff and asked if the chairman was interested in engaging in a colloquy. The chairman declined.
"I'll take that as a no. You're not interested in a colloquy," Ratcliffe said.