Activist Emerges from Jail to Find Lake Still Polluted
August 31, 2010 4:20 pm Last Updated: October 1, 2015 7:10 pm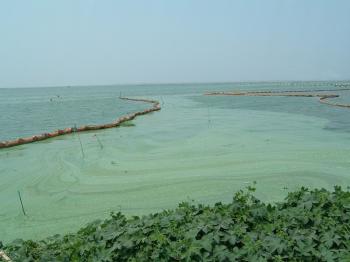 A three-year prison sentence has not deterred environmental activist Wu Lihong from voicing his concerns about the pollution of China's third largest freshwater lake.
Of most recent concern in Taihu Lake has been an algae bloom, born of untreated sewage and factory waste water discharge; the pollution was particularly severe in early July.
Wu Lihong, once nominated one of China's top 10 environmentalists, grew up beside Taihu Lake. He was arrested in 2007 for his frequent, outspoken statements on the lake's pollution. The police claimed he had attempted to extort money from local businesses, and sentenced him to three year's incarceration. Charges of such nature are usually regarded as fabricated, payback from local officials, by outside observers. He was released on April 12 of this year.
Wu told The Epoch Times in a telephone interview that "one cannot see the end of [the pollution]." The culprits contributing to the dilemma—local enterprises—are ignoring the matter. When he took a journalist to the areas, the license plate was shot out, he said.
Wu had one of his friends upload to the Internet pictures of the algae contamination in Taihu Lake, but they were soon deleted. "The authorities ban this kind of exposure. A reporter from [state-run] CCTV interviewed me, but he told me his supervisor forbade him to report it."
He added that mass pollution events recently detected in Fujian, at Taihu Lake, in Dalian, and other areas are not accidental. These environmental disasters indicate that Chinese officialdom has failed in its role as supervisor and regulator, he says: "Taihu Baisin in the Yangtze Delta is China's most developed industrial area. The area's businesses are financially capable of curbing pollution, but local authorities would rather spend money to create window dressing."
Wu was surprised with how his neighborhood had changed while he was imprisoned. "All the houses in my hometown of Zhoutie have been painted, and trees were planted around the lake. Officials merely stress cosmetic imagery. It took 39 million yuan (approximately US$5.74 million) to paint the houses. It would have been great if the money were used to install pollution control equipment in those factories. As a result, the 200 billion yuan (approximately US$29.4 billion) that was so far earmarked to treat the Taihu Lake pollution was wasted on other things."
Residents bear the brunt of the pollution. "In Zhoutie Town, for example, three years ago more than 200 people died from liver cancer, lung cancer, and esophageal cancer in one of the town's hospitals. These diseases have increased since 2007."
Algae blooms have threatened Taihu Lake since 2007. The outbreak of blue-green algae contaminated the drinking supplies for surrounding residents, which led to panic water buying in 2007 in Wuxi City, a Taihu Basin metropolis with 5 million people.
Taihu Lake, a tourist attraction, famous for its scenic beauty, comprises an area of 2,420 square km (934 square miles) and a 400 km (250 mile) shoreline and is famous for its fish industry. It is still a drinking water source in the thickly populated area, despite the worsening pollution coming from factory-generated waste water discharge.
Thirty-four million people depend on the lake's water for their livelihoods.
Read the original Chinese article.