The acting chief of the Department of Homeland Security, Kevin McAleenan, said the "demonizing" of ICE agents with misinformation was concerning and dangerous after shots were fired into an ICE building in what the FBI described as a "targetted attack."
The FBI earlier said it had opened a federal case after shots were fired into Immigration Customs Enforcement (ICE) offices in two buildings early in the morning of Aug. 13 in San Antonio, Texas.
"Had the bullets gone two inches in another direction, we could be talking about the murder of a federal official," FBI Special Agent in Charge Christopher Combs said, according to media reports.
An ICE field office director in San Antonio said that such violent acts were encouraged by "Political rhetoric and misinformation that various politicians, media outlets and activist groups recklessly disseminate."
When the acting DHS Secretary Kevin McAleenan was asked about the field director's analysis on Fox News, he said: "I think the environment where we are demonizing law enforcement for doing their jobs for enforcing a law on the books is concerning."
"It can be dangerous," McAleenan said. "And it can result in people taking actions that are not supported by the facts and that are not in response to anything inappropriate that our men and women of ICE are doing.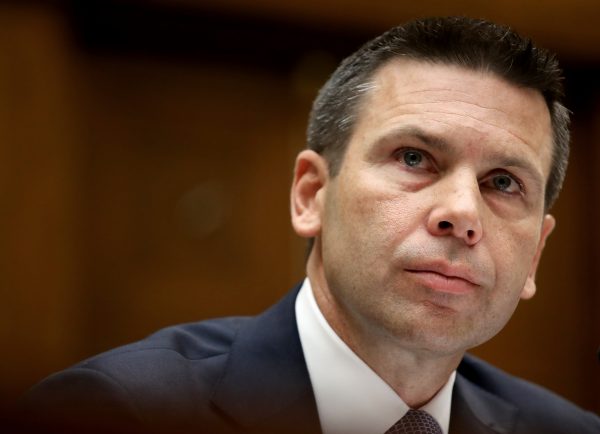 "This is the fourth incident of violence or an issue at an ICE facility," he said. "It does appear to be targeted."
The shots were fired into offices at the Jefferson Bank high rise and another building across Loop 410, according to KTLA, at around 3 a.m.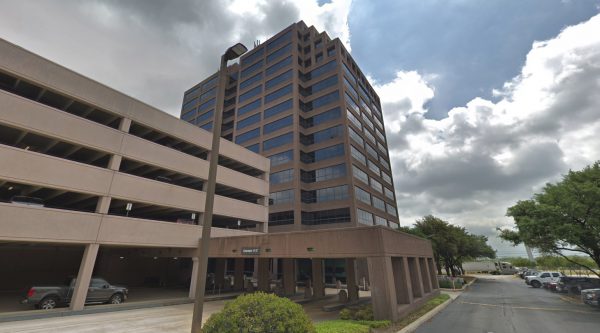 "I don't think there's a question that they knew which floors the ice offices were," Combs said, according to My Antonio.
"This is no question a very targeted attack," said Combs. They did some research, they knew what floors ICE was on, they knew what buildings they were and they hit those."
Combs told reporters that the FBI will open a federal case.
"To fire indiscriminately into any building, let alone a federal facility, is not an act of protest. It's an act of violence … against the federal government that could have resulted in the assassination of a federal employee," Combs said.
The shooter is believed to have fired the shots from across the highway, Police told News 4. The building does not have bulletproof windows, according to News 4.
A photograph of one of the bullet holes in a now-shattered window overlooking the highway was shared on social media by the acting director of U.S. Citizenship and Immigration Services, Ken Cuccinelli.
Here's a photo of one of the bullet holes from this morning. @USCIS stands with @ICE as they work to enforce our laws and keep Americans safe! pic.twitter.com/AUvgpGJco6

— USCIS Acting Director Ken Cuccinelli (@USCISCuccinelli) August 13, 2019
Daniel Bible, the field office director for the agency's enforcement and removal operations in San Antonio, said ICE officer's lives were being put at risk by the "disturbing public discourse" that he said, "shrouds our critical law enforcement function."
"Political rhetoric and misinformation that various politicians, media outlets and activist groups recklessly disseminate to the American people regarding the ICE mission only serve to further encourage these violent acts," Bible said in a statement, according to KABB-TV. "ICE officers put their lives on the line each and every day to keep our communities safe."
The incident in San Antonio follows three other incidents at ICE facilities in the last month.
An armed member of the far-left extremist group, Antifa, threw firebombs at an immigrant detention building, and at cars in the parking lot, and attempted to blow up a large propane tank in Tacoma, Washington, on  July 13, before being shot dead by police.
The man succeeded in setting one car on fire before officers responded at 4 a.m. and gunned him down, according to the Tacoma Police Department. The man was armed with a rifle and wore a satchel with flares, the police said. No officers were hurt in the encounter.
Anti-ICE protesters pulled down a star-spangled banner that hung over a federal building holding illegal immigrants on July 12 and raised a Mexican flag in its place.
The protest at the ICE facility near Denver, Colorado, was organized by a collection of local socialist, Marxist, and communist organizations, along with other groups opposed to current U.S. border policy.
They were calling for the shutdown of "concentration camp" detention centers and to "let them all in."
During what police described as a peaceful protest, a "Blue Lives Matter" flag was also taken down and spray-painted with the words "Abolish ICE," then raised again upside-down, according to CBSDenver.