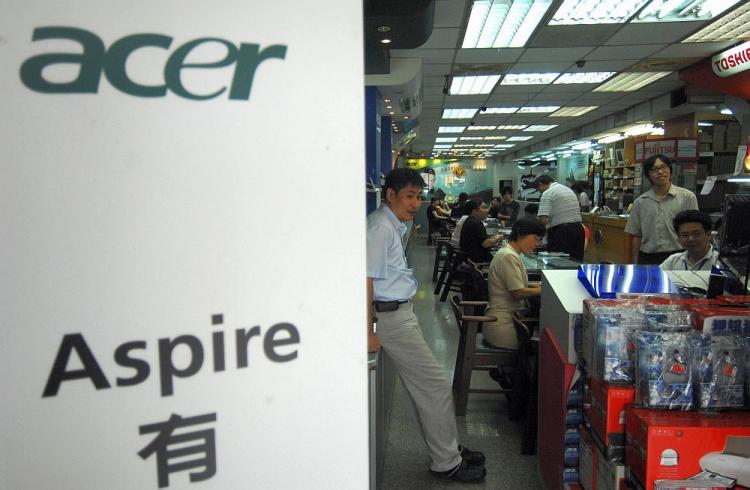 Global personal computer shipments rose 2.3 percent in the third quarter, according to a latest International Data Corp. (IDC) report, a positive sign that consumers may be ready to spend on technology items ahead of the winter shopping season.
IDC, a global market research firm, said that the results were much better than last year's seven percent drop in sales during the same quarter. The firm said that all markets, except Japan, exceeded sales expectations and the launch of Windows 7 this month bodes well for sales in the fourth quarter.
Sales for Hewlett-Packard Co. and Taiwan's Acer Inc. led the charge in the third quarter, which included the 2009 back-to-school shopping season. Sales at HP jumped nine percent, while sales at Acer jumped a whopping 25 percent on strong netbook sales.
However, Texas-based Dell Inc. saw global sales declines of 8.4 percent during the period.
As a result, little-known Acer overtook Dell to capture the second-biggest vendor in PC sales for the quarter, with a 14 percent market share. China's Lenovo Group Ltd. and Japan's Toshiba Corp. rounded out the top five PC manufacturers.
"Despite the ongoing mix of gloom and caution on the economic front, the PC market continues to rebound quickly," said Loren Loverde, program director for IDC's Quarterly PC Tracker Program, in a statement.
Bob O'Donnell, vice president at IDC, said that "the prospects for future PC market growth are very solid" in 2010 due to the launch of Windows 7, Microsoft's new operating system, as well as a slew of expected new product launches.
According to Bloomberg, in a conference with analysts last month in San Francisco, HP CEO Mark Hurd told the crowd that he expects modest growth in 2010. The company is also expanding its sales staff to handle the increased demand.
HP Gets Touchy
Last week, HP introduced three new touchscreen-enabled TouchSmart desktop PCs running Windows 7. HP is the leader in the touchscreen PC market.
The new PCs will get 20 touch-enabled applications, and have direct access to Web-centric appls such as Twitter, Netflix, Pandora Radio, and Hulu.
"Since the launch of the first TouchSmart PC nearly three years ago, we've worked closely with a growing number of software companies and independent vendors to develop built-for-touch applications that give consumers and businesses rich interactive multimedia experiences," said James Mouton, senior vice president at HP.
According to the company, the new PCs will also have a swivel stand and webcams and will reach the market in late October and early November.