AccuWeather released its forecast for the 2019 Atlantic hurricane season, which officially starts in June.
The weather forecasting agency said it is forecasting between 12 and 14 tropical storms and hurricanes for the season, which is "near- to slightly above-normal."
"Of those storms, five to seven are forecast to become hurricanes and two to four are forecast to become major hurricanes," AccuWeather said.
Last year, the United States was hammered by several tropical storms and hurricanes, including Hurricane Michael and Hurricane Florence. Michael recently was upgraded to a Category 5 after the National Weather Service analyzed it.
With this year's 2019 Atlantic Hurricane Season Forecast, we're introducing a new kind of risk map. https://t.co/Sgcqj9OWmS (1/3) pic.twitter.com/9RzKA0b0fX

— AccuWeather (@accuweather) April 3, 2019
AccuWeather said that two hurricanes might hit the U.S. this year.
Looking at recent weather patterns, 2019 could be similar to 1969 when "Hurricane Camille slammed into the Gulf coastline, making landfall in Waveland, Mississippi, and causing widespread damage to several coastal areas, including Mobile, Alabama," said AccuWeather. "It became one of only three Category 5 hurricanes on record to impact the U.S."
But the website said that doesn't mean 2019 will be the same.
AccuWeather hurricane forecaster Dan Kottlowski, however, issued a warning to people living along the coast.
Seasonal #hurricane forecast from @ColoradoStateU predicts slightly below-average season: 13 named storms, 5 hurricanes & 2 major (Cat 3+, >=111 mph) hurricanes. Primary reason for slightly below-avg forecast is anticipated continuation of weak #ElNino. https://t.co/uxucIf9qQB pic.twitter.com/o0pWt1GUBh

— Philip Klotzbach (@philklotzbach) April 4, 2019
He stated, "Now is the time to start planning. Of those people who were impacted by Florence and Michael last year, the ones who did not have plans in place had the most difficulty in dealing with the storm when it was occurring and during the recovery."
"This year, we think that there will be a few less tropical storms and lower numbers in hurricanes, but again, the old saying is 'it only takes one,'" he also stated
The National Weather Service has not yet released its 2019 forecast.
Colorado State University in April published its early forecast (pdf), predicting a slightly below-normal season for the Atlantic basin.
The university called for 13 named storms, and five of them are predicted to strengthen into hurricanes. Two are forecast to become major storms, which are Category 3 or higher.
"We anticipate that the 2019 Atlantic basin hurricane season will have slightly below-normal activity," researchers said in their report, which was published on April 4.
"We anticipate a slightly below-average probability for major hurricanes making landfall along the continental United States coastline and in the Caribbean," the group said before adding a warning.
"As is the case with all hurricane seasons, coastal residents are reminded that it only takes one hurricane making landfall to make it an active season for them," the report stated.
Tropical Disturbance Spotted
The National Hurricane Center is now monitoring the first tropical disturbance of the 2019 season as of May 1.
The disturbance is located near the southern tip of Florida north of Cuba.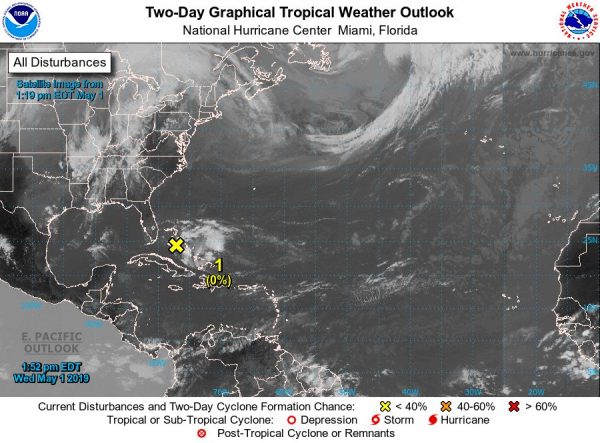 "A trough of low pressure located over the northwestern Bahamas is producing disorganized shower and thunderstorm activity. Little development is expected during the next couple of days as the system moves generally northwestward toward the Florida Peninsula," it said, adding that there is a low chance of forming into a more organized storm.
Names and Dates
The 2019 Atlantic Hurricane Season lasts from June 1 until Nov. 30. The names Andrea, Barry, Chantal, Dorian, Erin, Fernand, Gabrielle, Humberto, Imelda, Jerry, Karen, Lorenzo, Melissa, Nestor, Olga, Pablo, Rebekah, Sebastien, Tanya, Van, and Wendy were selected for 2019, according to the National Hurricane Center.
The agency noted that the names Florence and Michael were retired from usage after devastating the southern U.S. in 2018. They will be replaced by Francine and Milton.
"Including these two, 89 names have been retired from the Atlantic basin list since 1953, when storms began to be named. The 2005 hurricane season has the most retired names—five—for one season," the hurricane center explained.