The criminal case against Bijie Daily reporter Li Yuanlong was held in Bijie Intermediate Court on May 11. Li Yuanlong is charged with "instigating to overthrow the national political regime" for a series of articles he had written. His family and coworkers, as well as four other dissidents Chen Xi, Zhao Xin, Liao Shangyuan and Wu Yuqin, were allowed to observe the proceedings.
A group of more than ten dissidents led by Zhao Xin went to Bijie City to support Li Yuanlong. It was after a full day of protest that they were given four passes to witness the trial.
Attorney Li Jianqiang had met with Li Yuanlong to discuss his case earlier. Li Yuanlong admitted that he had written the four articles over which he stands accused. However, he explained that he did not know that he was breaking any law by writing them. Neither did he have any thoughts of overthrowing the communist regime. He hopes the attorney will defend him well and that the judge presiding on his case is a just one.
His attorney pointed out that Li Yuanlong had committed no crime because he had no intentions and had taken no actions to overthrow the regime. The attorney also stressed that the regime had not really been harmed in any way by the articles.
Li Yuanlong was officially charged on February 9 with the crime of "instigating to overthrow the national political regime." His case was postponed for the third time in April.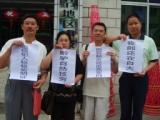 Li's attorney expressed that such cases are not handled according to law. The court and the judge do not have the authority to come to a verdict. They have to report to the levels above and get their inputs, which takes a certain amount of time.
He also stated that trials of several dissidents being held at this time showed that higher officials in the Chinese Communist Party (CCP) want to close these cases before June 4, the anniversary of CCP's crackdown on the student movement in 1989 [in Tiananmen Square].
Li Yuanlong is known throughout the region for his many acts of kindness. He has often provided financial assistance to poverty-stricken students.
Zhao Xin, testified to Li Yuanlong's pious nature, relating that he often gave out so much money to those in need that it cut deeply into his own meager salary. One of the students that Li helped has even made it to Beijing University. Zhao feels that arresting such a man is a very bad precedent in Bijie City.
Zhao called on people, both domestic and overseas, to pay close attention Li Yuanlong's case, which is bound to have ramifications on future dissident trials in China.
Chen Xi said that human rights groups, both local and international, are deeply concerned about Li's trial. The authorities have not been cooperative and have not acted in a way that gives the impression that the trial will be fair and just. He said that it took a lot of effort and protest just for them to agree to allow them to observe the court proceedings.