Producers of the 94th Oscars hope to reclaim the show's dwindling audience this year with three female hosts and two awards chosen by the Twittering public.
After watching viewership plummet for three years without a host, the Oscars will bring them back during the live show that airs at 5 p.m. Pacific Standard Time March 27 on ABC at the Dolby Theater in Hollywood.
Comedians Regina Hall, Amy Schumer, and Wanda Sykes will host—a first for all three.
"This year's show is all about uniting movie lovers," show producer Will Packer said in a statement, adding that the combination of hosts will "deliver surprises." "It's apropos that we've lined up three of the most dynamic different comedic styles."
The hosts' material is expected to follow this year's theme of "Movie Lovers Unite."
Schumer said in a video released by ABC that she was ready to "burn some bridges" in the A-list audience.
"That's why we're all here, just so we can trash each other," she joked.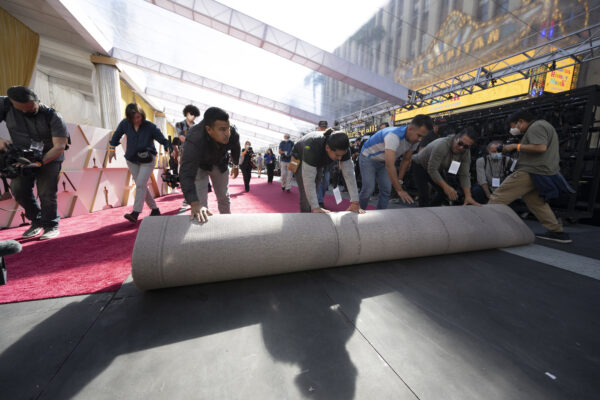 At its height, 87 million viewers tuned in to watch the awards ceremony in 1998 when the blockbuster "Titanic" claimed best picture and 10 other Oscars.
The show has seen sinking ratings since. It hit a new low last year as the pandemic-era ceremony was held in several locations. The ceremony was watched by 10.4 million viewers, down more than half compared to 2020 when 23.6 million tuned in, according to Nielsen data.
This year's event could be a make-or-break moment for the industry.
Media consultant Brad Adgate told Reuters March 24 the event's audience was shrinking and the age of viewers is rising.
"Younger viewers are not staying home to watch this," Adgate said. "I think the genre has become passe, like beauty pageants used to be a big event on television. It's slipping into that category."
The Academy has made several rule changes to address equity for future awards shows.
Beginning in 2025, the organization will require Best Picture nominations to have at least one lead actor or supporting actor be from an underrepresented racial or ethnic group.
Nominated films also will be required to be about an underrepresented group, including women, a racial or ethnic group, LGBTQ, or people with cognitive or physical disabilities.
Other requirements will include equity in staffing.
One longtime movie producer and film director, who agreed to be interviewed under the condition that his name not be used, told The Epoch Times many who work in movies have moved beyond the awards ceremony.
"We don't even talk about the Oscars anymore," the producer said.
The industry used to be a talent-based industry, he said, and he thought the new requirements for movies were "bizarre" and "racist."
"I've been hearing nothing but horror stories," he said about feedback he's heard from high-level industry insiders. "This stuff is insane. I'm completely against all of this."
This year's show has already been criticized for what some say is the unequal treatment for members in eight categories, including best editing, original score, and production design. Those Oscars will be awarded an hour before the show and pre-recorded acceptance speeches inserted into the broadcast.
Organizers say they hope to highlight some of the year's most popular movies chosen by the Twitterverse for favorite film and best film moment.
The show will also include movie star presenters and industry outsiders, including skateboarder Tony Hawk and rapper Sean Combs and performances by music superstars Beyonce, Billie Eilish, and others.