AC/DC's Brian Johnson on a Highway to Help Alzheimer's Patients
January 8, 2013 5:21 am Last Updated: January 17, 2013 11:36 am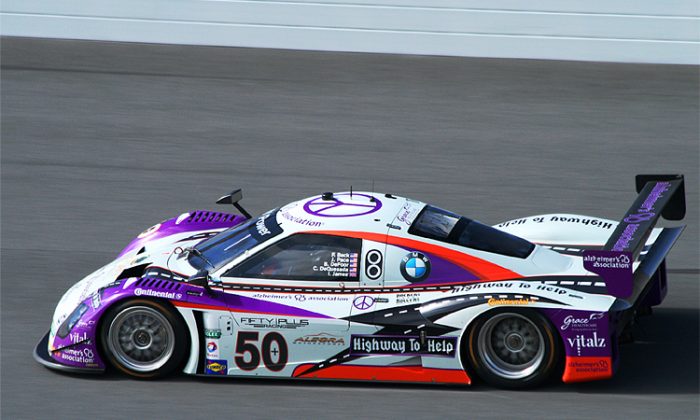 DAYTONA BEACH, Fla.—Rock legend Brian Johnson, vocalist for AC/DC and part-time racer, is back at Daytona International Speedway to support another great cause.
Aside from being an iconic singer for more than two decades, the Rock-and-Roll Hall-of-Famer is both an avid race car driver and an active philanthropist.
In 2012 Johnson and his friends at Fifty Plus Racing competed in the Grand Am Rolex 24 at Daytona to raise funds to fight children's cancer. At this year's Roar Before the Rolex 24, Johnson introduced the latest "Highway to Help" initiative to combat Alzheimer's disease.
Fifty Plus Racing has again entered its Riley-BMW in the Rolex 24, this time  to help spread the message that Alzheimer's can be beat through further research, but that research requires funding.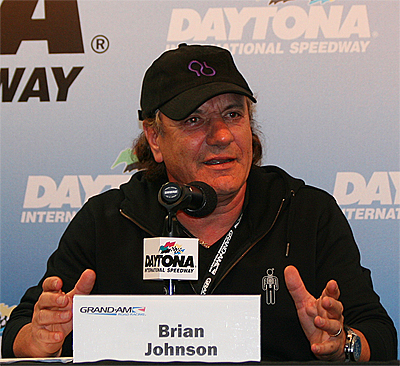 Johnson said the team chose Alzheimer's because it has such an impact not only on the victims but on their families and because, "It's a silent killer—you're alive but you're dead, and it shouldn't be that way."
Alzheimer's is now the nation's sixth leading cause of death, affecting about five million Americans
Johnson's team, Fifty Plus Racing, fields a slate of older drivers who, while not competing for the win, can still go fast enough to attract attention to the causes they support.
Not that these lads are slow. The team was started by vintage racer Byron DeFoor and includes vintage driver Frank Beck, Rolex overall and class winners Jim Pace and Carlos de Quesada, and Ian James, an ALMS P2 champion who has won races in every Grand Am class: Daytona Prototype, GT, Grand Sport and Sport Touring.
Fifty Plus races for the love of the sport, and to raise awareness and funds for worthy causes, a different one each year. After teaming up with the Austin Hatcher Foundation to fight pediatric cancer in 2012, the team chose to work with the Alzheimer's Association in 2013.
"It's just a good feeling when you're trying to kick this [Alzheimer's] out," Johnson explained.
Johnson will not be driving this year—business commitments created schedule conflicts—but he is doing all he can to publicize the team's efforts, including bringing on some high-visibility friends to make a TV commercial which will air during the race broadcast. Led Zeppelin's Robert Plant, rock musician Alice Cooper, and comedian Ron White are among the celebrities who will appear in the televised request for support for Alzheimer's research.
The team is accepting online donations. Visit Fiftyplusracing/make-a-donation-3 to lend a hand.
For more information about the team, go to Fiftyplusracing.com, and to learn more about Alzheimer's, visit the Alzheimer's Association website.
The Grand Am Rolex 24 at Daytona starts Saturday Jan. 26, and finishes on the afternoon of Sunday, Jan 27. Get tickets at the Grand Am website.
The Epoch Times publishes in 35 countries and in 20 languages. Subscribe to our e-newsletter. [etssp 593]