Authorities have concluded their 4-day search for a missing Huntington Beach woman who disappeared Friday, July 12, while at a remote campsite in the Ancient Bristlecone Pine Forest located in central California.
60-year-old Sheryl Powell says that while waiting for her husband to turn their vehicle around so they could set up camp, she decided to wander off for a few moments with her dog to check out the surrounding area.
"Miley, my dog, and I went off together and never quite made it back as soon as I thought," she told ABC News.
Sheryl says that it was during this time that she was approached by a man with a knife who had appeared from behind a tree.
"He had been observing me and it was scary," she said. "If we made noise, if we yelled out, he was going to use [the knife] on us."
Sheryl followed the man's instructions until she found a chance to flee.
"I took off with my dog and we just ran in a different direction than I knew my husband was, because the guy was between me and my husband, so I went the other way," she said. "I did what I had to."
Sheryl spent the next 4 days laying low with her dog, hoping to eventually be rescued.
On Monday, a search team came across the family dog about 2.5 miles from the initial location where Sheryl went missing.
The dog then lead the team to Sheryl's location in the Montenegro Springs area of Inyo County. Sheryl was then taken to a local hospital and released.
The Disappearance
Before she was found, Sheryl had last been seen by her husband of 40 years, Joe Powell. Powell said she went missing while he was situating their vehicle to set up camp. Reported Today.com.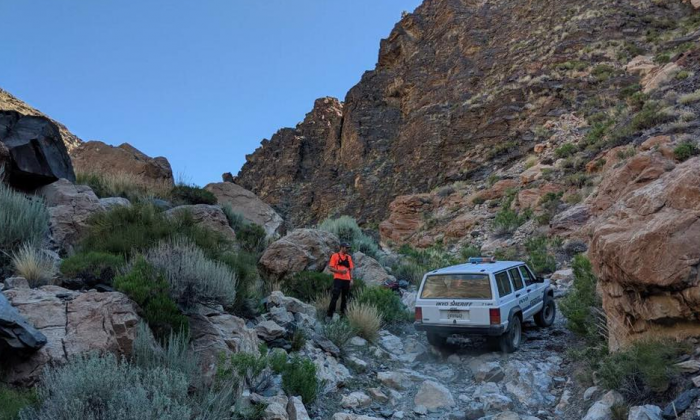 According to NBC Los Angeles, the disappearance occurred near the Grandview Campground, which is located approximately 275 miles outside of Los Angeles, around 2 p.m.
"I was gone no more between five to seven minutes, and when I came back over here, she was gone," Joe said. "I've been through this a million times in my mind. How could somebody disappear like that?"
KTLA reported that Farrah Powell, Sheryl's daughter, said the couple was in a secluded spot about a mile from the campground when Sheryl went missing.
Joe searched for Sheryl for over an hour by himself before using a satellite phone to contact the police and report his wife missing.
Authorities then launched a search and rescue operation utilizing both ground and air vehicles, but have yet to find any signs of the missing woman.
"If she had an injury, if she had fallen, if she had bumped her head we would have found her by now," Joe went on to say.
"They questioned some people in the area, and they got some gas station footage," said Greg Powell, son of Sheryl and Joe, "but I just don't know what else is being done from that standpoint."
Sheryl was said to be an experienced hiker who spent a significant amount of time hiking and camping with her husband.
Despite the lack of evidence pointing to any criminal activity, Sheryl's family believed her disappearance was the result of foul play.
"We think that the likelihood of her being abducted by somebody else is very high," Greg added.


Sheryl's husband Joe had been ruled out as a possible suspect.
"They're just the model of what a perfect marriage and relationship should be, so you know, they obviously are not pursuing that part of the investigation," said Greg.
"My family is everything, we love each other so much, and we need to find my mom. Please everyone don't stop!! We are so extremely grateful," said Farrah in a Facebook Post.
While authorities continued their investigation, Greg, in a Facebook post, asked for help in contacting government officials to request further funding to expand the ongoing search.
"I don't understand any part of it, I'm destroyed personally," said Joe. "I'm trying to stay strong over here because that's what I have to do right now."
The Inyo County Sheriff's office had described Sheryl as being 5 feet, 3 inches tall, weighing approximately 120 pounds and has brown hair and brown eyes.
She was also said to have been wearing a purple shirt and had with her a 5-pound black and white Yorkipoo dog on a red leash.
A GoFundMe page had also been set up to help with the necessary funding needed to continue the search efforts.