ABC News correspondents were slammed for their on-air speculation about President Donald Trump during former President George H.W. Bush's funeral this week. One critic described the move as "despicable garbage" during a time of mourning.
"Probably a different tone in that [President Trump's] funeral… first he's going to choreograph it, so there might be more trumpets and fanfare," ABC chief foreign correspondent Terry Moran said on-air. ABC correspondent Devin Dwyer, who was President Obama's off-air reporter for ABC News in 2012, added: "Yes, he would do it bigger, one would imagine," according to TheWrap.
Moran then attempted to joke that it will be "the best presidential funeral ever … no one will ever have seen anything like that funeral."
Media Research Center vice president Dan Gainor said that Bush's passing "has to be seen through the eyes of journalists who use every single event to attack Trump," reported Fox News.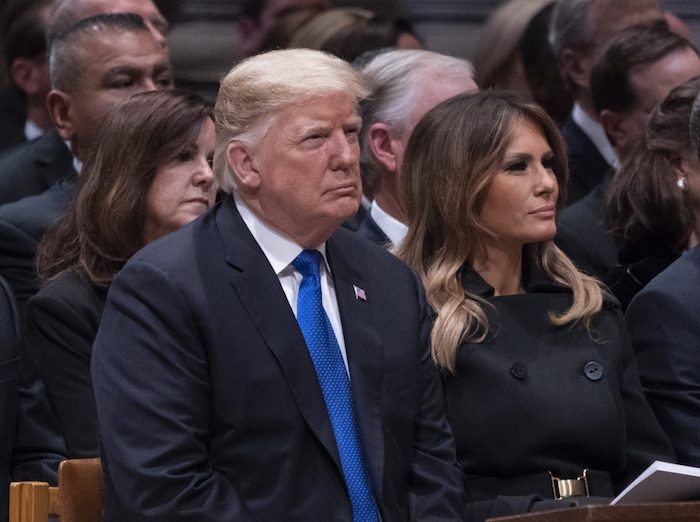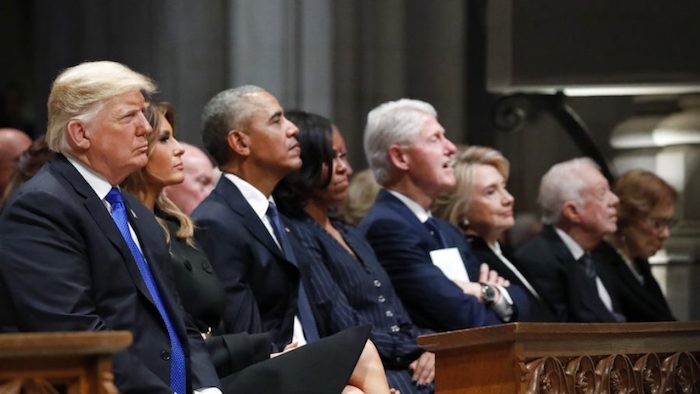 "To mock him during the coverage of the president's funeral is just despicable garbage. I would say ABC News should apologize, but it wouldn't be sincere if it did. This is about the billionth example of unprofessional journalism in their attacks on Trump. It's only more outrageous because of the solemn occasion," Gainor told the news outlet.
According to USA Today, ABC declined to comment on the pair's comments.
A number of people on Twitter slammed Moran and Dwyer for their comments.
"The man hasn't even been put in the ground yet and the media is already putting words in his mouth and propagating hate towards the sitting president. I mean come ON guys," wrote one person. "Terry Moran should be fired for what he said about Trump," said another.
The former president's funeral drew every living former president and first lady, who were sitting near the front row in succession. Trump shook the hands of former President Obama and former first lady Michelle Obama.
A day before, the president and First Lady Melania Trump met with former President George W. Bush and former first lady Laura Bush.
"A sweet visit during this somber week," Laura Bush said of their visit. "Thanks to Mrs. Trump for inviting our family to the White House to see the Christmas decorations and our old friends, the residence staff."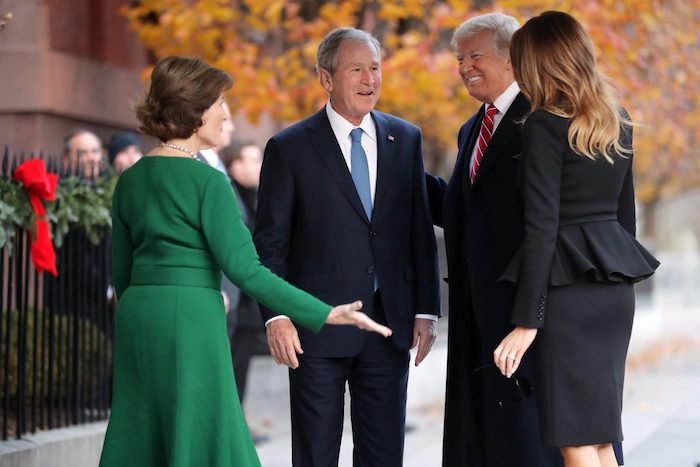 George W. Bush eulogized his father during the funeral, breaking down in tears toward the end.
He stated he took comfort in knowing "Dad is hugging Robin and holding Mom's hand again."
Former President Bush's casket arrived in Houston, Texas, on Dec. 5, and mourners paid their respects on Dec. 6. His remains reached College Station, Texas via train, according to the Houston Chronicle.
Bush died last week at the age of 94.