NORRISTOWN, Pa.—"I'm Jacob McFarland. I'm from Coffee Closet with Barista Jake; I make coffee, hot coffee, iced coffee, hot tea, iced tea, lemonade." Barista Jake McFarland said.
When an Epoch Times reporter walked into the Coffee Closet with McFarland, the proprietor introduced himself and asked his mother, "You want me to give him a tour?"
McFarland's shop started as a coffee cart in June of 2020, outside the McFarland family business in Norristown, Pennsylvania. Today, it is a thriving enterprise, selling great coffee, but more importantly, helping people with special needs contribute to the community.
Angela McFarland developed the coffee cart to give her son an opportunity to pursue his love of coffee. Today, it is much more than that. It has transformed McFarland from a shy young man with autism and severe anxiety to a confident store manager. His story has inspired 12 other young people with special needs to join him as interns in the coffee business. The coffee shop's success has also led to a non-profit for special needs youth.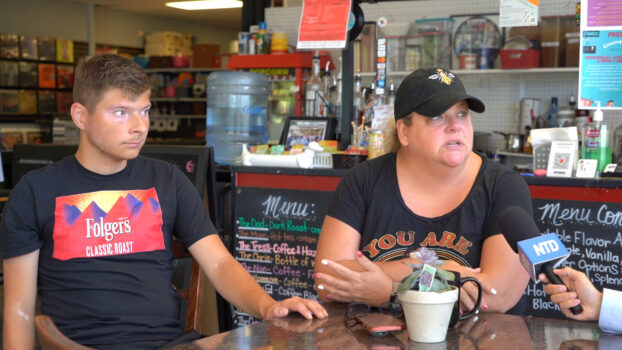 Two Years, Huge Changes
Two years ago, McFarland struggled with extreme anxiety. "I used to be on my iPad and not engage with people as much and now I'm starting to engage in people a lot," he said. "It [the coffee shop] brings happiness to a lot of people including myself, my mom, my dad, our employees, everybody, including our interns."
Through his love of coffee, he has overcome much of his social anxiety and is shining in his customer service role. He loves his job: "I really like working with my interns to help me." He says of the coffee shop: "I really like it. It's been a passion."
McFarland's parents are happy to see the positive changes in their son.
"He continually struggled with his anxiety. And now, he's engaging. He has organic conversations with people. He has chit-chat, he'll ask you questions, he never would do any of that before. Everything was very scripted," Angela says. "He has found a purpose for himself. And that's all we ever wanted."
McFarland's father, Jason McFarland says, "He's a totally different kid since he started here. He's engaging. He talks to people. He's just very helpful. Always asking questions wants to help. He's changed. Tremendous."
He remembers when McFarland first began working the coffee cart.
"When he first started, he was barely speaking. We would play [music] and he'd have his fingers in his ears. Couldn't stand the sound. Now, these bands are blaring over here and he's walking around. And he loves it. And he's talking to people to ask them what they want. He wants to serve people all the time, whether it's coffee or whatever."
"When I first started coming here, he was very shy," Scott Vanderburg, a long-time customer, said. "Jake has blossomed quite a bit."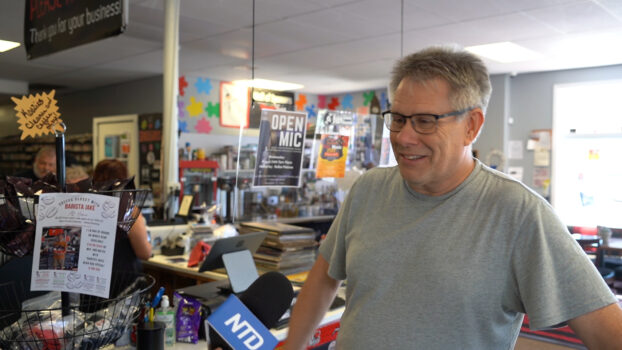 The Story of Barista Jake's Coffee Cart
Angela McFarland shared McFarland's story.
McFarland has autism, severe anxiety, and ADHD. After he graduated from high school in 2019, his parents were worried about his future, especially when the pandemic began in early 2020. When COVID-19 struck, everything changed. Jake wasn't getting any social opportunities. And the family's record store was shut down because it was not an essential business.
"So my husband and I decided: let's do a curbside coffee cart, kind of like a lemonade stand, simply to give Jake something to do. And to keep our record store customers reminded that we were here," Angela says.
McFarland always made coffee at home for his father, so his parents would jokingly call him "Barista Jake."
The curbside coffee cart, built by a family friend, received a lot of support from the community. All the profits went to charity. Angela says, "Everything that we do, has a philanthropic component to it. And it just blew up." Today the Coffee Closet with Barista Jake is a full-fledged business, operating out of the family's record store, Vinyl Closet Records.
The cafe holds regular fundraisers. The McFarlands have donated over $26,000 in money, supplies, toys, clothes, and food to local charities.
McFarland's Baristas
Angela had worked in recruitment and human resources for 30 years. She quit her job to help McFarland start his business. Today, she is the founder and president of Jake's Baristas, a non-profit organization that sprung from the Coffee Closet. The organization aims to "help teens and adults with special needs gain work and interview experience, social skills, and resume building."
Through Jake's Baristas, teens with special needs are given vocational skills, social opportunities, and an inclusive environment.
Angela works as both a job coach and a cook. She says her unusual job description includes "working with the special needs population like my son, and helping them gain confidence and exposure to the community that they don't get [otherwise]."
Angela hopes the Coffee Closet can educate the community about people with special needs. The McFarlands say they want the coffee shop to be a place where people can see the important role that people with special needs play in society.
Inspired by McFarland's Story
Angela says the couple was constantly told how inspiring McFarland's story is. The positive feedback gave them the courage to start something new.
"I hear from a lot of people that we have inspired them." She gives an example: "We did a mobile event last December, at a special needs school. A woman came up to us with her daughter. And she said, 'I kind of feel starstruck meeting you guys. I followed you on Facebook.  When you started this, I realized my daughter has a gift too.' Her daughter created her own jewelry-making and craft business, and they were actually a vendor at that event. I had no idea that his story was so impactful to them."
Angela says she feels honored to inspire more people with special needs. "There are a couple of other businesses that have been popping up that will go back and credit our movement with giving them the courage to be able to do it. So that always feels really good. Because you never know who you're inspiring."
Looking Forward
The McFarlands have been gifted an old ambulance, which they plan to transform into a new coffee "cart."  It will go on outings to nursing homes and senior centers to spread McFarland's joy for the mission.
McFarland is looking forward to his new coffee truck. "The ambulance will be done soon. I hope it gets done fairly pretty soon. And I hope we get to expand more. It would be great," he says.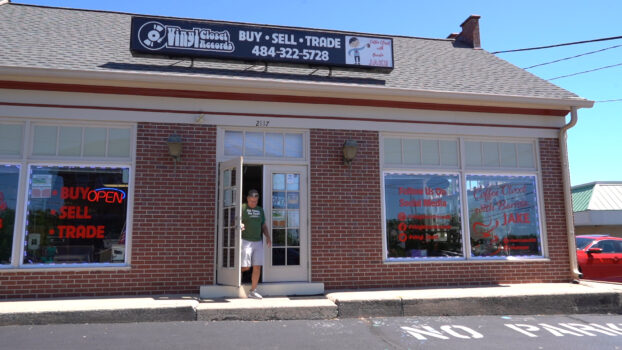 Jason says he wants to encourage more people with special needs: "Look where Jake started and look where he is now. Anybody can do it. They all can do it."
Their website shows the McFarlands' compassion and hope: "21 years, tens of thousands of dollars (for curing) and 10 million tears later my son is living proof that Children on the Spectrum should never be counted out. Parents that are given that terrible news need to know that while it may feel that way at the time—AUTISM is NOT a deal breaker in the future accomplishments of our children."