A Chinese citizen who resides in the Xinjiang Uyghur Autonomous Region posted a video on Twitter about daily life in the region and the discrimination he faces inside mainland China. He also warned fresh college graduates about moving to Xinjiang. He went by the social media user name "Evening cloud" and his true identity has not been revealed.
The video, posted on June 30, quickly went viral on the internet. "Evening cloud" recounted his experiences in Xinjiang in recent years and how he endured discrimination when checking into hotels and renting apartments in places outside the region.
He used voice distortion technology in the video to disguise his identity, and he said if there weren't any updates on his Twitter account in a week, it's most likely he has been detained by the authorities.
Since one week after the video went viral, his Twitter account has had no additional activity.
Government Incentives for Han Chinese Relocation
Xinjiang is home to many Muslim minorities including Uyghurs and Kazakhs. The Chinese regime has labeled Uyghurs a terrorist threat, justifying severe suppression, including banning students from speaking Uyghur in schools, burning religious books, and detaining Uyghurs in mass concentration camps.
In recent years, Chinese authorities have promised exceptional job and relocation benefits to attract more ethnic Han nationals to move to Xinjiang, especially fresh graduates.
Since January of this year, many companies in Xinjiang have publicized a variety of hiring notices in the Han region, according to a June 29 report from Bitter Winter, an online multi-language magazine covering human rights in China. For instance, the first division of the Xinjiang Construction Corps promised recruits that they would be rewarded with 50,000 yuan ($7,266) and 40 mu (6.6 acres) of land, three years of free housing, as well as other incentives—such as subsidies, pensions, social insurance, guaranteed housing arrangement in the following years, and subsidies for starting one's own business.
However, there is an age restriction—men are required to be between the ages of 18 to 40, and women ages 18 to 35. Bitter Winter believes that the age requirement is intended to encourage cross-ethnic marriages between Han and Uyghurs.
Fake Promises and Deception
Although all these incentives are very attractive to those Han nationals who worry about job security, "Evening cloud" warned his Han fellows that they definitely must not be seduced by these enticements.
"First of all, Xinjiang is now financially tight because a big sum of money is used to maintain social stability, and a large number of re-education camps have been built recently. Therefore, it remains a question as to how many of the promised incentives can be realized," he said. "What's more, once you enter Xinjiang, you will never find a chance to leave."
"Second, your residential registration will be changed to a Xinjiang residential ID, and so will your children's. When you travel or do business in other areas, holding a Xinjiang ID means you will suffer discrimination. I mean, you will be treated as a ragtag," he added.
"Evening cloud" said his company is headquartered in Xinjiang, and has a branch in Zhejiang Province. He often travels between the two locations on business trips. However, since he holds a Xinjiang residential ID, he cannot even rent an apartment in Zhejiang.
"Although there is no such explicit regulation that apartments cannot be rented to people from Xinjiang, a landlord needs to report to the local police department, and neighborhood supervisors will conduct routine inspections when the tenant is from Xinjiang." he explained. "As a result, landlords won't rent the place to you as it involves too many hassles and potential problems."
As for booking a hotel, some hotels directly claim that they do not accept Xinjiang residents. Some other hotels will ask you numerous questions, including details of your itinerary, purpose of the trip, and the front desk staff will even open your suitcases to check its contents, he said.
"As a Chinese, I really cannot put up with this kind of discrimination," he said. "There are many foreigners from Arab and African countries in Fujian, Guangdong and Zhejiang provinces. These people can check into a hotel quickly without much hassle, but we Chinese from Xinjiang need to have our suitcases and bags inspected. It will be even worse if the hotel guest is a Uyghur, as the local police station will dispatch policemen to meet the guest."
"Evening cloud" also mentioned that in Xinjiang you must have your retina and fingerprints scanned and recorded and have blood collected by local authorities. If you refuse, the authorities will disable your residential ID immediately.
Moreover, Xinjiang's re-education camps have become the new norm, he said. "You might be a public servant now, and in the next second you could be sent to a re-education camp if you have made a mistake in your work."
"Evening cloud" may have been sent to one of these camps, as he said that one week of silence on his Twitter account would indicate he has been locked up.
Social Media Report About Trip to Xinjiang
In June, a WeChat article titled "OMG! Very Very Strong Sense of Security When You Are in Xinjiang," was posted by user "Sang Sang" who described a recent trip to Xinjiang. WeChat is a Facebook-like social media platform. The sarcastic article was removed from the internet shortly by internet police.
The post read, "In Xinjiang, [every] ten households are organized into an [anti-terrorist] unit. Look, a Uyghur uncle wearing a red security armband is making flat bread! A young man in bulletproof vest and helmet is preparing grilled meat! A woman in camouflage uniform is selling bread, looking very handsome!"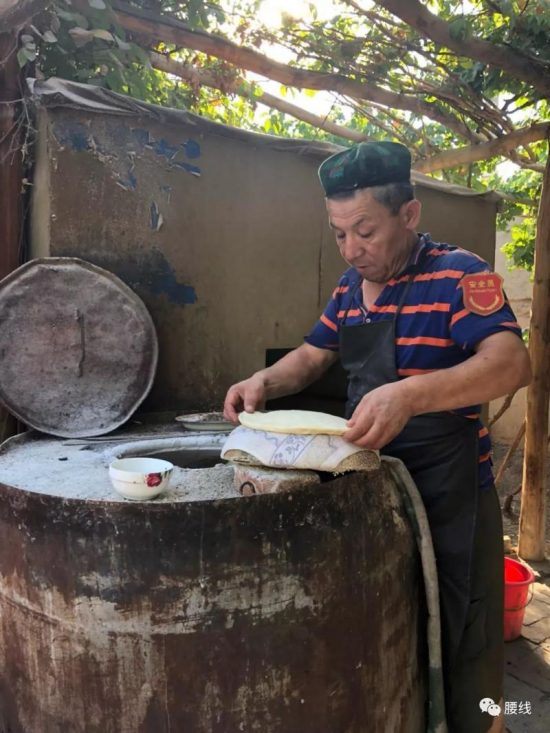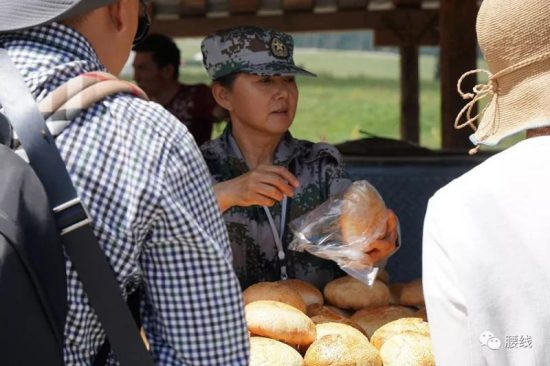 The post read: "When I was having lunch at a Sichuan style restaurant, suddenly a whistle blew in loud, short bursts. The female restaurant owner quickly threw away the cabbage in her hand, grabbed a very thick wooden stick from the door side and stood at the entrance."
"Outside, the police were each holding a baton and a shield as if they were preparing for an attack. I felt nervous and choked on my food. The female owner comforted me by saying: 'Don't be afraid. It's our routine anti-terrorist drill. Just continue with your lunch.'"
"A policeman played the role of a mob who dashed forward. A group of female store and restaurant owners ran toward him, wielding their wooden sticks to batter the 'mob.'"
"Although it was just a drill, everyone was so into it and actively participated."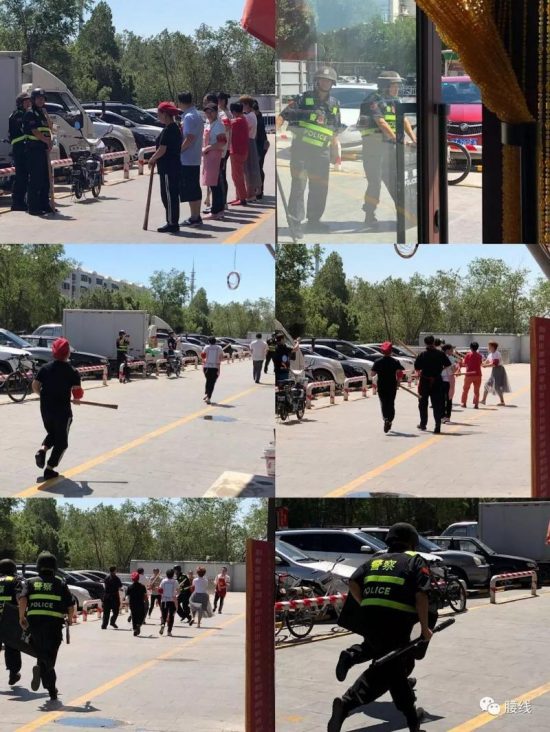 "Police came to join the fight. With the help of the civilian heroes, the police pressed the mob down to the ground. The restaurant owner was excited over the victory. She came back, sat down, resuming her chore of handling cabbages with a smile on her face."
Though this article was written in a sarcastic ironic tone, it exemplifies the oppressive conditions prevailing in the region.