The four foreign ministers of the QUAD nations, Australia, the United States, India, and Japan, met on Feb. 11 in Melbourne for the fourth iteration of the talks.
High on the agenda are issues like regional security—including Russia, China, and North Korea—economic engagement, new technologies, climate change, humanitarian issues, and the response to COVID-19.
Australian Prime Minister Scott Morrison joined a brief press appearance before the meeting got underway, welcoming U.S. Secretary of State Antony Blinken, Australian Foreign Minister Marise Payne, Indian External Affairs Minister Subrahmanyam Jaishankar, and Japan's Yoshimasa Hayashi.
Morrison praised the dialogue as a source of support in a world that is "very fragile, fragmented, and contested."
"I'm reassured by our perspective, I'm reassured by the understanding shared by each other, I'm reassured by the incredibly strong support that Australia has received from QUAD partners," he told reporters, referencing the economic coercion campaign launched by Beijing against Australian exports.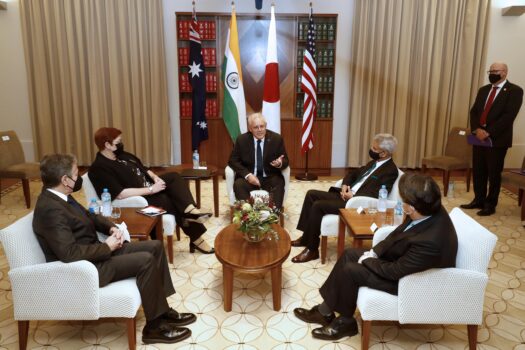 "We'll continue to always stand up for our values that unite us most. In doing so, we stand up to those who would seek to coerce us."
U.S. Secretary of State Blinken praised Morrison for his leadership in advancing the QUAD.
"This is a group of countries brought together not by what we're against, but what we're for. What we're for is a free and open Indo-Pacific," he said.
"The most dynamic region in the world, the fastest-growing economies, half the world's population, people deserve to live freely, countries deserve to have the freedom to work together and associate with whom they choose," he added. "Together, we can demonstrate that we are effective in bringing benefits for our people."
In his first visit to Australia, India's Jaishankar said the reason the QUAD worked so well was because bilateral relations between Australia and India were strong, while Japan's Hayashi said Australia-Japan relations had reached "new heights," referencing the recently concluded "historic" Reciprocal Access Agreement for greater cooperation on defense matters.
Australia's Foreign Minister Payne said the talks would focus on challenges at a "different scale" than preceding decades.
"More than one authoritarian regime is presenting itself in the current world climate as a challenge–DPRK (North Korea), China as well—and they will be part of our discussions," she said in a press statement.
"Our work together in the Indo-Pacific is growing exponentially, and it is very rewarding to see the engagement of so many of our partners in the region with us both."