New South Wales Premier Dominic Perrottet on Thursday morning has visited the central-western town of Forbes where the threat of rising floodwaters is likely to linger for days, with more rain forecast in the coming days.
He was joined by Deputy Premier Paul Toole and Emergency Services Minister David Elliott to receive a briefing from State Emergency Service (SES) chiefs.
Hundreds of people have come back home after flood warnings were downgraded and local State Emergency Commander Rocky Walshaw says sandbagging properties and other preparations over the past week have paid off.
The premier commended locals who in the past four years have endured floods, drought, bushfires, a mouse plague, and the pandemic, only to be hit with more floods.
"They're a very resilient community here and they are going to get through this difficult time as well," Perrottet said.

Over the past week around 300 SES volunteers and other emergency service workers have been assisting locals by sandbagging to protect properties from rising waters and doorknocking to evacuate people, as well as conducting 33 flood rescues.
"That is the spirit that gets our state through these difficult times," the premier said.
The town has so far avoided the worst-case scenario that saw hundreds of houses inundated in 2016—but the flood risk is far from over.
The Bureau of Meteorology is forecasting more rain in the area, leaving the town "on a knife's edge."
Forbes Mayor Phyllis Miller said the flooded Lachlan River has been slowly rising through Wednesday as water makes its way through Forbes.
"It has come through the town and made its way to the lake system but it's nothing we can't handle," she told Sydney radio 2GB on Thursday.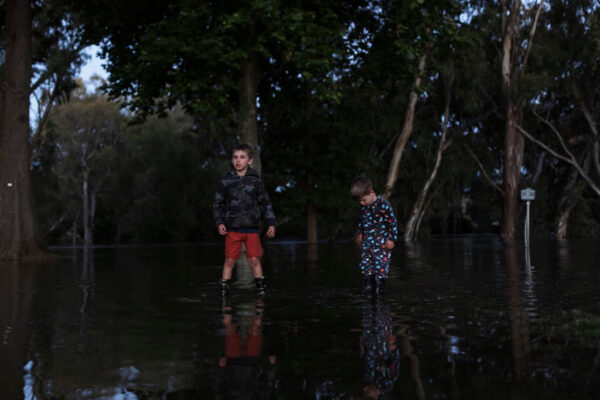 The floodwaters in the Lachlan River have wiped out the crops, pastures and cut off farms from Cowra to Forbes during the past week.
Farmers in the Lachlan Valley are bearing the brunt of the flood, with rain and flooding impacting an already-delayed crop.
"We've got crops that have been good as we've grown for 10 years or more that have been submerged and turned into a lake," said Cowra farmer Ed Fagan, whose 600 acres (243 hectares) at "Mulyan," which runs along the Lachlan River, was flooded.
He said the timing of this flood could not have been worse for the Lachlan Valley region, with winter crops just weeks off from being harvested, while summer crops have just been planted.
"It's a double whammy," he said.
"We've spent all the money on it. That's the thing that's annoying… It's not great for your psyche when you've been so excited to get a big crop through."
The flood five years ago is estimated to have cost the area more than $200 million in agricultural output.