A House Committee on Rules hearing on Tuesday on H. CON. RES. 9, a resolution titled "Denouncing the Horrors of Socialism," became a civil and intense discussion and debate on the merits of capitalism and free enterprise and the evils and destructive influence of a system of state and public-owned means of production, and also the horrors of totalitarian regimes.
The Epoch Times reported on Monday on the resolution, which was introduced by Rep. Maria Salazar (R-Fla.) and House Majority Leader Steve Scalise of Louisiana.
Rep. Salazar, born in Miami's Little Havana neighborhood to exiles from communist Cuba, has been consistent in her criticism and discrediting of socialism.
If the Committee on Rules votes Wednesday to approve the resolution, it will be sent to the full House for a vote on Thursday,
In his remarks opening up the hearing, Committee Chairman Tom Cole of Oklahoma said, "In recent years, many American politicians have ignored the brutal history of socialism and have openly embraced the label of socialist or pushed socialist policy despite the long history of human rights violations at the hands of socialist or communist regimes in pursuit of their ideology.
"The resolution before us condemns socialism, grieves the human loss at the hands of socialist regimes, and opposes the implementation of socialist policies in the United States of America. America is a bastion of freedom and a beacon of hope to the rest of the world, and I hope my colleagues on the other side of the aisle will join us in supporting this resolution."
McGovern Provides His Opinion
Cole then courteously yielded to the man he had succeeded as chairman of the House Rules Committee, ranking minority member Rep. Jim McGovern, with whom he has a cordial relationship, including during the period when the men's titles were reversed.
Rep. McGovern would set the tone for the debate with his remarks.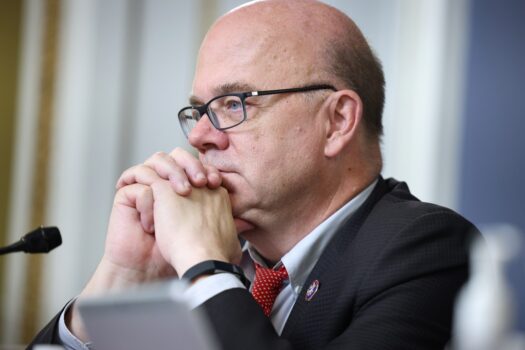 "I say this with love and affection, but what the hell are we doing here?' said McGovern. "I mean, I'm going to keep my remarks short because I don't really want this meeting to be any more of a waste of time than it already is. I guess my only real comment is, really?
"I mean, this is what the Majority is wasting our time on? This is what the majority is wasting the American people's time on? A non-binding resolution that does absolutely nothing? After months and months of bragging about how this majority is going to address all these issues that are important to the American people, here we are debating a non-binding resolution about socialism?"
McGovern went on to say that the resolution was a "smokescreen" and that GOP leadership does not want to discuss the "extreme agenda" it is pushing—"they are upset about the potential of nationwide 30 percent sales tax on everything from groceries to gas," and "they are upset that the Republicans have been pushing a notion to ban abortion nationwide," and "give tax breaks to wealthy people and those who are well connected."
Socialism: A Failed Model
Speaker of the House Kevin McCarthy had referred H. Con. Res. 9 to the Financial Services Committee, which obligated Rep. Patrick McHenry (R-N.C.), chair of the committee, to appear at the hearing and give testimony.
"I think we can all agree that socialism flies in the face of the vision of our founding fathers. Its policies have failed time and time again," McHenry said.
"Its ideology has led to unimaginable pain and suffering in nations around the world," he said.
"So why do we need a resolution? Great question.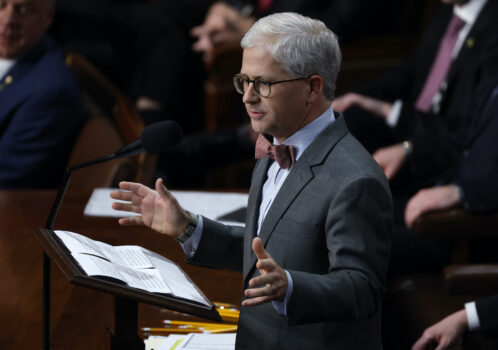 "Well, the failed model of socialism continues to rear its ugly head, even in the 21st century. Even in our country, built on freedom and individual liberties. And I fear that some have learned nothing yet forgotten nothing," McHenry said.
"In an attempt to address social issues, those on the far left have taken an approach that more closely mirrors the Communist Chinese Party's actions of recent date than the proven free-market solutions that make America the envy of the world."