A Son's Virtue Restores Harmony to a Family (Part I of II)
August 9, 2012 9:59 am Last Updated: October 1, 2015 12:39 pm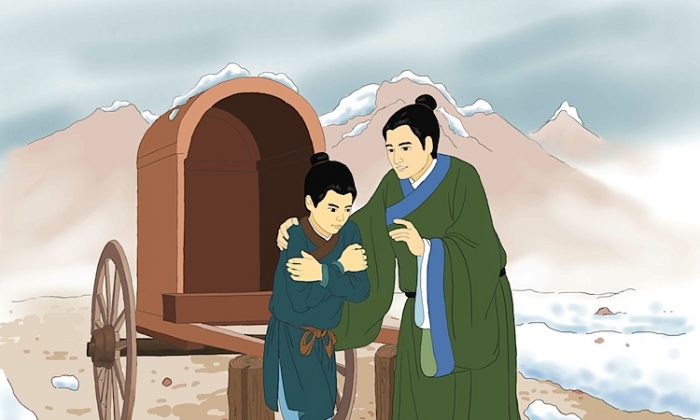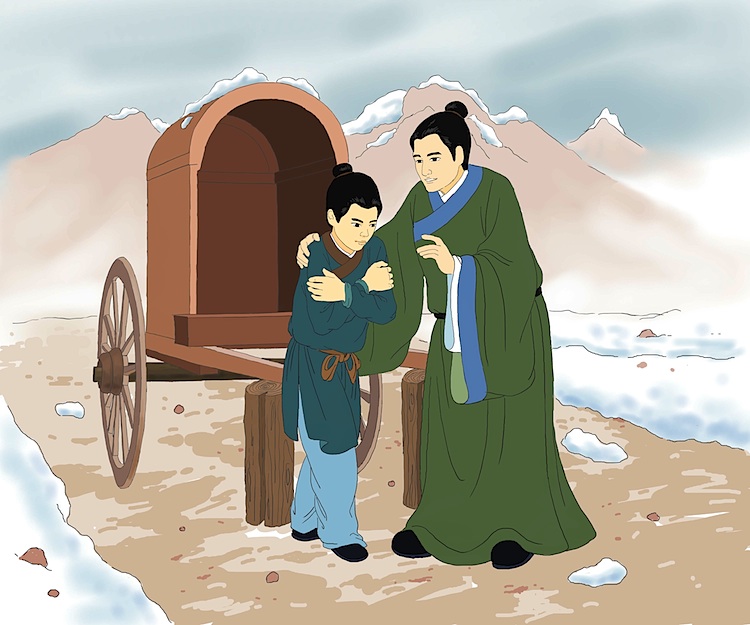 On an icy winter night Min Deren was ready to take his two older sons to the East Village. They were going to listen to his friends discuss poems that impart wisdom and knowledge. His youngest son, an infant, stayed home with his mother.
The lessons began even as they set out from home across a frozen field. Min Deren said, "Sons, engrave your dad's words in your mind. To be a good person in the world one should always keep in mind one basic discipline: loving and caring for others.
"Be courteous to neighbors, be filial to parents, and you brothers should be loving, helpful, caring, and respectful to each other. Work diligently, study, and don't be lazy, idling time away playing. Don't be impetuous, nor look down upon others.
"Be modest, prudent, and polite when we meet my friends there in East Village and talk about poetry. Don't let people laugh at me as a father who is seen as not good at disciplining his kids."
Min Deren's eldest son, Ziqian, then said, "Father, the woodcutter has gotten lost on his way home and the birds are searching anxiously for food to take back to their nest. The roaring, bitter cold wind blows snowflakes into my face. I'm shaking with cold as though cold water has soaked my body from head to toe.
"Ai, dad, I am so cold. Let's go back home. Can we meet your friends another day?"
"Your dad has promised and made an appointment with them already. If we don't go today, we are not keeping our promise. The basic virtue for a man is to keep his word."
"Dad, I… I…"
"Ha! You are younger than I, but cannot stand this little bit of cold. How can you become a useful person who can play a valuable role in the future! Get on the horse and let's go!"
"Dad, please, I am really too cold to stand it. Let's go back home and go another day, dad. Please, dad!"
Min Deren turned to his younger son, "Yingge, tell me, are you cold?"
"No, dad, only my hands and ears are a little bit cold. My body is even a little sweaty."
Min Deren whirled back to Ziqian, "So, you…you…let me whip you, you shameful thing!"
"We three were going together to meet friends and talk about poems, only you are afraid of the cold. You must be lazy and not willing to learn. You don't want to go and so you just make an excuse. I will give you a good lesson with this!"
Min Deren's whip came down on the boy's coat and pieces of reed flew up into the cold night air.
Yingge yelled, "Reed hair! Reed hair ! Dad, the hair is flying from Ziqian!"
Min Deren ran to look at Ziqian's clothes and then back to look at Yingge's. Ziqian's clothes were lined with dried grass, while Yingge's were lined with silk cotton padding.
"Oh, my son, I thought my son, you whose mother died when you were a young child, could have enough food and warm clothes and someone to take care of you, and I married your step mother. Who knew that my poor boy who lost his mother suffers so! My son, you can blame your dad freely."
"Dad, please don't worry or be upset about this."
Min Deren said, "In my heart I only blame Li Xiuying. Doing such a cruel thing behind my back! Treating the same kids differently, clothing one with silk cotton and the other with reed hair! If I had not whipped you, I would still be blinded by my dream.
"I no longer want to drink wine, enjoy the snow, and talk of poetry. I am for home, where I will have it out with Li Xiuying.
"Yingge, you go to your grandma's to ask your grandpa to come to our home at once."
At Min Deren's Home
Holding the baby, Li Xiuying sang softly, "I have taken care of everything for 13 years. A loving husband and wife—we have never argued. I only hope my sons become important people. People will then praise me as a good wife. I favor Yingge just a little, but everyone is the same: they love their own kids better!"
Li Xiuying spoke to herself, "Baby, you sleep so soundly! A cold wind comes through the window. It hits the body like ice and chills one to the bone. Husband took 2 kids to the East village. With such heavy snow, it must be hard to travel. Though Yingge is clothed with silk cotton, I am still worried for him. My baby, how can he stand the cold? I look forward to them coming home soon!"
Min Deren and Ziqian then entered.
"Oh, you are back."
Min Deren replied, "Yes, I am back."
Ziqian kowtowed. "Mom!"
Li Xiuying said, "Oh, dad, where is Yingge?"
"I let him do something."
Li Xiuying then asked, "What is the matter? Usually you are happy, but today you look so upset. Who has upset you?"
"You!"
"Why?"
"Listen to me: are Ziqian and Yingge brothers?"
"Yes."
"Then why does the elder brother wear reed hair, while the younger one has silk cotton?"
"Today you came back questioning a lot. I am so impatient. I take care of the whole family. You can go to ask the neighbors whether I am a good wife or not?"
"Don't change the subject! I only asked you one question. Why is one wearing cotton and the other reed flower?"
"For 13 years I brought him up, taking care of him in cold and warm weather, and I put him in my heart."
"Oh, you seem to be such a good person as is really hard to find! So you think you treat Ziqian as though you were his real mom?"
"Of course!"
"Even now you still dare to try to blind and cheat me with beautiful words!
"Come here, Ziqian, kneel down, let your step mom see what you are wearing!"
Min Deren and Li Xiuying glared at each other over the kneeling Ziqian.
Yingge entered with his grandpa, and everyone gave grandpa formal greetings.
Read Part II of A Son's Virtue Restores Harmony to a Family HERE.
The Epoch Times publishes in 35 countries and in 19 languages. Subscribe to our e-newsletter.