Artist Brian Peterson, from Santa Ana, California, has a heartwarming mission, which started when he recognized a crisis in his community and in the country at large.
The Southern California painter uses his talents and skills to address the epidemic of homelessness, creating a perpetual exhibition of portraits of the homeless community for his nonprofit, Faces of Santa Ana.
The organization, which he started about three years ago, intends to rehabilitate and elevate those around him with love and dignity.
"Art has the potential to have supernatural abilities," Peterson told The Epoch Times in an interview, "especially when motivated by love."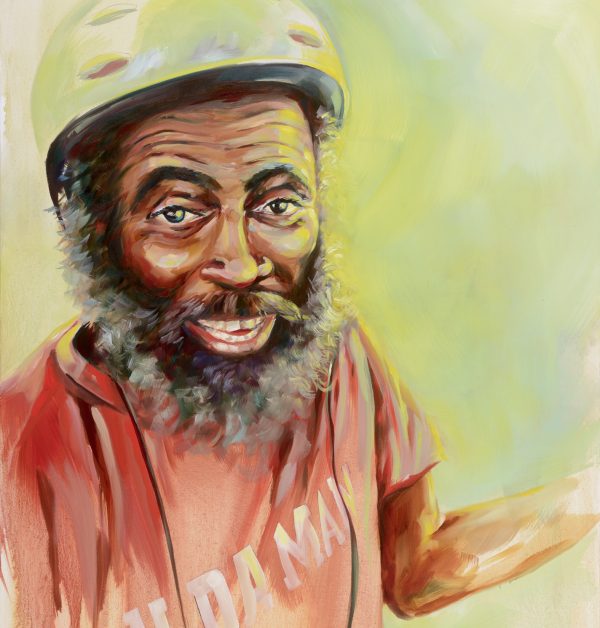 Many people over the years have suggested that art can be a catalyst for change, affecting mind, body, and soul; Peterson's remarkable accomplishments demonstrate that beautifully.
Peterson balances a busy schedule that consists of his work as a creative designer at the KIA Motors Design Center, in addition to his artistic passion project.
Peterson, who's in his early 30s, was trained at Design and Architecture High School and the Cleveland Institute of Art. He used that experience to start helping his homeless "clients" by painting their portraits, selling the paintings, and then placing part of the proceeds into a "love account" to be used for rehabilitation efforts, including medical treatment. The proceeds have reached thousands of dollars for each painting.
The paintings, however, seem to transcend their monetary value or physical beauty, creating an alchemical effect on his subject and the viewer, as well.
"I feel my paintings are a mirror," he said.
"I am holding up a mirror," to reveal and to show "this is who you really are," with his subjects rendered in vivid colors, with warm and glowing tones. He hopes to help his homeless friends to "get in touch with your true self."
The mission serves as an expression of Peterson's own faith. It's also a metaphor for how people might see themselves through the lens of truly unconditional love.
"This is how God sees you," he said.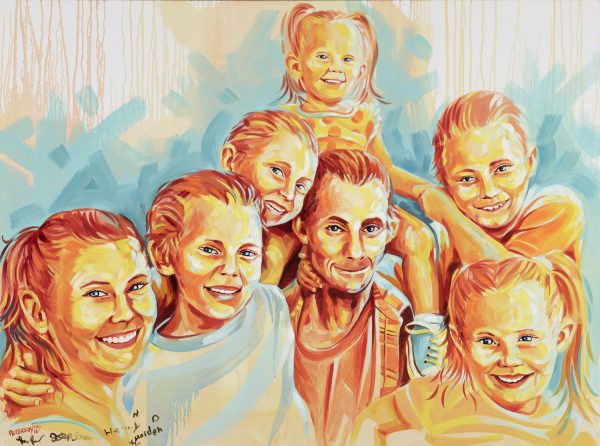 The Process
Peterson first meets and connects with homeless people "on a human level," he said. He then takes a photograph in black and white so that he is free to assign his own colors to the image later.
But how does he know what colors to choose?
Once in the studio, Peterson starts something of a ritual for his artistic creation, which he refers to as "a moving mantra." Then, he prays.
"I pray for the person, and I pray to God to show me the colors, show me who they really are."
Using a palette of mostly bright colors, Peterson says, "I reach a place in my heart to see them this way, to see into their soul and spirit."
"At some point, it begins to flow. I'm not thinking about me. In a rhythm, I'm tapped into an area that I am motivated by love. Art can be supernatural. We can tap into something else."
"I ask the Lord to fill me and I will create for you."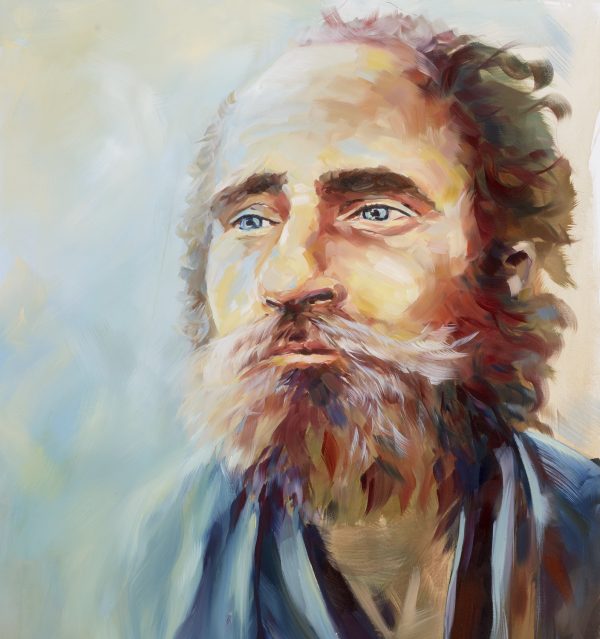 Eliminate the Negative
Peterson understands, too, the importance and necessity to constantly "keep in check" his mission's focus and maintain a positive mindset. He says that now he is especially aware of checking his motivations, since his work has been getting more attention.
"Whatever we create, whether a portrait, a building, or a sculpture, whatever motivates you will come out on the other side," he said. "I am growing in the process. I am unlearning a lot of things I thought were true."
Peterson is also aware of the thoughts and beliefs that sabotage us.
"I have had to change the narration in my head," he said. "All my human doubting and destructive thoughts, like 'It's not going to be good enough, I'm not worthy,' melt away."
Through faith, Peterson believes that he is worthy to paint the portrait, that his clients are worthy of this love and gift, and that a place already exists for each work of art, "a place I search for in each painting."