Hong Kong's medical workers were put in jail, some self-exiled, and the union was crushed, leading to helplessness in the post-national security law era. As the past three years swept away many committed workers from their jobs, an ex-union member chose to live her own revolution.
Medical workers had a distinct voice during the time of the 2019 anti-extradition movement as well as during the outbreak of the Covid-19 endemic. At its peak, the union boasted a membership of 20,000. The figure, however, dropped to around 700 as disbandment neared.
Set up in November 2019, the Hospital Authority Employee Alliance (HAEA) was dissolved two and a half years later on June 24.
HAEA executive member Anne Lui was a particularly solitary figure at the EGM when she explained the voting procedures for disbandment from a podium to members who were scattered throughout the hall. It was a tough task trying to sum up what the union had gone through in the 30 months, not to mention fellow union crusaders who had left, one after another.
As an executive member of HAEA, Anne was mainly responsible for liaising and preparing printed literature. Confronted with political grimness, toward the end, the union's activities were sometimes attended by a few participants only. The union no longer held the public's attention and its membership diminished sharply.
Anne never wanted to see the union dissolved. By the time the fifth wave of the epidemic hit, one after another union executives reported being followed and resigned. The union was no longer in a position to continue providing feedback on the way HA was handling the epidemic.
On the day of voting, 62 members were present. Many executive members should have been there to oversee the EGM, but some had already left Hong Kong and some were behind bars. Eventually, the resolution to dissolve was passed with 57 voting yes and 3 against.
Afterward, many active members or volunteers came up to hug Anne. Touched by this, Anne also appreciated the company of her sister, also a union member, during the final journey.
Hong Kong's civic society went through an unprecedented decimation in 2021, many unions and NGOs, all household names, were dismantled one after another. Now the outspoken HAEA also disappeared from public view. Anne was overwhelmed by helplessness and it was not something she could manage right now.
"As the movement reached this stage, it really boiled down to how to set off a revolution of her own," Anne said.
With the union's responsibilities off her shoulders, Anne continued to devote herself to nursing as normal. Yet at the same time, she was swathed by helplessness. She chose painting and reading cartoons to escape from reality.
Anne is continuing to work in medical care. She joined the nursing profession after university graduation in 2018. She progressed from a very ordinary "Brat" (junior nurse) to an outspoken union member, Anne did not take part in the 2014 Umbrella Movement, as one might have imagined.
It was not until the anti-extradition movement took place that she got to know the meaning of "ride or die together." At that time, the flame of fights swept through the Hong Kong streets. Ivan Law, her senior in university, and also the vice-chair of HAEA, contacted her to see whether she was interested in organizing a union. She was inspired by the vision. "People are the most important element of a union," she used to say.
HAEA was set up on Nov. 24, 2019, with only eight members. Around the same time, the pro-democracy candidates won a landslide victory in the district council elections and there was a high rising tide of new unions. As it started to organize strikes, HAEA's membership surged to 20,000. However, membership dwindled to 700 when it was on the verge of being disbanded.
Anne did not attribute HAEA to all that happened in 2019. It was just about protecting workers' interests. It was set up under Article 27 of Basic Law, which established the rights and freedom to participate in unions and strikes, to extend the spirit of the movement.
When the first Covid-19 positive case was confirmed in January 2020, HAEA started planning strikes. By the end of the month, the strike plan was announced and there was a long queue applying for HAEA membership. The strike took place more than a week later, its goals included a demand for an entire border shutdown. Over 8,000 people participated in the strike, the union announced.
During the strike, HAEA members once stormed the Hospital Authority headquarters demanding a dialogue with the management. Anne, calling herself a "jack of all trades," shuttling between floors doing liaison work, but she did not take part in the negotiations. She recalled that the headquarters was filled with medical workers and one of the back stairs was entirely packed.
As there was no air-conditioning in the headquarters, some fellow workers with less stamina fainted, and many residents in the neighbourhood rushed to the spot with supplies including many portable fans.
"There was a long line leading up to the headquarters' entrance. The sun was so strong! People held placards that read "I am a medical worker. I am on strike." Anne recalled. At that time all medical workers were united into a fortress to safeguard Hong Kong people's health and safety. "We are thinking that given the epidemic, it was a checkpoint for the whole public hygiene system."
But the government and Hospital Authority remained tough and rejected all the union's demands. The government insisted on maintaining a passage with the mainland. It further accused the strike of damaging emergency services. As some of the strikers started to worry about vengeance from the HA, the picketing line gradually dwindled to around 5,000 people. The union eventually voted against further strikes.
Seeing the voting result, Anne was in tears. After the strike, many participants no longer showed up and some executive members withdrew from the union. All these were hard to endure for Anne. Fortunately, during the strike, she met a medical worker charged with rioting. He told Anne that he felt "strapped." However, after meeting the union's people, he felt that there was space for him to continue fighting for his rights.
"This is the union's very major significance to me—courage is contagious and actually can bring hope to others," Anne said.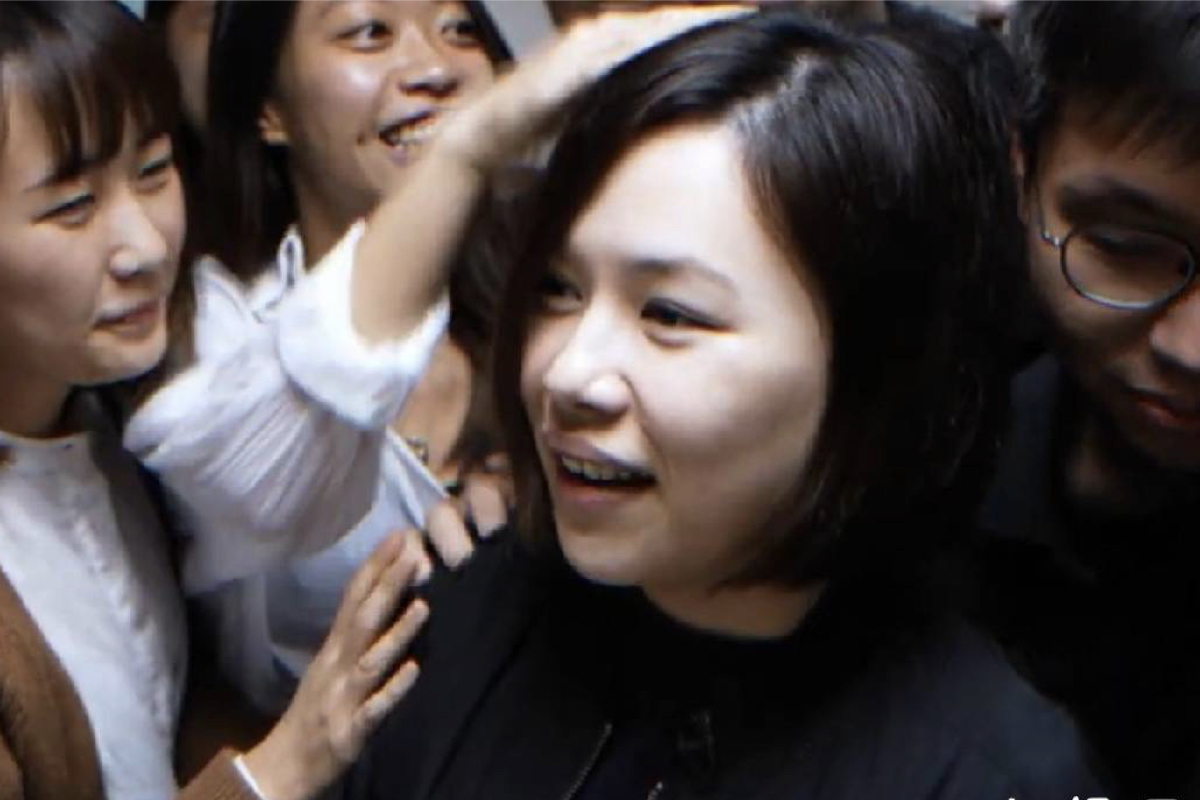 HAEA produced an MV called "A dream" in 2021 that recorded the reunion of Anne and other members just one day before the "February 28 Round-up" (the arrest of 47 pro-democracy activists). HAEA chair Winnie Yu Wai-ming told a reporter from the now defunct Stand News, with a catch in her voice, that she worried it could be years before there was such a reunion again. At that time she was charged and jail was looming. Winnie said she would never forget the time with fellow union members.
At the interview, Anne donned a T-shirt with the slogan: "An injury to one is an injury to all." Winnie had this line printed on T-shirts hoping medical workers would be concerned with every single patient. When there was a person injured or trapped, it was the business of all. "One in the trap is freedom deprived for all."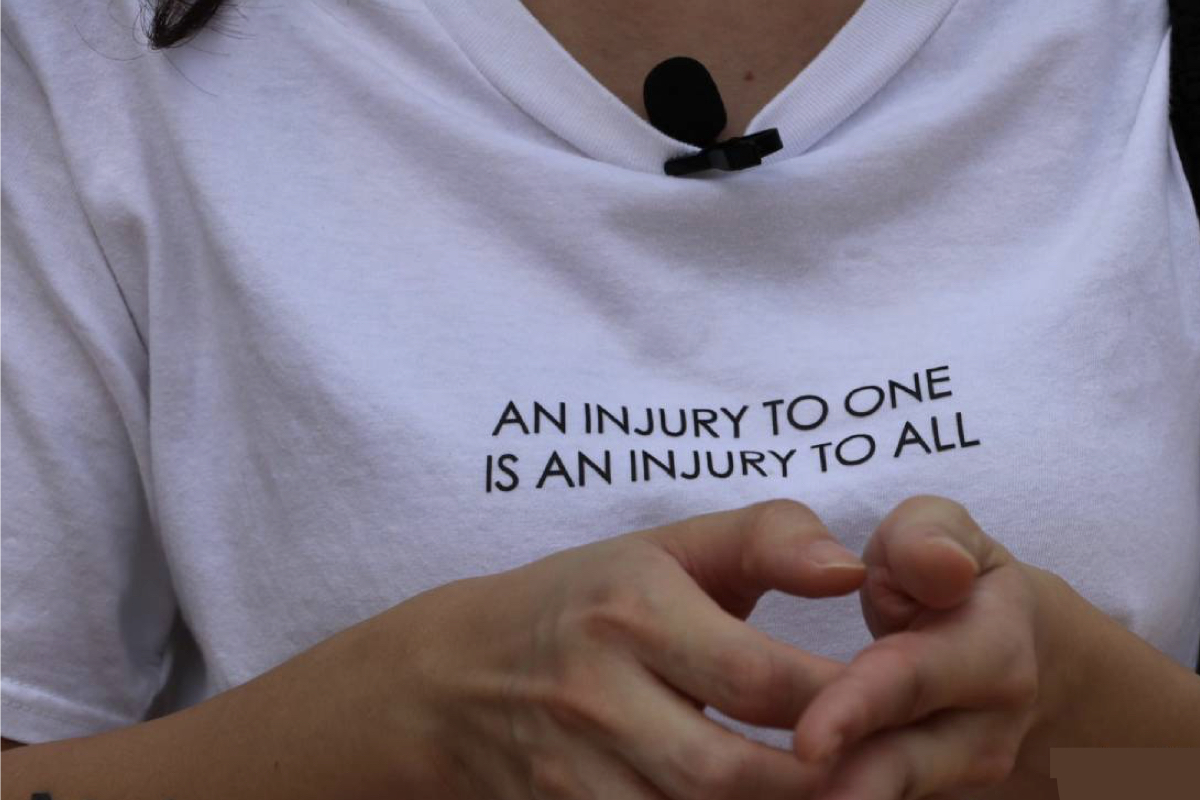 When a society lacks channels to speak out, people will naturally keep quiet. May those who remain in Hong Kong still keep others peoples goodness in mind and may they all know how to heal their own wounds.