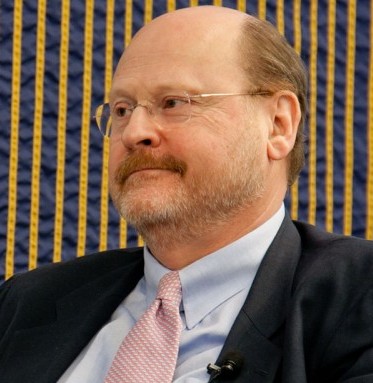 NEW YORK—The Metropolitan Transportation Authority may scrap any idea of extending the No. 7 line to New Jersey since a similar project was put forward by Amtrak last year, according MTA Chairman and CEO Joseph Lhota's comments at a construction industry breakfast on Tuesday. Lhota also gave insight into the future of the subway system.
"Long-term planning is to figure out what exactly is New York, the New York metropolitan area, the economic engine that it is, and what is it that we can do as a transit agency to help that economic engine continue to grow," Lhota said on Tuesday morning.
With four mega-projects focused around Manhattan, the MTA is expanding. Lhota also sees expansion as enlarging the existing system by increasing the number of riders it can handle. That includes lengthening stations and putting in more entrances, especially in quickly growing communities in the "other boroughs," said Lhota, noting he preferred that term to the typical "outer-boroughs."
As an example, Williamsburg was just factories when the subway system was put in. Now, it has a quickly growing population.
"Had people at the MTA thought about it—that people would possibly be living in Williamsburg someday—you would've ended up with four different entrances," said Lhota.
Other components of bringing the subway system up to speed include repairing signals, tracks, and stations. The MTA lacks modernized signal systems that many other cities have, said Gene Russianoff of the Straphangers Campaign in a phone interview.

The L line, the only subway line that has modern signals—which are essential to making sure two trains don't end up on the same track at the same time—took hundreds of millions of dollars to modernize, said Russianoff.
Future MTA expansion doesn't include extending the No. 7 line to New Jersey. Lhota said the exorbitant cost, among other issues, would deter the proposal.
"It's not going to happen," Lhota said. "Not in our lifetime, not in anybody's lifetime."
At two different points in his comments, Lhota instead advocated for the Gateway Project put forward by Amtrak early last year. The project would create a tunnel under the Hudson River connecting New Jersey to a proposed Penn Station building just south of the current location.
The project is only at the conceptual level, according to Cliff Cole, an Amtrak spokesperson, with $15 million being used for design and engineering, a preconstruction phase that may take up to four years.
"Certain elements of the program such as Portal Bridge and Moynihan Station, are much more advanced and ready for construction," said Cole via email, "but funding sources are still necessary to move forward."
Federal Department of Transportation Secretary Ray LaHood called Amtrak's proposed tunnel "absolutely critical" in a Senate hearing on March 15.
"If this becomes a priority for the region, it becomes a priority for us," LaHood added.
Apart from explaining planned expansion within the subway system, Lhota does have a vision for new expansion. One area would be bringing the Metro-North trains to the West Side, possibly to Penn Station if Amtrak was able to build and move to the proposed southern Penn Station building.
"The original purpose of the MTA was to be a regional transit authority," said Lhota. "To fulfill that mission we need to think about how we can get the Metro North to the West Side."