The Chinese Communist Party (CCP) has captured nearly 10,000 "fugitives" from abroad since 2014, in a campaign employing methods ranging from kidnapping to intimidating families, according to a new report.
Under the guise of an anti-corruption campaign, the Chinese regime launched Operation Fox Hunt in 2014, followed by a broader Operation Sky Net in 2015, which aimed to repatriate misbehaving officials and other economic criminals.
Human rights group Safeguard Defenders, in a Jan. 18 report, described Beijing's repatriation campaign as creating a "global regime of political terror."
The report noted the CCP's continued efforts to hunt down overseas targets during the pandemic, despite lockdown and travel restrictions around the world. The Chinese regime brought back 1,421 individuals in 2020, and 1,114 in the first 11 months of 2021, the report said.
"This is only the tip of the iceberg," Laura Harth, director of Safeguard Defenders, told EpochTV's "China Insider" program. She noted that many other victims might be cowed into silence.
"I think a lot of countries are maybe unaware that this is happening," said Heath. "I think there's still a lot of naivete when it comes to the operations run by the Chinese Communist Party."
While officially Operations Fox Hunt and Sky Net target those who have purportedly committed economic crimes or crimes related to their official duties, Safeguard Defenders found many cases that fell beyond this scope. Dissidents, Uyghurs, HongKongers, and Falun Gong practitioners are among the overseas targets pursued by the CCP, it said.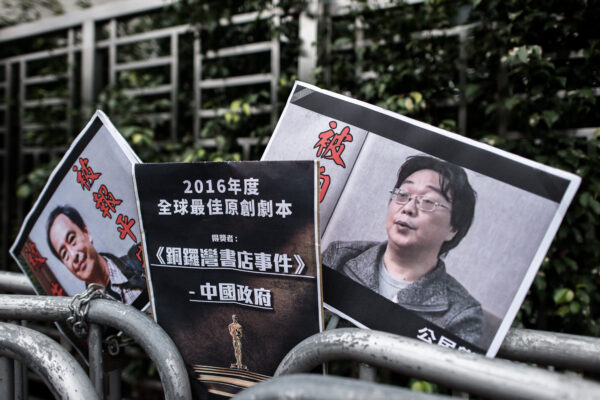 Gui Minhai, a Chinese-born Swedish bookseller, went missing from his holiday home in Thailand in 2015. Gui later reappeared in custody in China. In 2020, a court in Ningbo city said in a statement that Gui was sentenced to 10 years in jail for "providing intelligence" to foreigners. Gui was one of the shareholders of a Hong Kong-based bookstore that specialized in selling books critical of the CCP.
The 62-page report explored the three methods, other than formal extradition processes, deployed by the CCP to force their targets to return: threatening their families in China, sending agents overseas to directly intimidate them, and even kidnapping them.
With these operations, the CCP's message is that "nowhere is safe," the report said.
The majority of these people brought back by the CCP will be "prosecuted in one of these mock trials and will end up in prison," according to Heath.
In 2020 and 2021, the U.S. Department of Justice charged nine individuals over their alleged roles in scheme to intimidate a New Jersey resident to return to China, ​​as part of Operation Fox Hunt.
The regime's global operations are set to continue, Harth said. She urged governments to investigate the conduct of these operations on their home soil.
From 2012 to 2020, the number of Chinese asylum seekers increased 700 percent, according to the report, citing data from the United Nations High Commissioner for Human Rights. The figure doesn't include some 88,000 applications made by HongKongers under UK's new immigration scheme.
David Zhang contributed to this report.