SPONSORED CONTENT
"My father is a hobby cyclist who rides on a daily basis. All his gears are normal, recreational level items, and with Father's Day approaching, I would like to give him something that is cycling related. What would make a good gift?"
The paragraph above is an actual message posted by a user on an Internet forum and has sparked enthusiastic discussion amongst forum visitors.
For the undaunted seniors, cycling offers numerous benefits
It is a known fact that cycling offers several benefits for seniors in their old age. In addition to keeping them physically fit, being outdoors and enjoying natural scenery is an excellent way to relieve stress.
From the physiological perspective, cycling helps seniors train their thigh and waist muscles, which could alleviate potential injuries that seniors could suffer in falls. Cycling on a regular basis has also been found to be beneficial for the prevention and improvement of dementia.
However, experts in family medicine also remind seniors that as their physical conditions deteriorate due to aging, they should always monitor the status of their own health before taking up suitable physical exercises.
For example, seniors with relatively stable blood pressure can engage in more rigorous exercises such as brisk walking, jogging, cycling and swimming. On the other hand, seniors with blood pressure issues are better suited for gentle exercises including strolling and calisthenics.
But as the awareness for better medical care and healthy living grows, people have gradually overcome the limitations of age and physical conditions through various mental and physical exercises in pursuit of their dreams. The best example would be King Liu (the founder of Giant Manufacturing Co.) who made his second bicycle tour around Taiwan at the age of 80.
Eliminate sports injuries with Gripfast's shock absorption
While the gradual emergence and popularity of cycling are encouraging news, we should still pay attention to the potential sports injuries that may occur from cycling. In fact, clinical studies have pointed to symptoms such as lower back aches, hand numbness, knee aches and neck pains as common sports injuries one could get from cycling.
Gripfast – an innovative stem shock absorber developed by Extraordinary Microscience — is an exquisite and compact shock absorber that is meant to be installed between the handlebar and frame of a bicycle.
The device is designed to absorb vibrations coming from the road surface at the handlebar, thereby reducing the sensation of vibration that cyclists would otherwise feel at their wrist joints. Gripfast helps cyclists easily overcome various road conditions and prolonged riding sessions without the feeling of numbness in their hands.
When riding at high speed or going through corners/steep slopes/uneven road surfaces, Gripfast ensures adequate traction for the cyclist and reduces the danger of the bicycle toppling over, thereby significantly improving the cyclist's safety.
According to Extraordinary Microscience's President Kuo, Taiwan has taken the lead in the application of technologies such as aluminum alloy casting and CNC precision processing for the manufacturing of an outstanding bicycle stem shock absorber that features advantages including structural rigidity, low weight, and the ease of DIY installation.
Kuo hopes that the invention can deliver safe, healthy and easy riding experiences for cyclists.
Special price at NT$ 1,888 to celebrate Father's Day; use this opportunity to show your care for seniors at home
In order to promote the product to more senior cyclists, Extraordinary Microscience has launched its "The most comfortable cycling experience at NT$ 1888" campaign prior to Father's Day (August 8th in Taiwan) in the hopes of delivering a unique gift that will bring love and health to seniors for this year's Father's Day.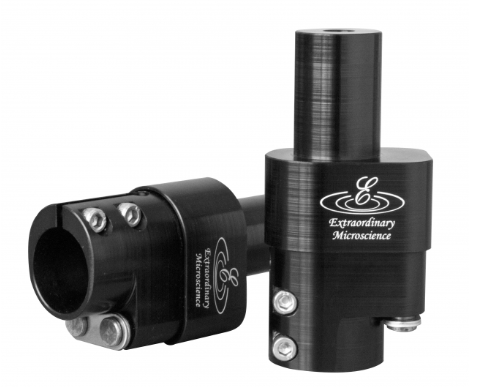 EASY DIY Gripfast – Bicycle stem shock absorber
Designed for bicycles with threadless stems of 1 1/8″ (28.6mm) in diameter.
Features: Accredited to EU's regulations; dramatically improves shock absorption by 63% and protects riders' wrists and alleviates numbness
Special offer:
MSRP NT$ 3,200; now available at NT$ 1,688 + 100 (for shipping)
This special offer is only available to subscribers of the Epoch Times in Taiwan (valid before August 8th)
Extraordinary Microscience (EOM)
Tel.: 886-3-543-0915
Homepage: www.eom.com.tw
Email: sales@eom.com.tw