A Dark Age for Chinese Media
February 9, 2011 3:30 pm Last Updated: October 1, 2015 5:44 pm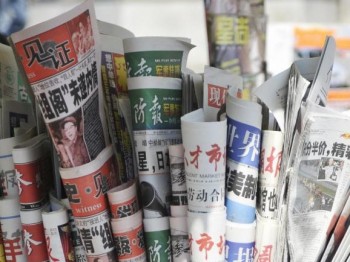 Three separate recent incidents of Chinese journalists being forced to leave their posts reflect the regime's new media directives to further intensify censorship. The dismissals have evoked strong public disapproval from bloggers and media workers who view this as the beginning of the darkest age for Chinese media.
The latest casualty of media censorship has been Chang Ping, a well-known news commentator who was asked to leave his position at Southern Daily Group and then chose to resign.
The Southern Daily Group has long been considered one of the few brave voices in Chinese media. But Chang indicated that the tradition of Southern Metropolis Daily (owned by Southern Daily Group) is gone after repeatedly going through staff purges.
"These purges has been very effective. Many good reporters have been forced to leave Southern Daily Group, and several more 'obedient'" officials were placed in key positions in the Group. The rebellious tradition of the Group has been repressed to nothing," Chang told Voice of America.
The news of Chang's forced resignation broke on the afternoon of Jan. 27 and quickly spread via twitter and other microblogs. By evening, over one thousand signatures condemning the forced resignation had been gathered online.
Chang responded in his Sina microblog saying: "Thanks to all who care about me. There is no particular reason [for the dismissal], except for the fact that I did not stop writing. Despite being told many times to stop, I have never given in. So, I chose to be 'resigned'. I despise and condemn all punishment resulting from expressing one's views."
Chang told Radio France Internationale (RFI) that a vice minister of the Central Propaganda Department visited Southern Daily Group for "research and investigation." Afterwards the Group went through a series of internal purges, which included the transfer of the director of the Commentary Department, Li Wenkai, and the termination of Chang's job—the biggest change.
RFI said that a senior media worker confirmed on Jan. 28 that it was the vice minister of the Central Propaganda Department, Cai Mingzhao, who had pressured Southern Daily Group to fire Chang. Cai held the position of deputy director of the State Council Information Office before he joined the Central Propaganda Department in 2009.
New Reporting Restrictions
A new propaganda directive was passed down to all levels of media outlets after a meeting of directors from provincial Propaganda Departments was held in Beijing on Jan. 4, 2011, Radio Free Asia reported on Jan. 12.
Next: Central government level media must be guided by local Propaganda