In the late 1960s, Julie found out she was pregnant at age 19.
Unmarried, the west coast girl was sent thousands of miles away to America's east coast to have the baby secretly. Cut-off from family and familiar friends, her life changed dramatically as she delivered the child, which was then adopted. She then began life anew.
It wasn't until five years later she returned home, went to college and, in her thirties, met her husband of more than 30 years. Few people knew the real reason she had left home.
Today, Julie, who prefers to remain anonymous, has raised children and two grandchildren.
"I have a wonderful, understanding husband who knows everything that happened to me and is supportive," Julie told The Epoch Times. "He's very grateful I didn't have an abortion and I'm so glad I don't have the baggage that comes with one, but it was hard just the same. There were just not things in place back then to help girls in my situation.
"Axia's Pregnancy Resource Center makes life do-able, and I'm grateful they are there for the girls today," she said.
'Dignity, Value, Worth'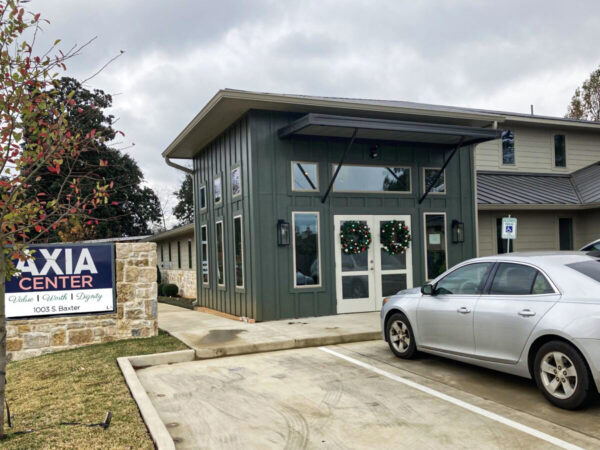 "Axia" is a Greek word meaning "dignity, value, and worth."
"Imparting that to the girls who come to us is one of our goals," Beverly Kline, founder of Living Alternatives, the parent non-profit of Axia, said of the non-profit's newly-built 6,000-square foot, two-story building in Tyler, Texas, that opened in January of 2020. "We want to promote a culture of life, and we do everything we can through medical resources, mentoring, parenting classes—and friendship—to do that all day, everyday."
Kline, 72, who likes to be called Bev, is an unmarried woman who had two abortions. As a young woman, Kline worked as a psychiatric technician in a California state hospital. At the time, she and her partner didn't think they were ready for children.
"I was in a long-term relationship," she said, "and I had a job, a nice car, a good apartment. I was young and having abortions seemed like the right thing to do. What I wasn't prepared for was what it did to him.
"I don't think I realized, then, or [that] many people realize now, what an abortion does to the father, not just the mother. For many men, their drive is to protect and provide for their children. When it hits them what has actually happened in an abortion, it can be devastating and affect the entire future of a relationship, as it did in ours," she said.
The couple hung on for a few short years after Kline's abortions, but the relationship slowly dissolved. She never married or had children. Soon after her relationship ended, she quit her hospital job to pursue a life of volunteer service. She is still a full-time volunteer today.
"My own experience is partly why we offer parenting classes for the fathers of their children, as well as the mothers," she said. "I've seen first-hand what abortion does to both parents."
Axia served more than 1,500 girls in 2021 who might agree with Julie's perspective of gratitude.
Clients at Axia can get pregnancy tests, sonograms, parenting classes, childbirth classes, and mentoring for a full year after a child is delivered by a nurse and counselor—all at no cost to the mother or her family—alongside a child-oriented baby shop with free supplies. A mobile truck that acts as a pregnancy resource center, fully equipped with a new ultrasound machine, visits Tyler's nearby cities to provide free services, such as sonograms.
"There are some towns we go to that don't have an ultrasound in them," Kline said. "We bring one to them."

Assisted by volunteer nurses, doctors, teachers, mentors, and more, along with in-kind donations of materials and medical equipment, Axia's new building opened across the street from Tyler Junior College.
Before the opening, Asia had been operating in the area for 25 years "in two small houses built in the 1940s," Kline said.
"We'd already been going as an outreach to pregnant girls in distress since the 1980s," she said. "Our method has been simply to help those in need that come to us."
Steven Settle, 30, the Director of Axia, agreed.
"The cornerstone of Axia is primarily to help the disenfranchised and those in crisis, those who need a helping hand," he said.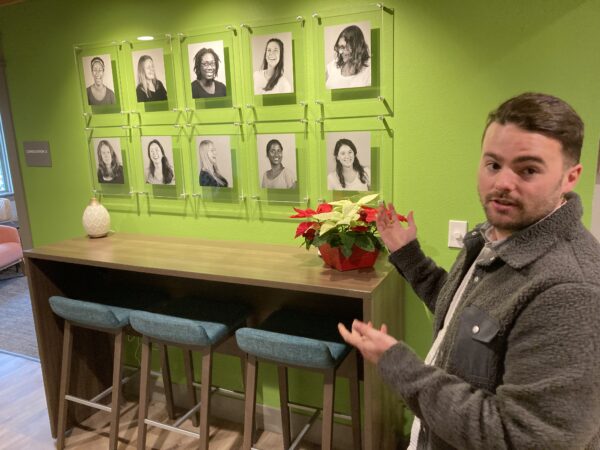 "Girls in crisis pregnancy are vulnerable and need not just services but support, but the nature of helping people is hard. We're constantly faced with people facing daunting obstacles, and walking them through that makes our volunteers very special."
The makeup of Axia staff is mostly part-time volunteers, including the medical professionals, some full-time volunteers, and a smattering of paid staff such as himself, Settle said.
'Not Intimidated By People's Mess'
Sometimes, Axia's volunteers see their clients for longer if the clients are are continuing to struggle, he said.
"There are those times when a single girl comes back pregnant again," he said. "Now, she's on her second child, but because she already went through our parenting classes and we were able to help her get back on her feet again, she may not need us as much as she did during the first pregnancy. She might have valued our mentorship and relationship, so she's back again."
Does a repeat client discourage the volunteers, Settle was asked. He leaned back in his chair and looked at the ceiling, reflectively.
Our hearts break for our clients everyday.
, Director of the Axia Pregnancy Resource Center in Tyler, Texas
"Our hearts break for our clients every single day," he said. "Sometimes, we see them going 90-miles-an-hour into a brick wall and tell them, 'Hey, there's a brick wall over there. Here, go this way, try this over here,' and that doesn't help every time.
"But when they do hit that brick wall and their life crumbles around them again, we're there to help pick up the pieces. Because they went through our program, the second time around, there may be far less collateral damage. We're not intimidated by people's mess, that's for sure, and we're not here to judge people's hearts. We're here to help."
The Volunteers
Aimee Krol, 47, is a full-time volunteer at Axia as a childbirth services coordinator. She lives in the surrounding community. She teaches free childbirth classes and is a doula—a professional who stands alongside a woman in birth, similar to a coach. "But we know a little more of the tricks of the trade, including pain management," she said.
Krol has volunteered at Axia since in opened, and volunteered with Living Alternatives for many years prior to that.
"I'm a volunteer because I love the girls here, the babies and moms," she said. "Girls come to us through our own Building Blocks program at Axia, or from referrals in the community. Some local doctors refer girls to us who can't afford childbirth classes and know we have the only free childbirth classes in the city, so they will come to us that way."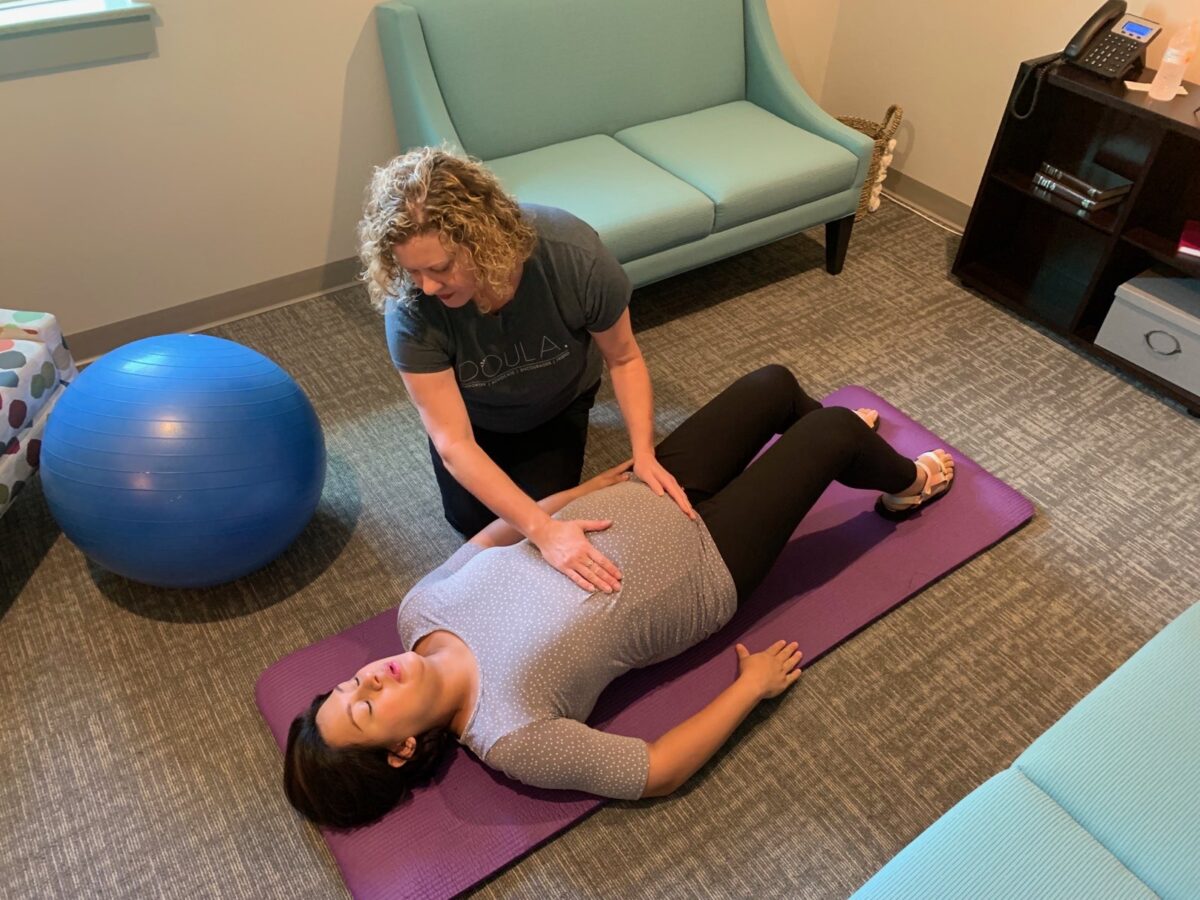 The free classes are comprehensive, she said.
"Our classes run once a week for six weeks," she said. "They are pretty intensive and include an overview of labor, comfort techniques, what might happen in the hospital, breast-feeling, postpartum, and more. An average class size is about 12 girls."
"I love teaching the childbirth classes," Krol said, "but the best part of the job is being in an actual birth situation for a girl who doesn't have a lot of support. Just knowing that if I wasn't there, the outcome could be totally different and has made a big difference, that I was there—well, that is really so special. Seeing her baby born in a positive experience is so important in a woman's life, along with having a good start bonding with the baby, rather than what could have happened the other way."
A Tremendous Influence
Kline said she last spoke with her one-time partner about 10 years ago.
"When I told him about our Pregnancy Resource Center, he said, 'You know, if we'd had you to talk to us back then, we never would have had an abortion,' and I said, 'That's exactly right.'
"The factor that changes people's minds about this (abortion) is connection; entering into their pain, entering into their mess. That's a tremendous influence, because really, the majority of the girls we see are just looking for love in all the wrong places," she said.
The majority the girls we see are just looking for love in all the wrong places.
, Founder of LivingAlternatives, the parent non-profit of Axia in Tyler, Texas
Meanwhile, Julie said that reflecting on her own experience in the 1960s compared to Axia's methods today could not be more of a contrast.
"It was a rough road for me at times," she said. "There are members of my own extended family who still don't know what I went through. If I'd had the medical and moral support that Axia delivers, my life would have been completely different and much more positive.
"I'm glad to hear what they are doing and, more importantly, how they are doing it. I could have really used their help and perspective back then," she said.
For more information, visit AxiaCenter.org or livingalternatives.org