A Chinese Farmer Self-immolates on Tiananmen Square
July 21, 2006 12:00 am Last Updated: July 21, 2006 12:00 am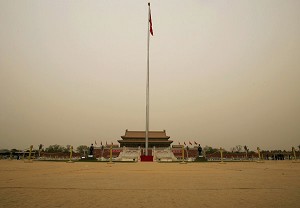 HONG KONG – According to the Hong Kong-based Information Center for Human Rights and Democracy, on the morning of July 20, one farmer set himself on fire in Tiananmen Square. The man was severely burned and undergoing treatment in a hospital. The authorities were investigating the cause.
The Information Center spoke with an employee from a travel agency situated nearby to Tiananmen Square who witnessed the incident. The witness confirmed that at approximately 9:00 a.m. on July 20, one man suddenly set himself on fire in Tiananmen Square. The flames were put out in less than a minute. A large group of police and one ambulance arrived at the scene, and took the man away in the ambulance.
The Information Center also cited sources from the Tiananmen Square Management Committee that the man was a farmer from outside of Beijing and he was severely burned and under going treatment in hospital.
The Center also tried to confirm the above information with over ten Beijing stationed provincial offices, but none of the officials were willing to disclose any information. Tiananmen Police Station confirmed the incident with the Center but refused to mention anything further.