Residents in the Australian state of Victoria face prison time or massive fines of up to AU$90,000 (US$67,570) if they are deemed to have failed to comply with government-mandated health orders and pose a risk to the health of others, according to a measure rushed before the state's Parliament on Oct. 26.
The Public Health and Wellbeing (Pandemic Management) Bill 2021 (pdf) was introduced by the government's Health Minister Martin Foley and aims to supersede the "State of Emergency" powers that are currently provided under the Public Health and Wellbeing Act 2008, which was due to expire at the end of the year.
These powers have been extended twice so far and have given the state government authority to impose public health restrictions such as lockdowns, mask mandates, shutting businesses, and domestic border closures.
However, the new Bill grants permanent, extraordinary powers to the health minister and Victorian Premier Daniel Andrews, as well as a range of hefty new penalties to ensure compliance.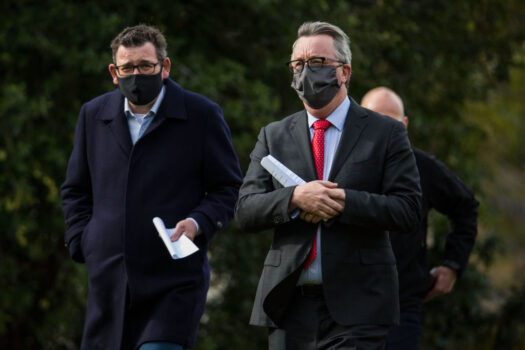 Individuals found refusing or failing to comply with a pandemic order risk being fined 120 penalty units, or AU$21,809 (US$16,375), while a business or "body corporate" could be fined $109,044 (US$81,873)—the value of these fines are similar to those recently introduced by Western Australian Premier Mark McGowan.
Meanwhile an "aggravated offence" under the bill, which includes not only a failure to comply with a pandemic order, but where it is also deemed that an individual knew—or ought to have known—that their behaviour could cause a "serious risk to the health" of another individual faces two-years imprisonment or an AU$90,870 (500 penalty units) fine.
For businesses, the penalty is an AU$454,350 (US$342,000) fine. In Victoria, a penalty unit equates to $181.74 and is adjusted annually.
Along with these fines, the premier will have the power to "declare a pandemic" and to extend it for a period of "three months at a time." However, there is no limit on the number of extensions—such a law in practice could see Victoria placed under lockdown at the discretion of the premier.
Further, while the chief health officer previously signed off on public health orders, the proposal would shift this power to the health minister instead, giving him "broad power" to make pandemic orders where it was deemed necessary to "protect public health"—this is predicated on advice from the chief health officer.
A summary of the measure states that pandemic orders could be targeted and "differentiated" between different classes of people based on their supposed risk to public health, and even their vaccination status.
The proposal would also establish an independent oversight committee to review the public orders and their effects on human rights, while public health advice would need to be publicised. Further, additional safeguards will be legislated around data collected by contact tracing.
Andrews says the bill was created through consultation and with the support of community bodies, legal bodies, human rights groups, and the crossbench. It has the support of the Greens Party and independent parties, the Animal Justice Party and Reason Party.
Nevertheless, the legislation has been met with a storm of criticism.
Matthew Guy, leader of the opposition Liberal Party, said he had never seen "such an attack on Australian democracy."
"This is an extraordinary, extreme legislation that comes despite the government committing last week that they'd never lock us down again. Well, if they'll never lock us down again, why do you need laws as extreme as this?" he told 3AW radio.
"They say there's an independent committee—the independent committee is appointed by the premier. So, you have an independent committee appointed by the person it's meant to somehow be a watchdog against," Guy said.
"There's no reference in this legislation at all to the Cabinet, therefore, there's no Cabinet scrutiny. It's all about one man, the premier; there's no oversight by the Parliament as you'd expect," he added.
"Don't stand there and let our democracy be destroyed," he said, calling on the public to be "vocal" about the issue to friends and online.
Rod Barton, leader of the Transport Matters Party in the upper house of the state Parliament, said he wasn't consulted, despite claims the crossbench support the bill.
"I did not support the state of emergency the first two times it came before Parliament and I will not be supporting it this time," he said in a video on Twitter, but noted that it appeared that the government already had support from the required number of MPs to pass the measure.
"It appears the negotiations have already been settled and they have the three votes. It is now out of our hands."
Samantha Ratnam, leader of the Victorian Greens, said in a press release, "We've negotiated with the government to create new laws which are a big improvement and much fairer for the whole Victorian community."
"I'm pleased that the Greens have been able to make sure these new laws have more transparency and are fairer for all Victorians, especially those facing disadvantage," she added, noting that the laws would offer greater protection to QR code data and greater scrutiny from an "independent panel that includes experts in human rights and health."
David Limbrick, upper house MP of the Victorian Parliament, however, disagreed.
"The Greens have zero credibility on human rights. What did they do after the housing tower lockdown disaster? Support more of the same," the Liberal Democrat wrote on Twitter. "What did they do when people protested against human rights abuses? Smeared them as 'right wing extremists.'"
Morgan Begg, director of the Legal Rights Program at the Institute of Public Affairs in Melbourne warned the law would "end democratic government in Victoria."
"This Bill would appear to give the government, and the premier alone, permanent power to exercise tyrannical emergency powers," he said in a press release issued to The Epoch Times.
"This must end now. We can never again go through what this government is doing to Victorians," he added. "The government's ability to declare emergencies and exercise emergency powers must be curtailed immediately."