Commentary
Two months after Chinese leader Xi Jinping secured his third term at the 20th National Congress in October last year, he abruptly abandoned his "zero-COVID" policy. This U-turn shocked many, but perhaps only some people noticed that Xi made similar policy changes in two other key areas: the economy and foreign affairs. If we look closely at these three major adjustments, the underlying reason is the economy.
To quickly boost the economy, that is, to resume manufacturing and import/export products as soon as possible, the Chinese Communist Party (CCP) suddenly lifted all COVID-19 restrictions and allowed the disease to sweep through China like a tsunami.
According to a Jan. 13 report by Chinese media outlet Economic Observer, a research group led by professor Ma Jingjing from the National School of Development at Peking University claimed in a recent study that as of Jan. 11, around 64 percent of China's 1.4 billion population—or 900 million people—had been infected with COVID-19, and the epidemic reached its peak in many parts of the country on Dec. 20. 2022.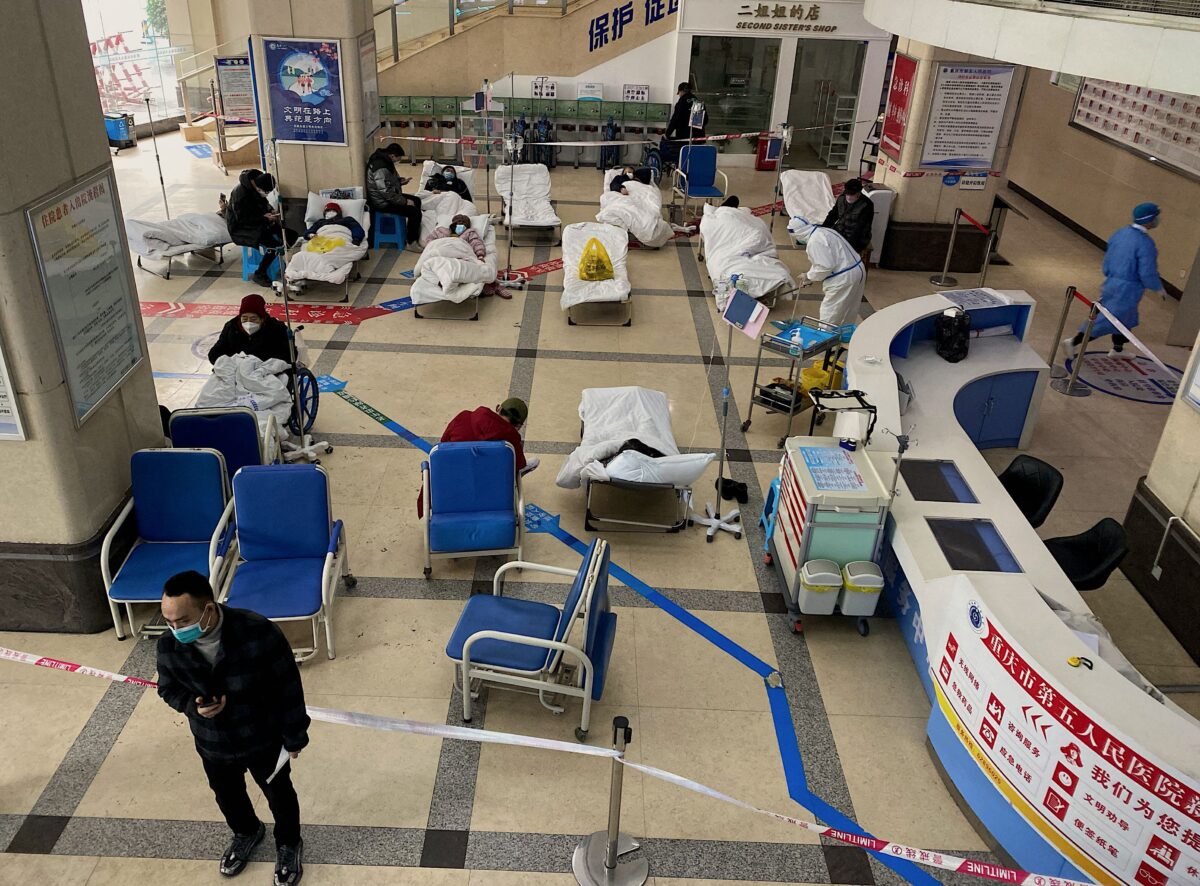 The fact that 64 percent of the population has been infected indicates that China has established an immune barrier. We will see a full resumption of manufacturing everywhere after the Chinese New Year, at the cost of 900,000 deaths from 900 million infections, even at a 0.1 percent mortality rate. However, the actual mortality rate could be much higher, and some experts believe the peak is yet to come.
Only the CCP would dare to fully lift all restrictions without a plan and any preparation, causing 900 million COVID-19 cases in one month.
Why?
According to Bloomberg, "the government's plan seems to be to weather the initial reopening wave quickly, and get the economy—hobbled by months of crippling lockdowns, mandatory quarantines and testing—back to consistent growth." I agree with this assessment.
Xi has even gone so far as to reverse his signature economic policies to revive the economy. These policies can be divided into three broad categories: high technology, education and training, and real estate.
Each time a company faces a crisis, it becomes the focus of international media coverage. For example, in 2021, Alibaba was slapped with a record fine of 18.2 billion yuan (about $2.8 billion), and property giant Evergrande faced a debt crisis that threatened the economy. Last year, China's leading education institution, New Oriental Education, laid off 60,000 employees and saw its income plummet by 80 percent.
Now, Xi also lifted restrictions on the above industries. With Jack Ma ceding his control of Ant Group, People's Bank of China chief Guo Shuqing told state-run Xinhua News Agency that the crackdown on more than a dozen fintech companies is basically over.
The Chinese-language edition of The Wall Street Journal reported that in recent weeks, Chinese officials began evaluating policies in the technology and education sectors. Moreover, the regime in Beijing is using its financial tools to rescue the real estate industry.
The CCP is a totalitarian system, and Xi is a dictator. Without Xi's approval, the draconian zero-COVID policy and the crushing of education, real estate, and fintech companies could not have happened. And now, these 180-degree policy reversals would not have been possible without Xi's approval either.

Xi probably now realizes that if China wants to develop its economy, it must get along with the international community. According to official data, China's gross domestic product (GDP) in the first half of 2022 reached 56 trillion yuan (about $8.3 trillion), while total imports and exports were 19.8 trillion yuan (about $2.9 trillion), already accounting for 35.2 percent of GDP, but this is only in terms of import and export numbers. The employment and consumption solved by the import and export industry also account for a considerable proportion of GDP.
Therefore, to maintain foreign trade, it is necessary to maintain good international relations. This month, Zhao Lijian—the famous "wolf-warrior" diplomat—was removed from his post as spokesman of the Ministry of Foreign Affairs. Le Yucheng, the vice minister of the foreign ministry, who once advocated no upper limit for Sino-Russian cooperation, was transferred to the General Administration of Radio and Television as deputy director. Both moves are probably related to the CCP's desire to improve its international image.
The CCP has long had a tacit agreement with the people to "trade freedom for bread": I will help you improve your lives, but you need to give up your political rights. But when the economy falters, people will stand up to resist—the "White Paper" movement in late November was a sign of this.
In 1957, former CCP leader Mao Zedong launched the "anti-rightist movement" against intellectuals because they were dissatisfied with his governance. After this campaign, Mao also took the route of economic development to make more people support him—this was the "Great Leap Forward" movement in 1958. However, the campaign ended in disastrous failure, causing probably 30 million people to starve. Mao was forced to abandon his economic policies and hand over the country's management to Liu Shaoqi. But Mao was unwilling to let go of power, and in 1966 via the "Cultural Revolution," he overthrew Liu and took back control.
Is Xi paving the way for his own economic "Great Leap Forward" by rejecting his past economic policies? Will he succeed? If not, will he then launch a second "Cultural Revolution"? After all, Xi appears to emulate Mao.
Views expressed in this article are the opinions of the author and do not necessarily reflect the views of The Epoch Times.