Nine activists from climate campaign group Insulate Britain were jailed on Wednesday for blocking the M25 motorway in violation of a court injunction.
The nine activists, aged between 20 to 58, admitted on Tuesday to breaching the injunction, which was granted to the National Highways on Sept. 21 after Insulate Britain activists ran in front of moving cars and lorries on the motorway.
The oldest and the youngest of the group—58-year-old Ana Heyatawin and 20-year-old Louie McKechnie—were jailed for three months.
Ben Buse, 36, Roman Paluch-Machnik, 28, Oliver Rock, 41, Emma Smart, 44, Tim Speers, 36, and James Thomas, 47, each received a four-month sentence. Smart has announced her intention to go on hunger strike, according to an Insulate Britain activist who spoke to media outlets outside the Royal Courts of Justice.
Ben Taylor, 37, was given a longer sentence of six months after Judge Dame Victoria Sharp said his submission to the court on Tuesday was "inflammatory" and a "call to arms."
Taylor told the High Court that if he was "not put in prison," he would "go and block the motorway at the earliest opportunity and will continue to do so until the government makes a meaningful statement and acts on it."
He added that "whatever sentence or sanction" he was given "will be counter-productive and will only serve to fuel the campaign of Insulate Britain."
"If you send me away to prison, 10 people will step forward in my place. If you send each of us away, 100 people will step forward and take our places. If you send 100 of us away, 1,000 people will step forward to take our place," he said.
"If you somehow manage to stop all non-violent protests, then things will only turn violent."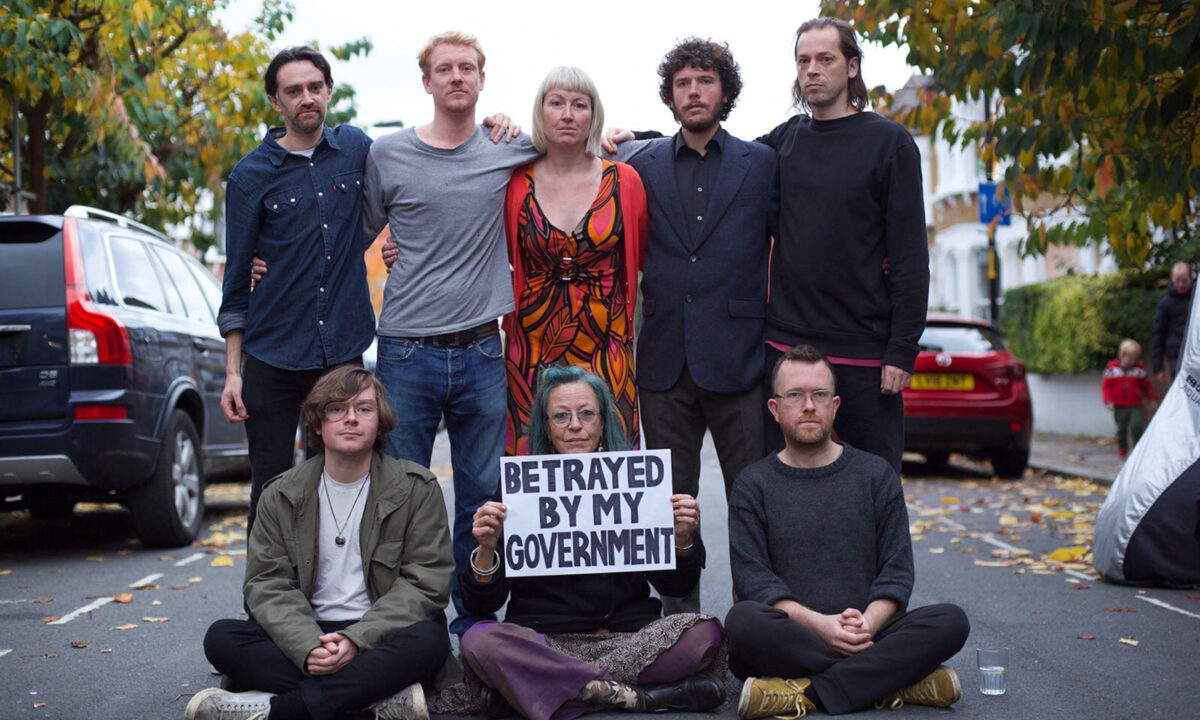 Sentencing the activists with Justice Chamberlain on Wednesday, Sharp said there was no alternative to custodial sentences given that the group's actions were so serious and they had made it clear they intended to further flout court orders.
"The defendants, or some of them, seem to want to be martyrs for their cause and the media campaign surrounding this hearing appears designed to suggest this," she said. "We, however, have to act dispassionately and proportionately."
Sharp also said that the activists caused harm "beyond the inconvenience and economic damage" and risked the safety of the defendants and the public.
Before the group was sentenced, Myriam Stacey QC, representing National Highways, told the court the legal costs of bringing proceedings against the nine activists had reached £91,000 ($122,600).
She argued the judges should make an order for the costs against the defendants and that, even if they are unable to pay them, such an order would be an "important symbol."
She also said the agency had a duty to attempt to recover the costs, as they are from public funds.
Sharp said she and Chamberlain will give their decision on costs in writing at a later date.
The defendants—a number of whom said they were full-time volunteers and claim universal credit—have said they have no money to pay for the legal costs.
Buse was the only defendant represented by lawyers, while the other activists represented themselves.
Duncan Smith, executive director of operations at National Highways, welcomed the sentence.
"We respect people's right to protest but do not condone the actions of anyone who puts their lives, and the lives of road users, at risk."
Insulate Britain read a statement from the nine convicted activists, accusing the government of showing "cowardice."
The group called on members of the public to join its campaign, saying, "We call on you to recognise that you also have a duty to act, as our government is betraying us."
The nine were the first of the climate activists to have been brought to court since their campaign started in September.
Insulate Britain, which demands the government insulate all British homes, said on Nov. 3 that a further 23 activists were expected to be summoned to court soon.
After the first injunction was issued on Sept. 21, four further injunctions were granted to the National Highways and Transport for London, threatening traffic-disrupting activists with imprisonment, fines, or asset seizure.
PA contributed to this report.