The skydiving plane that crashed shortly after takeoff from the North Shore of Oahu, Hawaii, on June 21, will have its repair and inspection records reviewed by federal investigators, according to reports.
The fatal crash at Dillingham Airfield, killed all 11 on board—nine men and two women—making it the worst civilian aviation accident in the United States since 2011.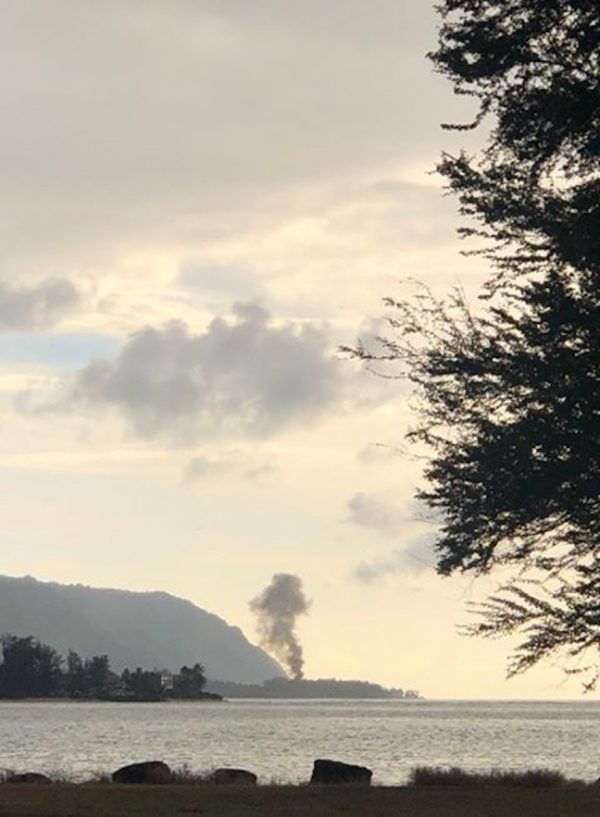 It is the same aircraft—built in 1967—that was involved in an accident three years ago that left its tail section substantially damage while skydivers were onboard.
In the 2016 accident over Northern California, the twin-engine plane—equipped to accommodate 13 people—stalled three times before it started spinning repeatedly through the air, according to an investigative report from the National Transportation Safety Board (NTSB).
The investigative report into the Hawaii plane crash blamed the pilot, and said at the time of the incident that the plane had been too heavily weighted toward the back. The skydivers on board were able to jump to safety before the pilot successfully landed the plane, the report said.
At a news conference on June 23, NTSB officials said that repairs had been made following the accident in 2016 before the plane was put back in service.
NTSB's Jennifer Homendy said, "We will be looking at the quality of those repairs and whether it was inspected and whether it was airworthy.
"Weight and balance has a factor in the safety of these operations and that's a calculation that needs to be made before a plane is operated."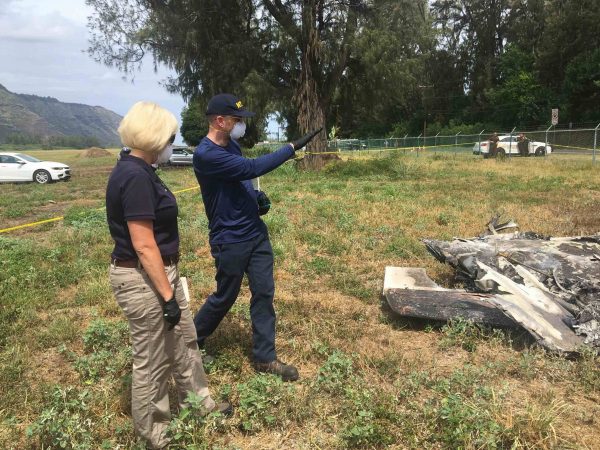 While a final report detailing the cause of the accident could take up to two years to be issued, a preliminary report will be issued by the NTSB in about two weeks.
Homendy added that if warranted, it could issue urgent safety recommendations before the final report.
The June 21 crash was the deadliest civil aviation accident in the United States since a pilot and 10 spectators were killed in a 2011 Reno Air Show wreck in Nevada.
Witness Steven Tickemyer, who was attending a friend's wedding at a beach across the street, said he saw the moment the plane nosedived after taking off and getting to 75 to 100 feet.
He said within 20 to 30 seconds, the aircraft flipped twice before it hit the ground nose first, causing an explosion on impact.
A second witness, Wylie Schoonover, who was driving from a nearby YMCA camp, said there was an "insane amount of fire."
"It didn't even look like a plane. A bunch of people were asking 'what is this?' It was completely gone," she said.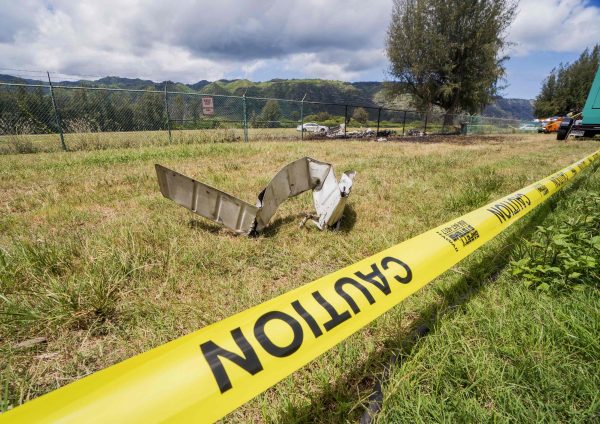 The names of the victims have not yet been officially released, but one of the families affected said that 29-year-old Casey Williamson—a skydiving instructor and videographer—was one of the victims.
Williamson, who is the only child of Carla Ajaga, first arrived to Hawaii a year-and-a-half ago, where he could skydive year-round, his cousin Natacha Mendenhall said.
"We're all very upset," said Mendenhall, speaking from her home in Fort Worth, Texas. "She cannot really talk right now. What she wants everyone to know is how full of life her son was, how loving he was."
Mendenhall added that while the family had not officially been notified of Williamson's death, police confirmed he was on the plane when they provided Honolulu police with his name and date of birth.
Larry Lemaster, a professional parachute demonstrator and an Army veteran who had completed more than 3,000 jumps, was also among the 11 killed in the fatal crash, his wife, Anna Elkins, wrote in a Facebook post on June 22, CNN reported.
"I don't have an explanation for the utter tragedy that has happened," Elkins wrote.
"But Larry Lemaster would never want one person to waste a single minute of their life mourning his. He was doing what he loved. We spoke about this on many occasions."
"Today is the worst day of my life. My son has lost his father… He wants you to celebrate his life and your own," she added.
"Love who you love with great intensity.Do what makes you happy. Be the person you want to be because obviously tomorrow is not guaranteed."
Five of the 11 plane crash victims—three men and both women—were in their 20s, police told the Honolulu Star-Advertiser.
Associated Press contributed to this report.