Nine Metropolitan Police officers have been fined after they were caught dining in a local café, the Met said on Wednesday.
The officers from the South East Basic Command Unit (BCU) have been issued with a £200 ($274) fixed penalty notice (FPN) each for "breaching COVID-19 legislation while on duty," the Met said in a statement.
The officers were investigated after photos of them in the café emerged online and caught media attention earlier this month.
"Police officers are tasked with enforcing the legislation that has been introduced to stop the spread of the virus and the public rightly expect that they will set an example through their own actions," Chief Superintendent Rob Atkin, South East BCU Commander, said.
"It is disappointing that on this occasion, these officers have fallen short of that expectation. It is right that they will pay a financial penalty and that they will be asked to reflect on their choices," he added.
England has been under its third national lockdown since Jan. 6. According to the government guidance, cafés and restaurants can only provide takeaway and delivery services.
The officers were having breakfast at 9 a.m. in the Chef House Kitchen café in South East London when local resident Brian Jennings spotted them.
"There's a large police depot on the Thames riverside near me. I walk past it a few times a week because it's a nice quiet place to take exercise," Jennings said on Jan. 9.
"On the neighbouring industrial estate there's a cafe. We noticed in the first lockdown and then we noticed it again today that, regularly, first thing in the morning there will be half a dozen squad cars outside and every table full of police officers having breakfast in there."
Jennings was outraged by the scene because it was soon after wide media reports of two women fined for driving five miles to have a socially-distanced walk with their takeaway Starbuck drinks, which police officers told them counted as an illegal picnic.
"You read about people getting fined in the papers and it seems hypocritical as there [was little] social distancing in the cafe," Jennings said.
The Met subsequently said it had launched a local investigation to identify the officers and establish the full circumstances.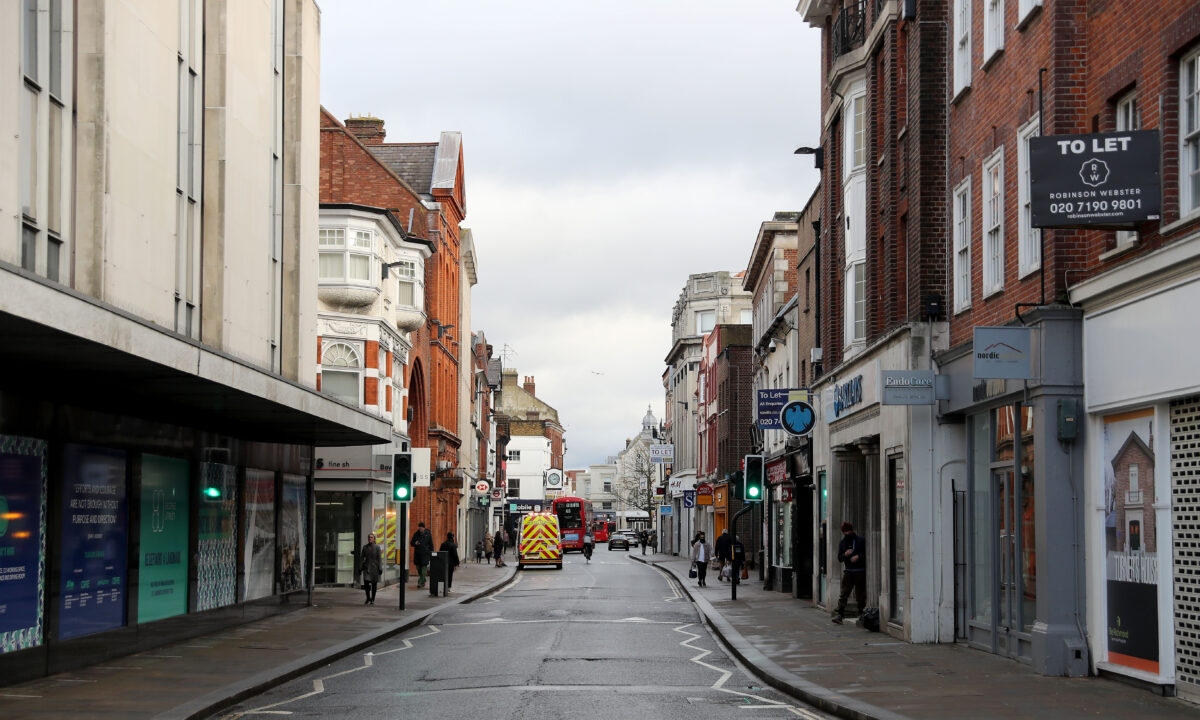 The UK government has doubled down on enforcing it's restriction measures to curb the spread of the CCP (Chinese Communist Party) virus after a new variant was discovered in England in mid-December and several other new variants were identified around the globe afterwards.
By Jan. 13, almost 45,000 FPN that had been issued for alleged breaches of the government's CCP virus restrictions. Police in England have vowed to increase dedicated patrols to enforce the restrictions.
Some FPNs, including the ones issued to the two women who went for a walk with hot drinks, have been withdrawn after review.
Martin Hewitt, chair of the National Police Chief Council, said on Jan. 13 that although some mistakes had been made, he thought the police officers in general have done well while treading the "unprecedented territory" of CCP virus restrictions, and he would make "no apology" for the FPNs issued.
The number of CCP virus cases, hospitalisations, and deaths have so far continued to increase, despite the government's measures including stringent lockdowns, rapid testing, and vaccination.
On Tuesday, the UK reported a record-high 1,610 deaths within 28 days of a positive CCP virus test, taking the total UK death toll above 90,000.
Alexander Zhang contributed to this report.